SnagIt comes with huge support for image formats/image format right from BMP to PNG to RAW to TGA. However, by default, all the file format is not enabled. So if you are looking for more format types, here are the steps.
Enabling Advanced Image format
Open your SnagIt Editor and go to Output ( Under Profile)
Next, select properties
Another window will open up with Image options as the first.
Check the image. You need to check the Show Advanced Types. This will add more image formats for you. Now next time you save your file, you can choose from the save option. Moreover, I will suggest setting a folder for all the outputs to be saved in one place instead of asking it every time.
Setting up the Automatic File Name option
If you have to take a couple of images on the run, SnagIt asking you for a file name every time is real trouble. Instead, if you can fix a filename prefix by which SnagIt Editor can save all your captures will be a good option. Look at the image above. You will notice an option for File Name.
It allows you to make it prompt for a file name every time
Fixed Filename ( Warning this could be dangerous if you are taking the number of images, as they will be overwritten)
The third option is what we look for it. Click the radio button and then the options button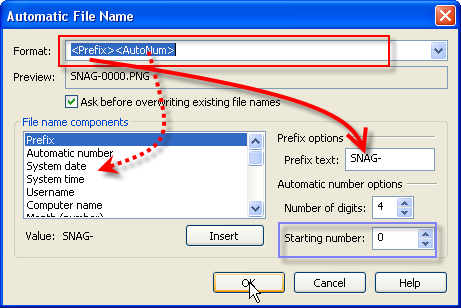 Here you will choose a prefix and a sub-prefix like a computer name or your name with date formats and others. This can save a lot of time for you as you will not be prompted to enter your name all the time.