Watermarking an image becomes essential when you want to attach your bran with original images that you took. It also makes sure that people who steal your image will think twice before using the watermarked images.
So what is Watermarked Images ?
It's another images that gets displayed on top of your image but still embedded inside it.  More like a layer which can be in form of text or image.
Now since you have a lot of images that you produce daily, it is difficult to add to all of them one by one. So today we will tell you how you can use Snagit to  batch convert all the images and apply watermark to them.
Steps to Watermark Images using Snagit
Open you SnagIt software and check the left pane ( left hand side) . You will find something called as Related Task. Look for Convert Images. Click on it.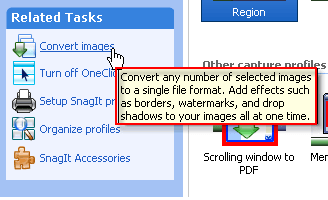 This will open up a wizard which allows you to select any number of files and convert them into desired format with All effects.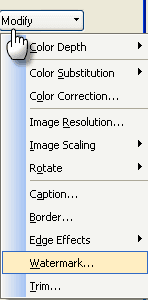 Its a 4 step process, So when you reached 2nd Step, You will be asked to add Filter . Click on modify button and add watermark.
Select Next and finally you will be asked for File names and Output directory ( where you want the watermark images to be stored ).
You can preview your watermark and adjust according to it. However there is one drawback here. You are not allowed to add text as watermark, Instead you will need add another image as watermark.
Click Next and You are done.