We all have played the Scramble or tried to solve the word Jumble in the newspaper at some point of time. Here is the perfect cheat code to the Scramble game and the Word Jumble in newspapers and magazines.
Zach's Word Unscrambler is an online utility which can solve the word jumbles or the set of scrambled letters, and will render the word/words which can be formed out of the jumbled set.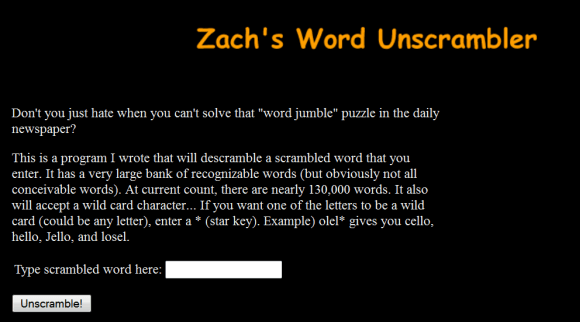 Zach's Word Unscrambler also supports wild card, i.e. you can enter a scrambled letters set, and a '*' to get possible words. It supports a scrambled letter set with maximum 2 wild cards.
Looks like Zach's Word Unscrambler has a huge database of words, I tried several scrambled sets with and without wild cards, and the results were amazing. This is a great online resource, especially if solving word jumbles to increase your vocabulary is a part of daily activities. Try Zach's Word Unscrambler