If you can't adjust screen resolution in Windows after a Windows update or a driver update, or it happened suddenly when you played a game, this post will help you solve the issue. It appears to be a common issue where the screen stops at the lowest resolution or the setting is greyed out, making it impossible to modify in Windows 11/10.
Why Can You Not Change the Screen Resolution in Windows?
The most common reason for this issue is faulty driver settings. When drivers are incompatible, they may select a lower resolution for safety. So, you can upgrade the graphics driver or return to an earlier version.
Also, the GPU scaling option on NIVIDA or AMD graphics cards may cause this issue. As a result, you may need to enable it. Using this capability, the image can be scaled horizontally and vertically to fit the screen. However, you should know that your drivers are the most prevalent perpetrators, and your attention should be directed to addressing this computer issue.
Are You Facing a Resolution Issue or Its Scaling?
You need to check whether your screen resolution issue might be a scaling issue. Windows 11 and 10 include a feature allowing you to resize your display. This may or may not help you resolve screen resolution problems. Test the feature to see whether it has any effect on your device.
Navigate to your desktop and right-click any blank space. Next, select Display settings from the context menu. Under Scale and layout, click on the drop-down box under Scale. Check whether the 100% (Recommended) option is selected.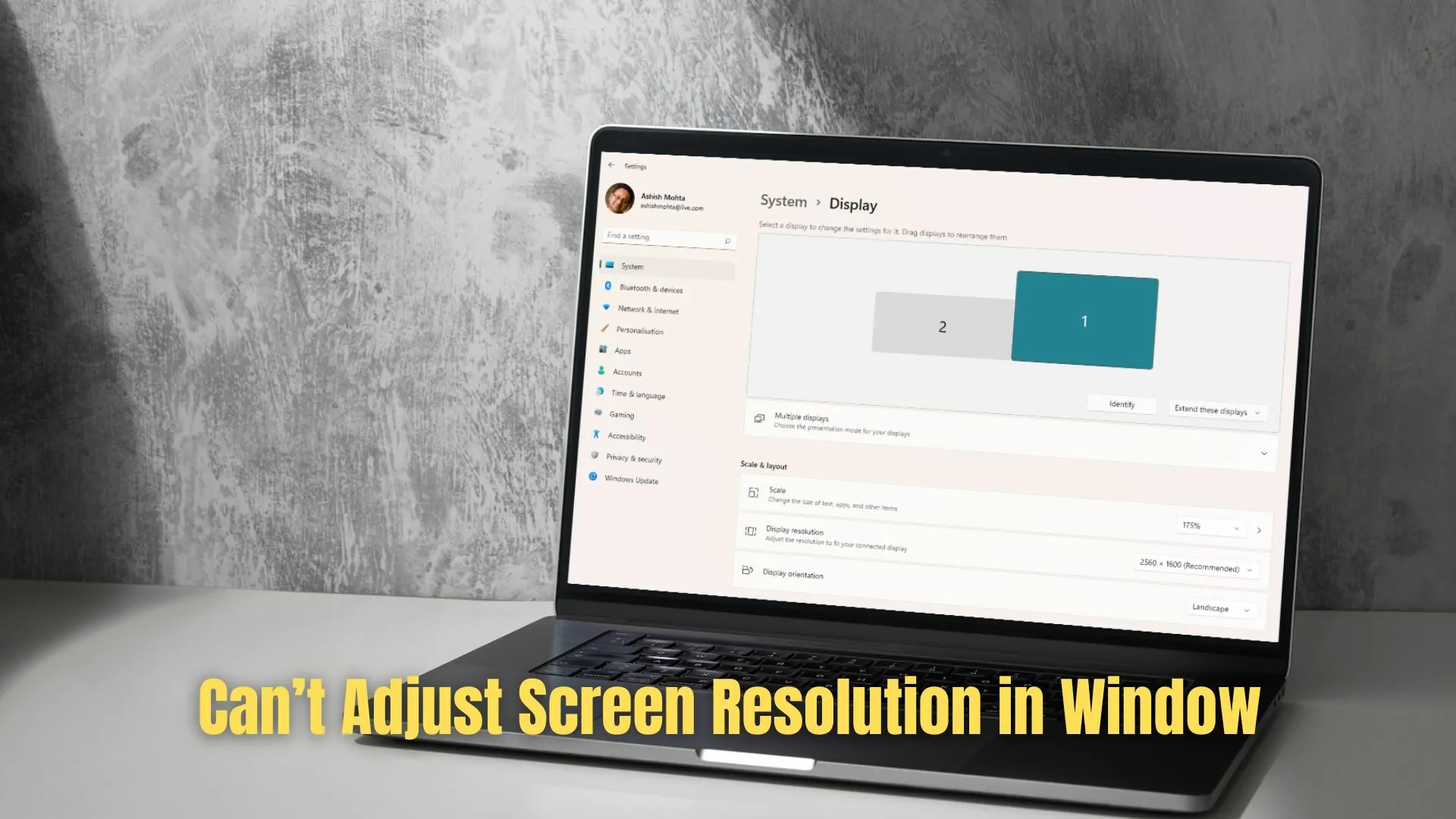 Solved: Can't Adjust Screen Resolution in Window
Given below are six solutions you can apply to solve the issue of not being able to adjust screen resolution on your Windows PC:
Run Windows Hardware Troubleshooter
Disable Full-Screen Optimizations And/or High DPI Scaling for the Games
Check Multiple Display Selection
Basic Checks
Make sure to check if the issue of being unable to adjust the screen resolution is resolved or does not exist after trying each of these methods.
1] Run Windows Hardware Troubleshooter
The Hardware and Devices Troubleshooter is a built-in Windows tool. You can use this tool to repair your computer hardware or device malfunction. So, in this method, you can run the hardware troubleshooter to solve the issue of being unable to adjust your PC's screen resolution.
2] Disable Full-Screen Optimizations And/or High DPI Scaling for the Games
Fullscreen optimization is running your video game or other application in borderless windowed mode yet taking up the entire screen. This creates the illusion that the software is operating in full-screen mode. You can stop full-screen optimizations on your Windows laptop in two ways. You can either disable it entirely or only for selected programs.
Disable optimization for all applications
You can use the Registry Editor to disable full-screen optimizations for all applications. Follow the steps given below:
Open Registry Editor and copy and paste the path given below:
HKEY_CURRENT_USER\System\GameConfigStore
Right-click on a space on the right and select New > DWORD (32-bit) value.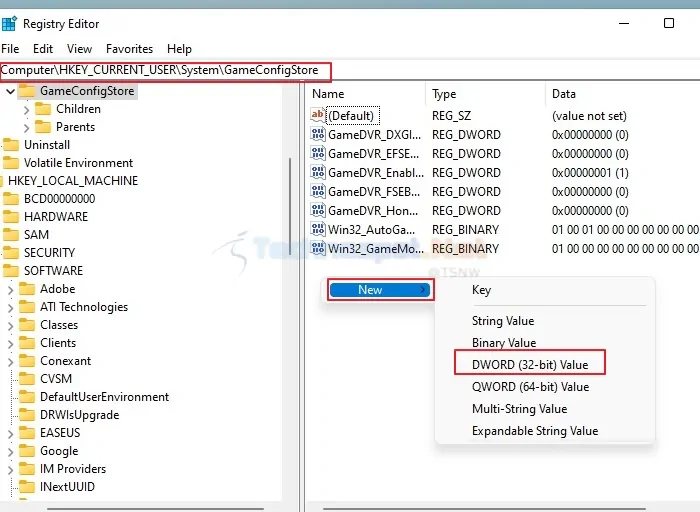 Rename the new entry to GameDVR_FSEBehavior.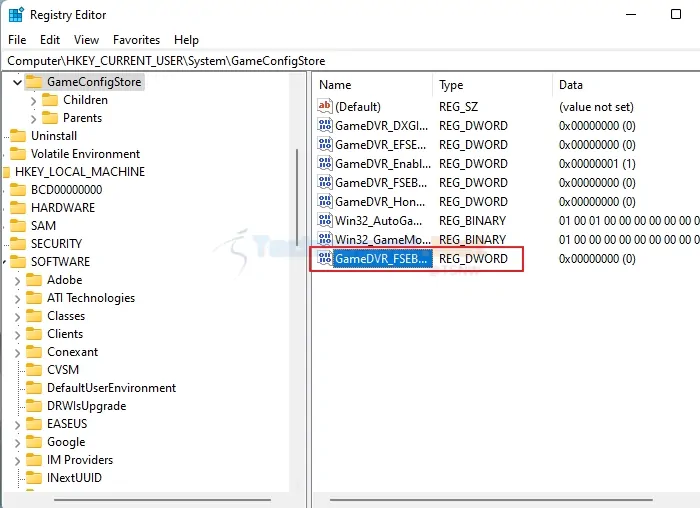 Double-click on GameDVR_FSEBehavior and set the Value data to 2 and press OK to save the changes.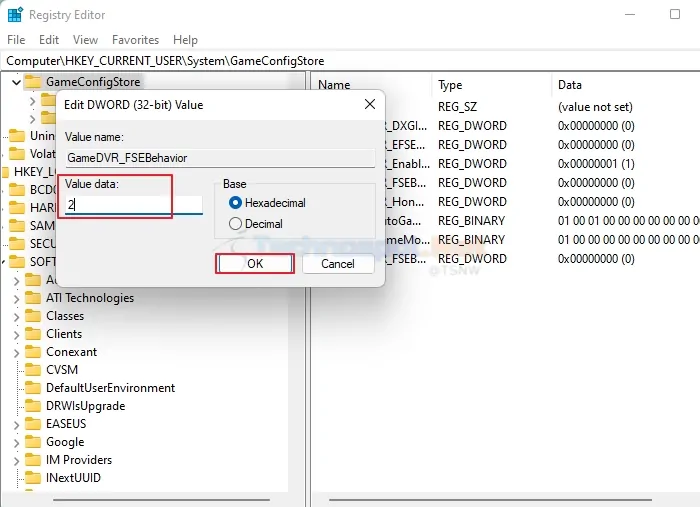 When you disable full-screen optimization, your video game will start in FSE or borderless windowed mode. Because FSE provides the running video game complete control of the display, giving you a small but not excessive performance gain.
Disable Full Screen Optimization for individual apps
This section provides valuable information about turning off fullscreen optimizations for a particular application. We will guide you through disabling fullscreen optimization for a specific program. Here's the step-by-step guide:
Right-click on the application for which you wish to deactivate fullscreen optimizations.
Select Properties from the context menu.
Navigate to the Compatibility tab.
Tick the box that says Disable fullscreen optimizations.
Disable High DPI scaling
To disable high DPI scaling in games, change the application's settings. Right-click the application name in Explorer or the Start menu, select Properties, then the Compatibility tab, and finally, the Disable display scaling on the high DPI settings check box.
3] Check Multiple Display Selection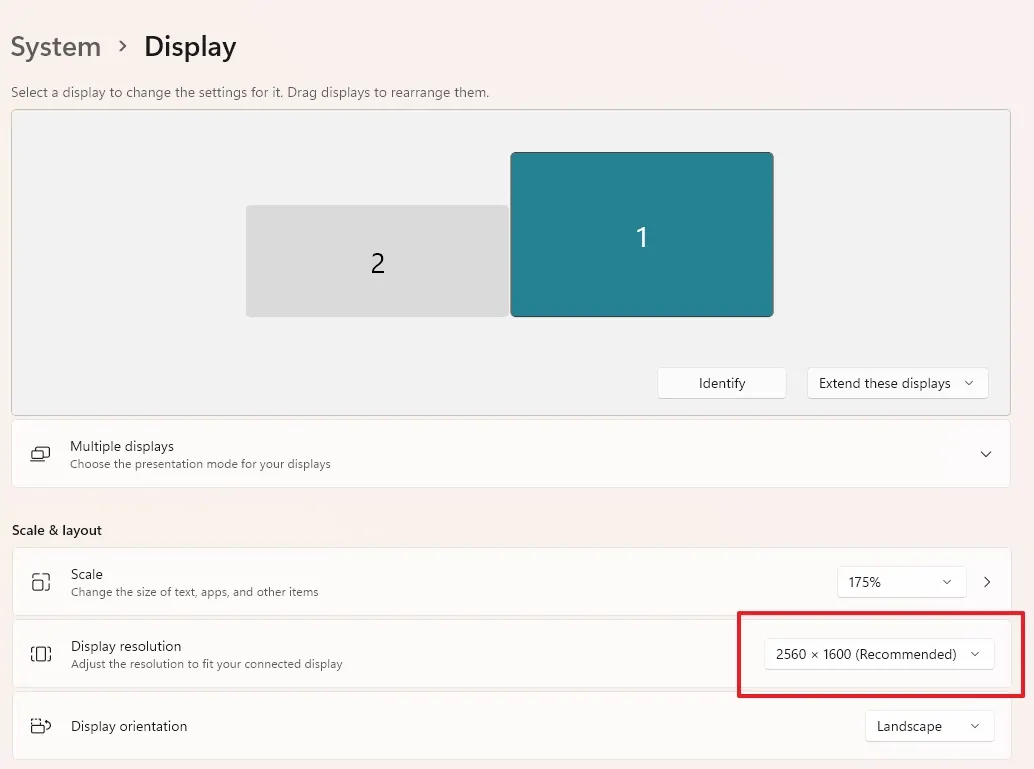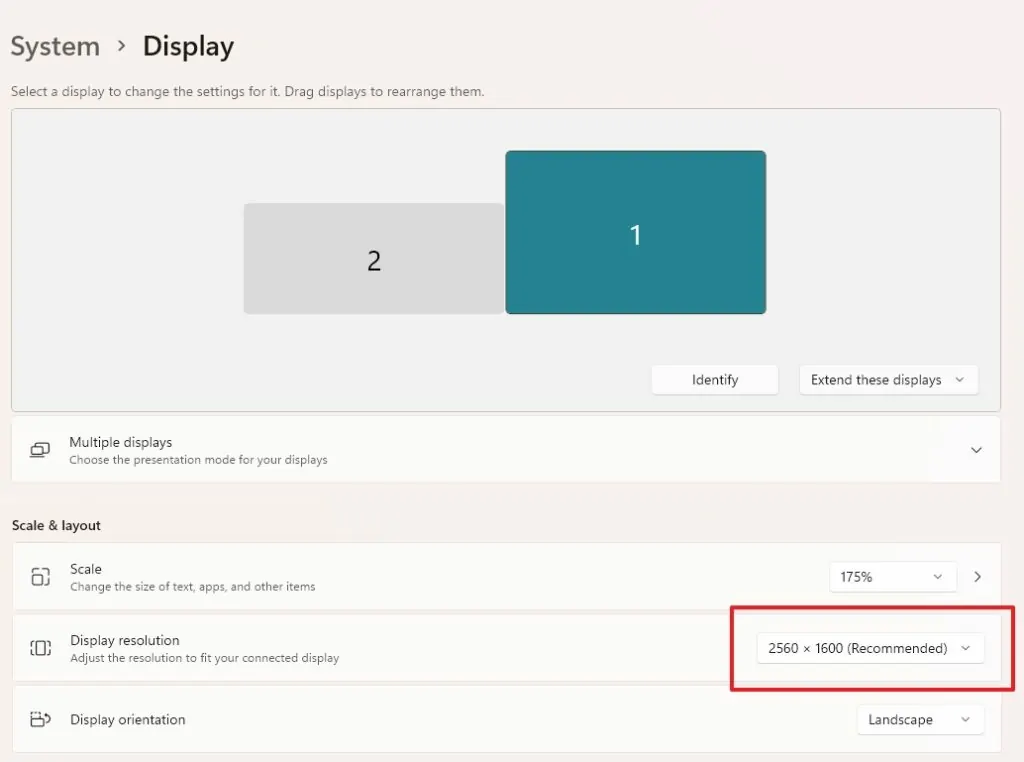 Windows allows you to disable one of the displays when using a multi-monitor setup. If you have selected only one monitor and the other is disabled, you cannot change the resolution. So, check whether multiple display selection is enabled for all the monitors. If so, select each monitor individually and try to change the resolution.
4] Basic Checks
Here are some basic checks and troubleshooting you can do if none of the above methods worked. Check after each solution if you still can't adjust screen resolution in Windows.
Install and Update the Driver
Updating the latest display drivers for your PC can help you solve the issue of not being able to adjust the screen resolution of your PC. The driver installed on your PC may not be the most recent because Windows update takes time due to compatibility checks. We recommend that you get the driver directly from the OEM website. Here is how to update the Graphics card driver.
Reinstall the Driver
If you still have screen resolution issues after installing the most recent Windows update display driver, consider reinstalling the display driver using the steps given below:
Open Device Manager and expand Display adapters. Next, right-click on the display driver installed on your PC. Here, it is an Intel Graphic driver. Select Uninstall device from the context menu.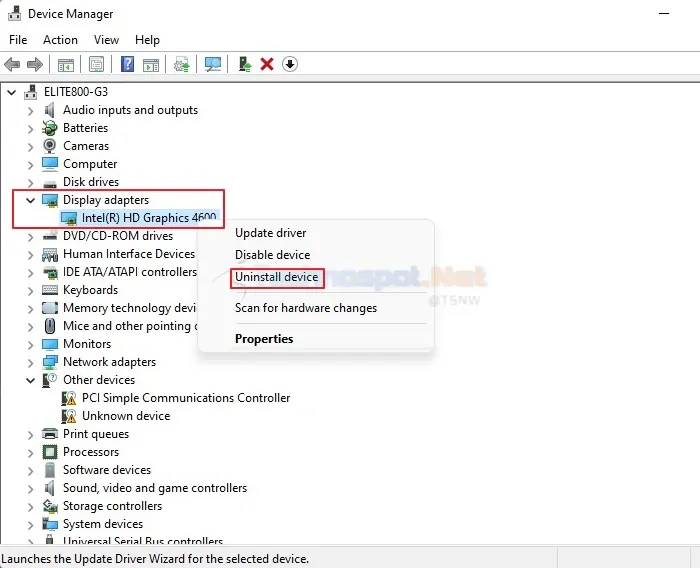 In the warning pop-up window, check the Attempt to remove the driver for this device check box. Next, click the Uninstall button to uninstall the graphic driver on your PC.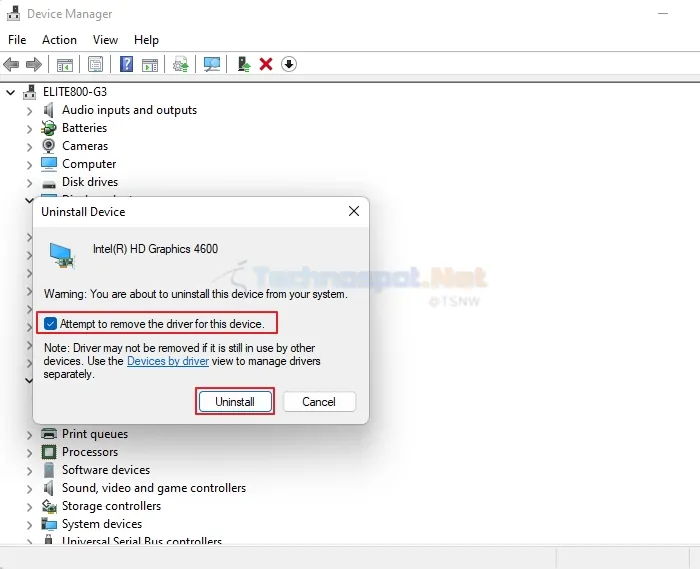 After uninstalling the driver files, restart your computer to allow the generic display driver to be installed automatically.
Follow our extensive guide to remove the display driver on Windows forcefully.
Try With One Monitor
If you have multiple monitors attached to your computer, disconnect one of the monitors.  Done that; go back to Display Settings to get a list of recommended resolutions for that display, navigate to Settings > Display > Display resolutions, and click the desired resolution to save the changes.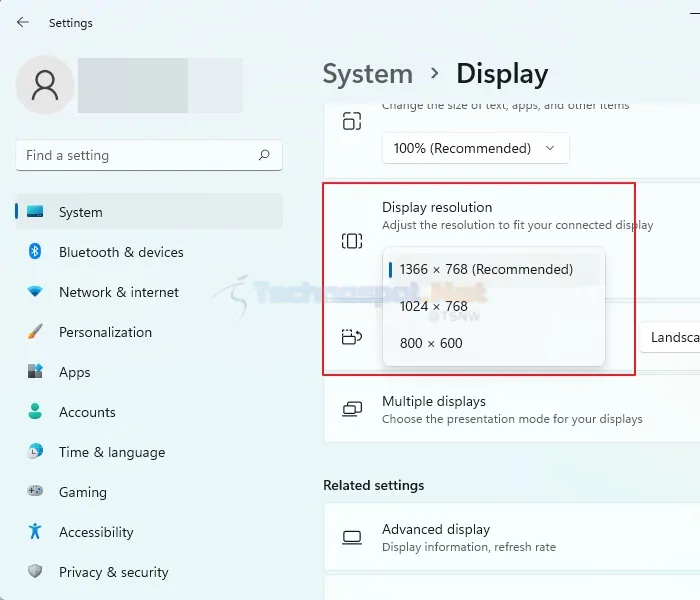 Conclusion
You must frequently modify your screen resolution settings to achieve the finest visual and video performance on Windows. Inaccessible screen resolution settings might be rather annoying. However, you can resolve this problem in most circumstances by updating your display drivers or running a few troubleshooters.
If these methods do not work, try our other suggestions. So, I hope that this article has guided you on the right path to resolving the can't change screen resolution in Windows problem.