If you had used Office products, there is a classical Split menu option which gives you multiple views of the same window. Very useful when you want to compare two documents or two parts of the same document. The same functionality can be achieved in Firefox with the Splitter Add-on.
Split Firefox browser window into multiple panes
Tiles Tabs WE is a powerful extension which can help you create multiple layouts in which you want to arrange all your open tabs. Once you have opened a set of tabs, it takes arrangement from the parent window and arranges them layout you select.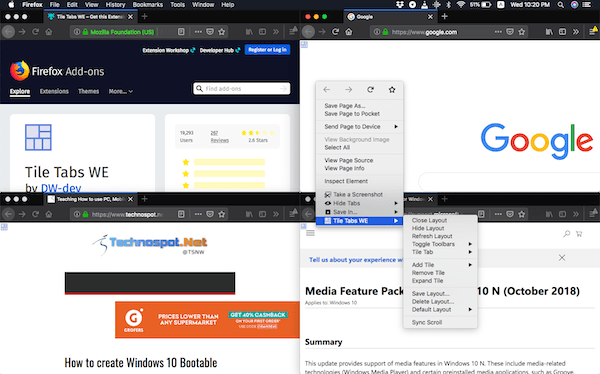 You can right-click anywhere, and choose the type of layout. It makes it easy to browse, compare, or monitor multiple pages. Synchronize scroll. Save and re-open layouts. Anytime you want to come back to the default layout, click on the extension icon, and it will all be arranged in the same windows with tabs.
Compare multiple web pages, side-by-side.
Synchronize scroll multiple web pages side-by-side.
Open links from one tab in adjacent existing tabs.
Save tiled layouts which can be re-opened for future use.
It uses the new WebExtensions API's where each tiled tab is opened in separate windows. Earlier it was possible to display multiple pages simultaneously within the same browser window.
You can identify the parent window, which is indicated by the badge on the toolbar button. Tiles are indicated by a badge on their toolbar buttons showing the letter 'T.'
You can also choose to save the current layout from the context menu. It helps you save time next time you need the same design.
This add-on comes very handy for web site designers who want to check multiple websites in one single window. While it can be compared with tabs, but then you need to keep switching. Download Tiles Tabs WE