Lets say you have a huge collection of music and videos and you want to move them to another computer or to a different partition but none of them have that much of space to accommodate your awesome music collection. So the option you follow is find size of each folders and take all that pain to move them one by one.
I remember being in college I used a software which used to split files according to floppy size and later on reassemble it. But those days gone we are now worried about moving mammoth terabytes of data to hard disk which is falling short of space. Let us learn how you can solve this puzzle using some software.
Folder Axe
This free software allows you to split any size of folder according to :
How many files you want in each folder
Size : Useful when you want to move files using USB which is of limited size.
Name : If you have organized your Music Album according to Album Name and now all you want is organize it alphabetically.
All these options come with another option which allows you define the name of the folder which will help you identify how the folders were sorted. Your original files are always preserved.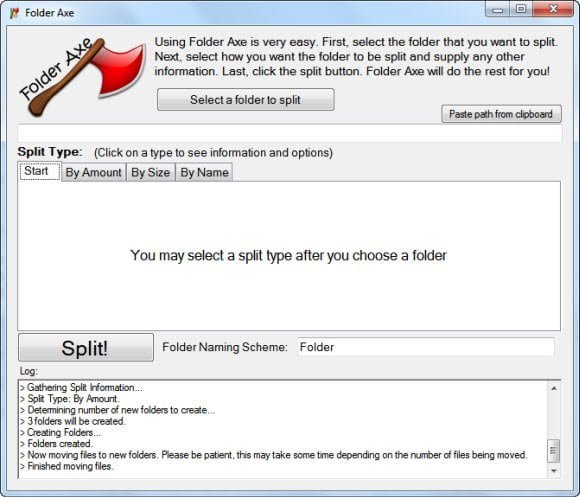 Video demo of Folder Axe
WinRar
The only thing missing in Folder Axe is compression. Let us assume you have huge collection of images and text files which you want to backup but since you are only left with  a USB drive to transfer, WinRar comes with a handy option which allows you define each size of the zipped folder. The predefined options supports for CD Drives,  DVD and any custom size you need.
Launch WinRar
Click on Wizard
Select Files or Folders you want to include
Define Size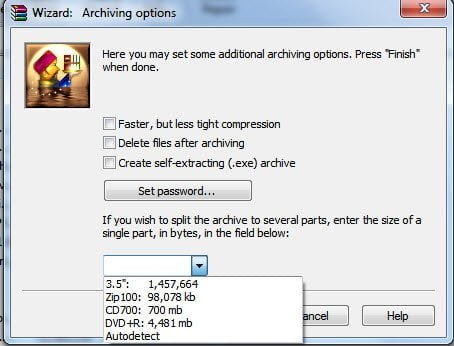 The only drawback is it takes time to compress and hence best used when you are creating backups. I would suggest not to use this option for videos and music files as compression is not very high and will take lot of time.
Video Demo