Start Menu will be the first thing Windows 8 users will be first looking at when they finish installing or upgrading to Windows 8 and as we trust there is going to be a lot of complaint on it and so today we take this post to help you understand where it has gone why you have a better option. As of course this is a big change from usability but then you have more advantage but not having then having it
Start  Screen : From Where did the inspiration came ?
The Metro Interface, which most of the people noticed in Windows Phone, is actually an inspiration which came from Windows Media Center and Zune. The same thing is now on Windows 8 and its a major overhaul. So instead of Start menu and the regular desktop which you see when you login to your PC, you get to see beautiful, colourful and usable screen filled with live tiles, which can tell you whats new using Live Tile Notification.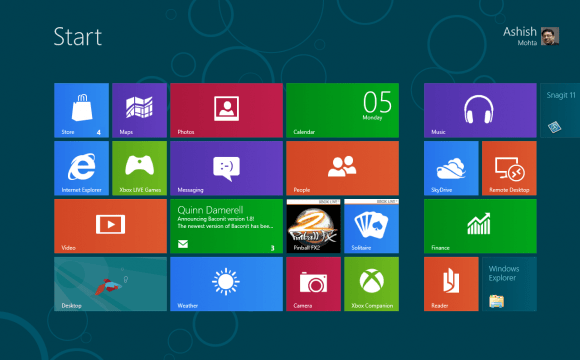 Switching to Windows 8
For users witching to windows 8 its going to be frustrating a bit because its completely different but at the end when you understand it pays off well. Now the real question is what are these live tiles and why they are better than icons. Icons are only application launcher, and they don't know anything more than that.
So, for an example, an icon of Email Icon cant tell you if you have new email but a Live Tile can do that. So just by looking at your live tile you can know if you have an email, a small preview and for some apps you can even launch the uninstall if you don't like it.
Start Screen : Where to Start ?
I am sure that if you been using Windows from a long time, Windows 8 Start Screen has zero learning curve, but since things are moved here and there, let us take you towards a simple tour to start screen and what you can do with it.
Managing Live Tiles
Search
Switching Between Apps
Charm Bar
Profile
Notification Area / System Tray.
The End of Icons, Long Live the "Live Tiles" & The Windows 8 Desktop :
The desktop is not dead, its all there  but since we were using it to store shortcuts, files and wallpapers for it, Microsoft Metro Design said that lets make this more useful and  live. So when you look at Windows 8 Start Screen, its set of tiles of mostly two sizes one which is a perfect square and the other is rectangle. Each of these tiles represents an app i.e. software which when clicked or touched will launch that app. You can say that they are an enhanced version of the shortcuts. These tiles are arranged over in girds which keep on expanding. So for touch based device you swipe else, you can use the horizontal bar at the bottom to scroll. You can also use the zoom icon to zoom in and scroll if you have a huge list of applications pinned to the grid. Windows 8 Desktop, Can be accessed when you hit the regular Win + D shortcut, and you can use it regular way.
Managing Tiles :
Unlike Icons which used to give nothing, Tiles can give  you lot more part from live tile notification.  So here list of things that happen with tiles.
Select a tile with right click and you can Remove it, Turn of notification, uninstall the app itself without going to add & remove program (only for Metro Apps),  Resize Live tile from square to rectangular.
Select multiple tiles and you can unpin all of them from the start menu.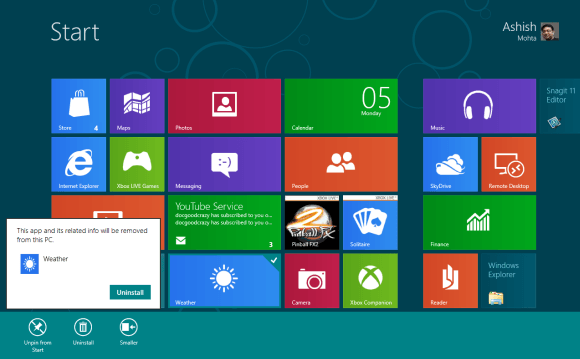 Global Search : (Shortcut : Windows Key + Q )
Hit an alphabet and you will search screen with results categorized in App, Settings and Files which means its a global search which is similar to Windows 7 Universal Search. So when you see the search result, you will list of apps also appearing which means whatever you are searching, you can click or tap to select the app to see more in that particular app.
Couple of shortcuts you can use here :
File Search : Windows Key + F
Settings Search : Windows Key + W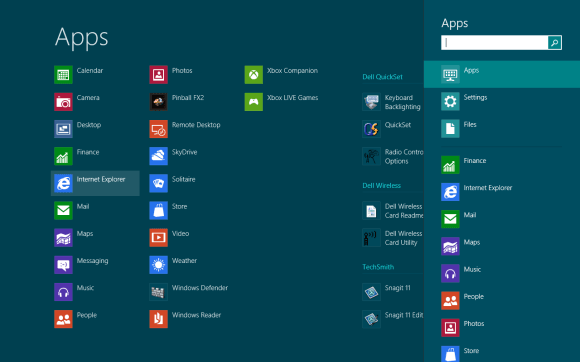 Switching Between Apps :  (Shortcut : Window Key + Tab )
Take your mouse or touch at the top left, and you will see a brownish bar appear where you can see list of all windows open, similarly when you Take your mouse to the corner, where Start  Button used to be, you will see the last windows or app you accessed. You can also use the Windows Key to switch between last opened app or window or Windows + Tab to cycle between.
Couple of shortcuts you can use here :
Windows Key : Switch to last open window
Windows Key + Tab : Cycle through Apps in default order
Windows Key + Shift + Tab : Cycle through Apps in Reverse order
Windows Key + Ctrl + Tab : Opens up a sidebar on the left which contains a list of windows with live preview.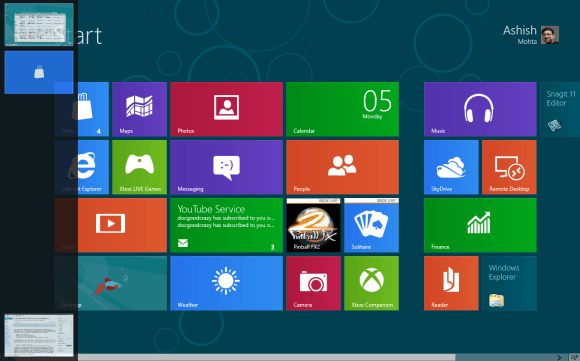 The Charm Bar : (Shortcut : Windows Key + C )
Move your mouse to bottom right and you will see bar appearing where you can see icons for Search, Share, Device, Settings and Start Button to switch to last open window. Also, when you have your mouse over the charm bar, you will clock, date battery, Wi-Fi connection etc. We will get you more details on this in upcoming posts that will help you know more features.
Couple of shortcuts you can use here :
Windows Key + I : Opens the IE Settings in Charm.
Windows Key + K : Opens the connect charm with which you can see list of devices you are connected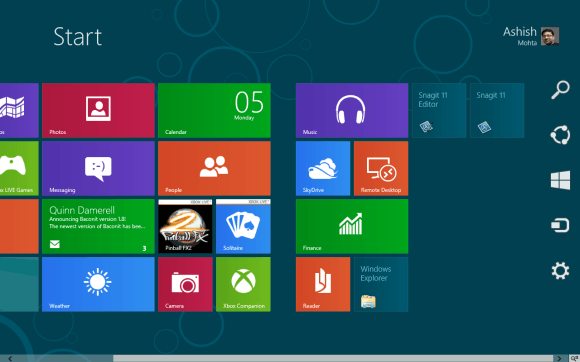 Your Profile :
Since Windows Phone, Microsoft is putting people first. So in Windows 8, you have your profile on the top left on the start screen which gives you quick access to Change Account Picture,  Lock and Signout.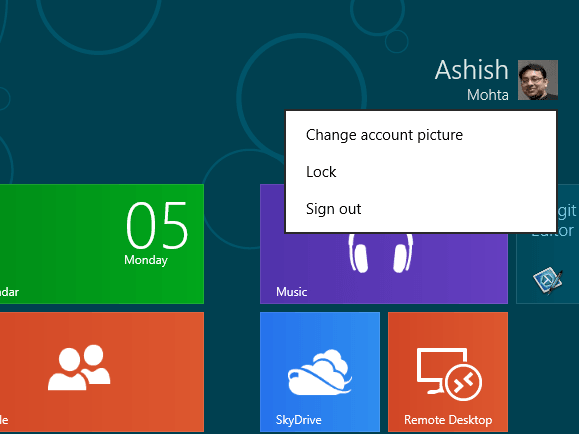 The Notification Center : (Shortcut : Windows Key + V )
If you are missing the clock are or the notification area and all those icons which used to sit in the system tray, Windows 8 Moved it to a completely different area. When you see the Charm Menu, Click on Settings and you will see a new bar appearing which is an expanded version of old Notification Area. Here, you can see icons for volume, notification, power and more pc settings. This area will popup every time a device connects, for example, when you connect your USB or a new monitor.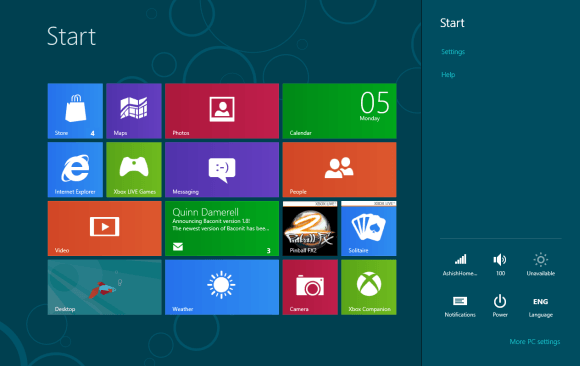 Back to the Question : Where is the Start Menu ?
I did not really answer where is the start menu of Windows. The idea above was to tell you why Start Screen will have more advantage when compared to new start screen. Also, if you went through all the features above,  you can understand that start screen is an excellent replacement of old start  menu of previous versions of Windows. Always remember, the war of bringing the old stuff back to new will never end but, we should move to a better solution for good.
Search an App on Start Menu = Start Typing with the name of app you want to search for. Add to Favorites = Pin to Start Screen as Live Tile.
Notification Area  = Settings in Charm Section
Desktop = Still there but not the starting screen.
I guess this post is good enough to give you a start with all new things in Windows 8 Start Screen but  stays assured that you will see many other features.