In light of recent changes made to Skydrive, which made it really useful, we thought of making this starter guide to help users know about it and use various features of Skydrive with their devices. Before you set your expectation bar way too high, I will suggest you not to, specially if you been using other services. My experience with this upgrade is kind of mix, but overall happy with few features I find very useful.
Introduction to Skydrive :
Skydrive is an online storage solution from Microsoft which gives you ability to connect devices, share files across platforms with options of Apps, Web Access and your computer over the internet, anywhere, anytime . You can compare it with service like DropBox, but with the recent update, Skydrive has become a different beast which many Windows users will love to use it.
Prior to this, the device were able to connect with services like Mesh which is integrated into Skydrive. Once you install the windows app on a PC, you will be able to access all the drives and folders via Skydrive itself. This is super awesome feature !!
How to install a Skydrive on a computer :
Create a Skydrive Account : In order to use Skydrive, you need to create a live id. This can be created on  https://skydrive.live.com/ When you visit that page, you will see a login screen, left of which will be an option which says "Don't have a Windows Live ID? Signup". Follow it and create your account.
Good thing about this service is that you can use any of your existing email address to signup in case you do not want to use any other services. Sign up process is easy which needs some of your basic info which will be useful in case you need to verify your account anytime. Also, make sure that you use your correct mobile number here as it is going to be handy when you approve a computer with your Skydrive Account.
Now if, you already have a Hotmail, Messenger or Xbox LIVE Account, I will suggest you to signup with that account. This will give you easy to all these services without requiring you to sign in or sign out all the time.
Grab the free Storage : Microsoft is now giving out 25 Gb of space for users who already been using Skydrive from sometime, but if you are new, you still get the 7GB Space to start.
To enable the 25GB space,  you need the message that will show up on your Skydrive account or follow this link to Managing Storage Space. Read  more info here .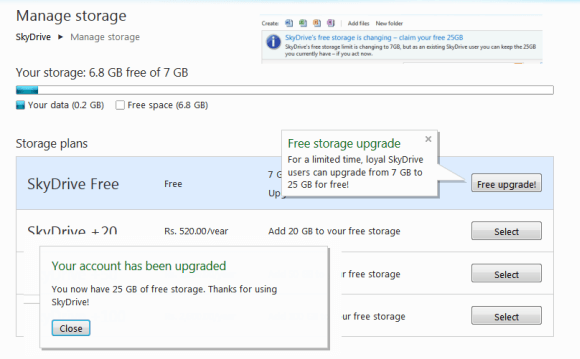 Install the software on your computer :  Once you are signed in, on your left section of Skydrive, look for an option which says "Add Computer". When you click on this, it will take you to Skydrive for Windows Download Page here.
Once Downloaded, Install it like any regular software on your computer. Just make sure that you change the folder to any other drive other than the drive where Windows is Installed. This makes sure you don't loose the files in case of re-installation or format.
Once the app is installed, you will see that files are getting downloaded into that folder which is exactly same as your folders and files on your Skiydrive Account.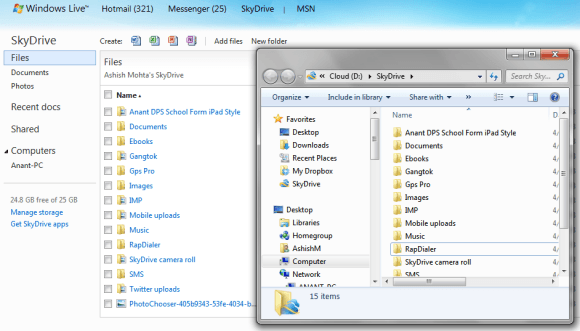 Authorize the computer : This is an important step. Once you have the software installed on your computer, Refresh your Skydrive page, and you should see your computer name right under Computers on the left hand side.
Click on the computer name and if this is the first time, it will ask you to authorize it which is done by sending an SMS to your mobile number you had used during registration. Once you enter the code, you will be able to access your Drives, Desktop and Folders like Downloads from Skydrive Account.
Uploading / Deleting / Managing Files on your Skydrive.
Uploading is pretty simple in Skydrive now because you have it like any other folder on your computer. Just navigate to the Skydrive Folder and copy files into it. Instantly, if you are connected to internet, the files will start uploading to Skydrive.
Any file, which is deleted from one device, is deleted from all the shared devices and as of now there is no option to recover it so just be careful on this. Every time a change happens you will see your Skydrive icon running tiny progress bar under its cloudy icon.
Managing Documents (Office Files) : This is something I am seriously loving it. Though this feature been there for a while but now with the desktop integration, you can edit and view any file  which you have copied from your computer to skydrive and sync changes instantly. You can also view a previous version of the file, restore it back,  print and download a copy on demand.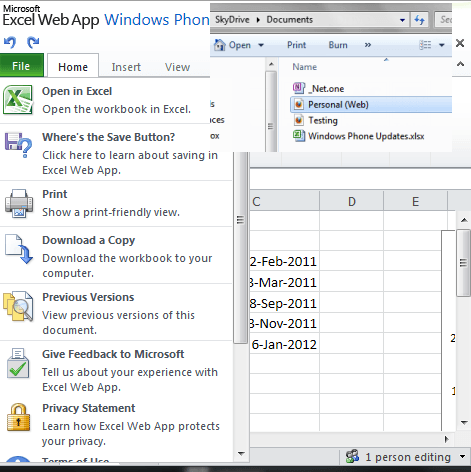 However documents which you had created online i.e. via the web interface appear as HTML page on your computer and when opened, redirects to web interface for editing.
How to share files and folders with Anybody & Over Social Network
Sharing files from Skydrive is pretty easy and can be done via the Web or the online account.  Select any file or folder and on the right hand sidebar, you will get option "Sharing".
When you click on that, a small window guides you to the next step. You have the option to share this via Email, Facebook / Twitter or by grabbing a link and then sharing manually later. All the sharing modes have two modes View Only and Edit where you can restrict users to Sign-in before editing. This helps you find who all edited the document. In case a file is already shared, you will be able to view details on that and can change it anytime.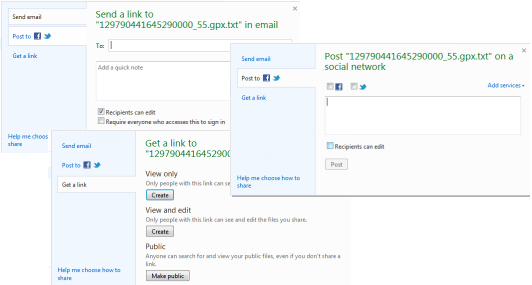 Accessing your files on PC via Skydrive
This is what interests me most because I can access my computer without configuring any complex stuff like VPN, Router etc. This will be useful for most of the users because most of the time they need access to the files and not computer.
Like I stated in the installation step that when you connect, you need to authorize using the SMS you receive on your phone. This is not one time because of security reasons. Every time the session expires or you had not accessed it for some time, it will  ask for authorization again. This is nice because nobody will be able to access skydrive.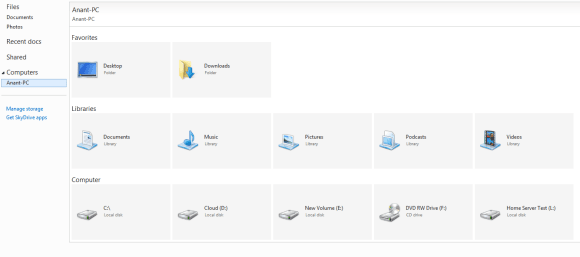 So once you had your computer authorized with Skydrive:
Next time you access it, you get to see your Desktop, Downloads, Hard Drive. Consider it like an online browser.
You can browse view files, download it directly on your computer and also copy files to your Skydrive account from your computer, remotely. You can open documents directly on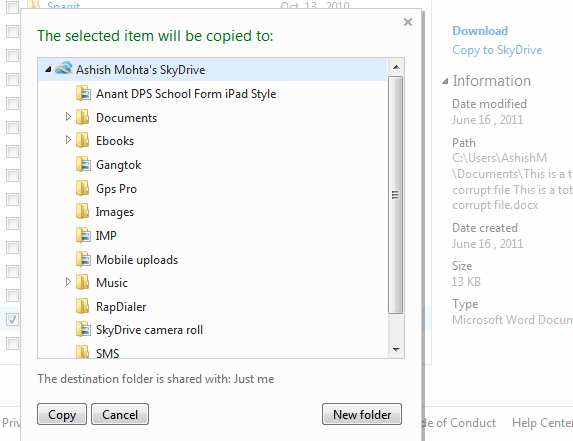 However, there are few drawbacks here. You cannot copy a folder to Skydrive nor you can copy multiple files to skydrive. You need to do it one by one. This kind of restriction is huge for user like me but may be Microsoft Team analyzed that its not used much.
Video

Watch on YouTube
Need more space ? Pricing for more storage space
You can grab more storage space by paying 10$ for 20Gb, 25$ for 50 GB and 50$ for 100Gb per year. Now whether you should go for this kind of pricing or grab another service is beyond this topic's scope, but we will come out with a decision guide sometimes this year once we see one more option take into comparison.
Recommended Skydrive Apps :
Skydrive is available across platform which includes iOS ( iPad, iPhone Apps ), Windows Phone, Mac and so on. Below is the list of apps you can try out.
Overall this update is a warm welcome and will be useful for many. Now many users, including me, would miss and can point tons of improvement that Skydrive needs, but since this is the first major change, I will give it a pass and hope that Skydrive just becomes better space with time but not very late.