There are times when you wish to migrate mailboxes, but doing so manually is a time-consuming job. Hence, you might want to use an EDB to PST converter for the job. There are many tools available for this job. However, among all the options, we prefer the Stellar Converter for EDB. It is a great tool that comes with lots of features. So if you have been planning to get the tool and try it out, then we are here to help you with an in-depth review of Stellar Converter for EDB.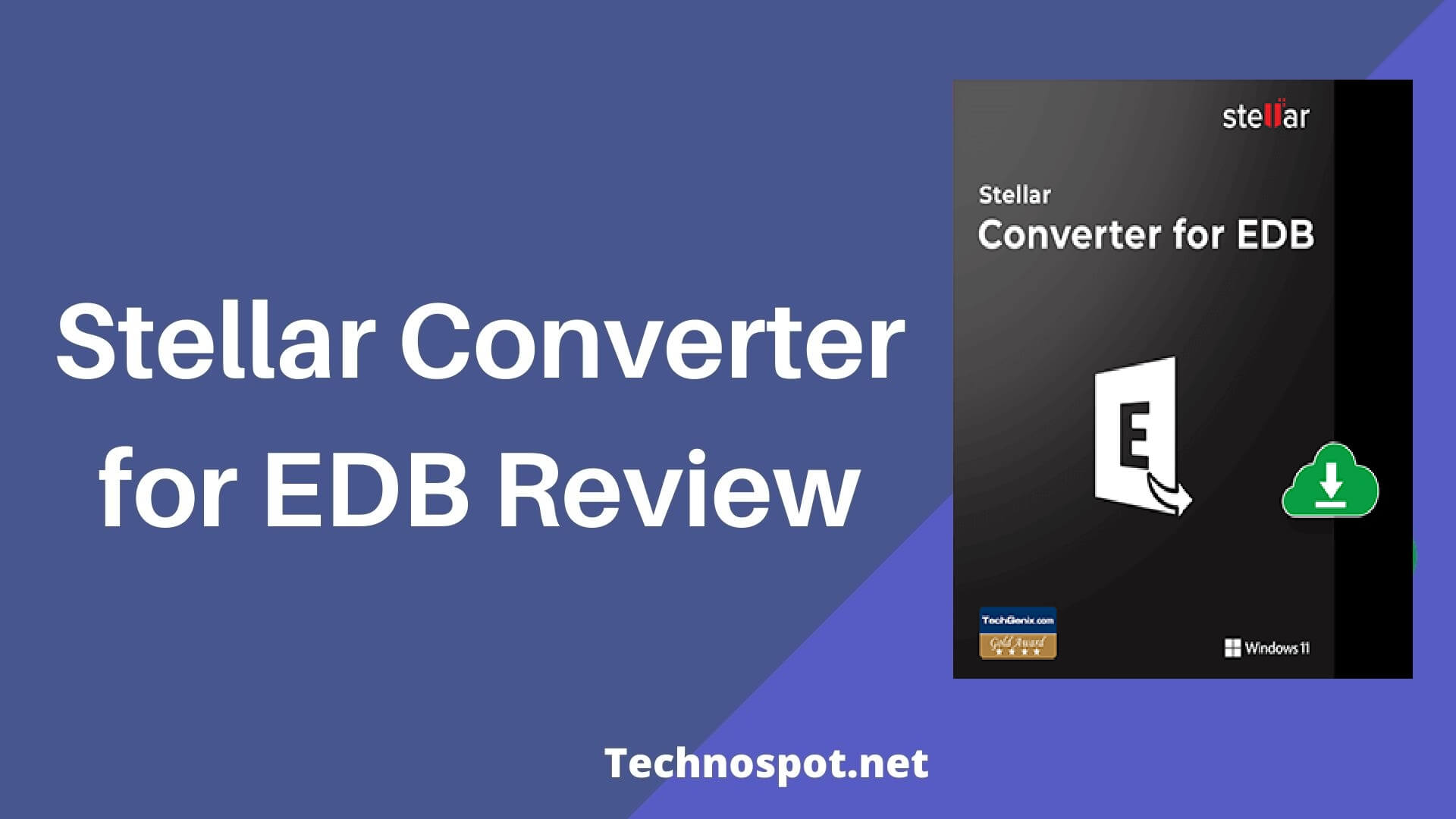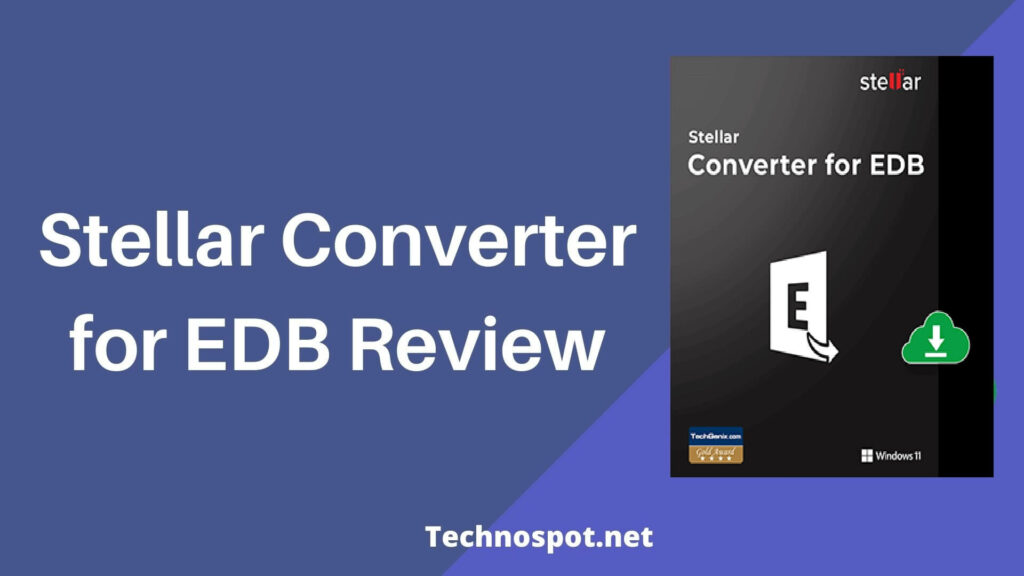 Stellar Converter for EDB – In Depth Review, Features, and Pricing
Here is the list of topics we will cover on Stellar Converter for EDB
What is Stellar Converter for EDB
Key Features of Stellar Converter for EDB
Pricing Stellar Converter for EDB
System Requirements for Stellar Converter for EDB
How to Install Stellar Converter for EDB
Make sure to read each section to gain complete clarity on the product.
What is Stellar Converter for EDB?
Stellar Converter for EDB is one of the best tools for extracting mailboxes without dismounting the database. Microsoft MVPs and IT administrators recommend this product, and it owns excellent reviews.
With Stellar Converter for EDB, you will easily export single or multiple mailboxes from online and offline Exchange databases. Plus, you can also prioritize mailbox conversion without affecting the server performance.
Moreover, it also supports parallel processing of mailboxes for faster conversions. Also, with this tool, you can migrate large EDB files to PSTs, and it doesn't have any file size limitations.
You can also use the tool for exporting offline EDB files and public folders to live Exchange or Office 365. Also, it supports Exchange 2019, 2016, 2013, 2010, 2007, 2003, 2000 & 5.5 versions. So no matter which Exchange you are using, this tool will work seamlessly with it.
Key Features of Stellar Converter for EDB
Following are some prominent features of Stellar Converter for EDB that you must know,
Export Mailboxes to PST or Several Other File Formats
With this tool, you can easily export EDB files into PST, Live Exchange Server, or Office 365. Besides, it supports several other portable file formats, such as PST, MSG, PDF, RTF, HTML, EML, and others.
Simultaneously Saves Multiple Mailboxes
If you wish to migrate data on a different Exchange Server, it has a parallel processing feature. It moves up to 4 mailboxes from offline EDBs to PST, different Exchange Server mailbox databases, or Office 365 at the same time. As a result, you will be able to save time.
Preview Before Saving Mailboxes and Mail Items
Stellar Converter for EDB supports previewing your data like attachments, emails, contacts, calendars, notes, and others. This feature will prevent you from exporting unwanted data, and you will know what data you are moving.
Selective Mailbox Conversion for Precise Mailbox and Mail Item Conversion
It supports selective conversion. As a result, you can choose between converting the whole mailbox or particular emails only. It will prevent you from exporting unwanted emails, and the conversion time would be less.
Archive Mailbox Conversion
You can also export or migrate your archived emails with your main mailbox. So there is no need for you to unarchive your emails. Instead, this tool will move all the emails as it is.
Filter Data to Exclude or Include Mail Items Based on Various Parameters
If you are looking for a specific data file, a search bar comes in handy. In addition, the advanced filter option during EDB export allows you to exclude or include emails based on an email address or any other criteria.
Free Version Available for Evaluation
There is also a free version of the tool available. The free version is good enough for basic tasks and gives you a heads-up. So you can try out the tool before opting for a premium license.
Exports Exchange Contacts to CSV Format for Portability and Quick Import
The tool also allows you to save contacts to a CSV file. It will come in handy when you collate and move all the contacts stored in a single database.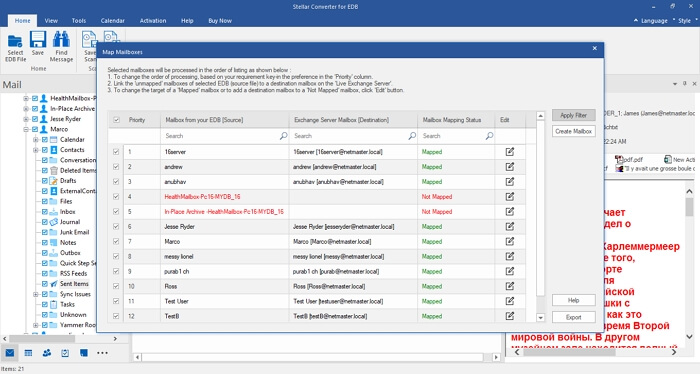 Creates Mailbox on Destination Exchange Server
You can also use the Stellar Converter for EDB tool to create a new mailbox to map the user. You can create mailboxes on Exchange by running the software on the Exchange server. Or you can run the software on a local system on the Exchange server domain and has admin usage rights.
Converts Unicode EDB Files With Complete Integrity
Apart from the usual EDB file conversion to PST format, the latest version of the software supports converting Unicode to EDB files. You can use the tool to convert EDB files of any language to PST format. Also, this feature eliminates any incompatibility issues that might occur during the conversion process.
Pricing Stellar Converter for EDB
Apart from the free version, Stellar Converter for EDB comes with three different price plans. These plans are named:
Corporate I
Corporate II
Toolkit
Both corporate I and II have similar features. However, Corporate I supports conversions of up to 50 mailboxes, and a single user can use it. On the other side, the other Corporate II plan supports up to 500 mailboxes and multiple users.
The toolkit plan comes with extra features and utilities that you would not find in the corporate plan. Features like repairing corrupt or damaged Exchange EDB files, support for parallel processing for faster mailbox recovery, splitting the Converted File into Smaller PSTs, and others are only available to the toolkit plan.
The plans cost you $299, $399, and $699, respectively. For more information, you can check the official website.
System Requirements for Stellar Converter for EDB
Before installing the software, it would be good to know the system requirements. Stellar Converter for EDB doesn't require high-end configuration and the minimum requirements are:
Processor: Intel-compatible (x86, x64)
Operating System: Windows 10, Windows 8.1, Windows 8, Windows 7, Windows Server 2016, Windows Server 2012, Windows Server 2008
Memory: 8 GB (recommended) 4 GB (minimum)
Hard Disk: 250 MB of Free Space
MS Outlook: Outlook 2019, Outlook 2016, Outlook  2013, Outlook 2010, Outlook 2007
Also, Stellar recommends using a 64-bit processor and a 64-bit version of Microsoft Outlook to enjoy the best performance.
How to Install Stellar Converter for EDB?
First, download Stellar Converter for EDB from its official website.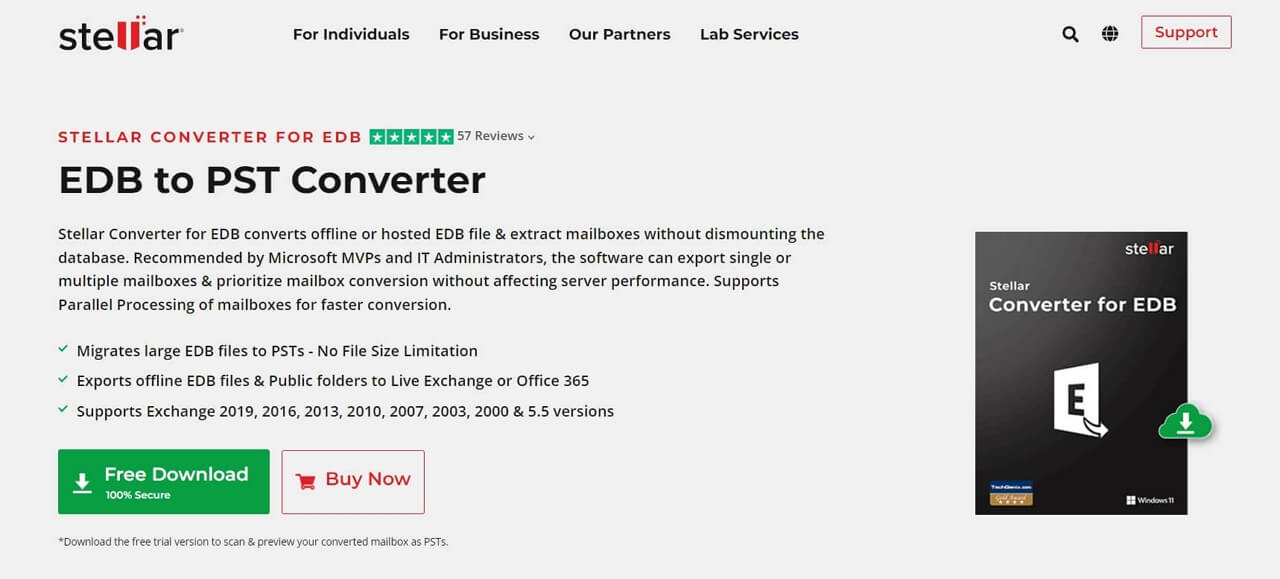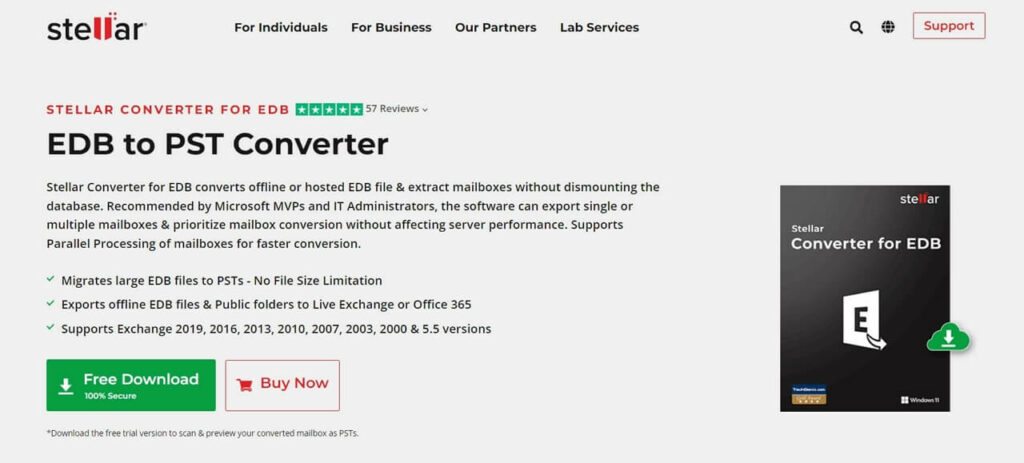 Once downloaded, double-click on the StellarConverterforEDB.exe setup file to start the installation.
Next, the Select Setup Language dialog box will appear. From here, select your preferred language and click on OK.
Then the Stellar Converter for EDB will appear. Click next to continue.
Next, accept the license agreement to continue.
After that, it will ask you to select an installation location. So click on the Browse button to choose a location, or you can go with the default location.
Next, select all the checkboxes as per your requirements.
Then follow all the screen instructions to complete the installation process.
So that was a quick review of the Stellar Converter for EDB. Overall, this is a great tool that makes it super easy to convert EDB files. It comes with some unique features that you wouldn't find with any other tools out there. So go ahead and give this tool a try and see how it is working for you.