Sometimes when you try to open an image, it doesn't open as expected. Instead, you receive errors such as header corrupt,  and so on. In this post, we are reviewing Stellar Photo Repair Software which can repair images such that you can open it like any other image. I am sure many of you keep a backup, but the software can be handy in those dire situations where you have no options left.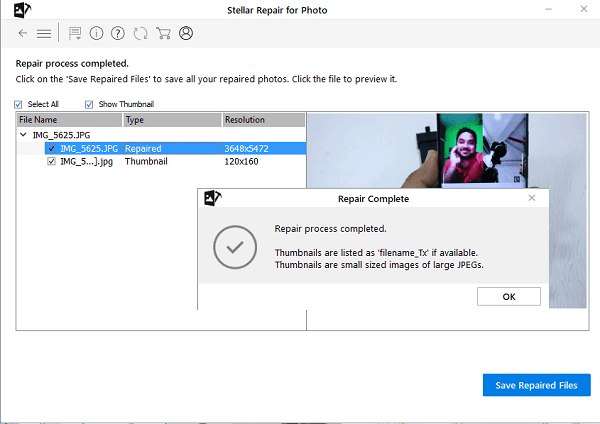 Stellar Photo Repair Software can Fix Corrupt Photos on Windows and Mac
Stellar as a software company offer recovery software for different data loss cases. It includes recovering deleted photos, videos, audio, repairing corrupt images, videos, and more. In this post, I will review the Photo Repair Software.
How does the software work on a fundamental level?
Unless a photo is beyond recovery, the software takes care of some underlying issues like header corruption, etc. which is only a matter of fixing the index. It can also use a similar image to fix an image which is severally damaged.
It can Repair JPEG & RAW Camera Files. (JPEG/JPG, ARW, CR2, CRW, DNG, ERF, MRW, NEF, NRW, ORF, PEF, RAF, SR2, TIFF, RW2, and SR). It repairs files with a corrupt header, invalid JPEG file structure, corrupt JPEG data, missing SOS marker, unknown or invalid JPEG marker, etc.
Fix Corrupt images using Stellar Photo Repair Software
Launch the Stellar Photo Repair Software after you have installed on the computer. The software offers a simple and user-friendly interface. All it asks you do add an image either by using the file explorer or drag and drop. You can add multiple pictures and of different formats.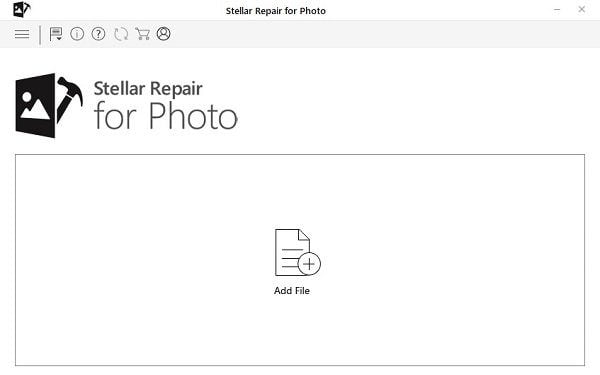 Once the images are added, you can view details including file name, path, size of the photos, modified and created date in tabular format. You can select and deselect pictures. Post this, hit the repair button to start with fixing corrupt images.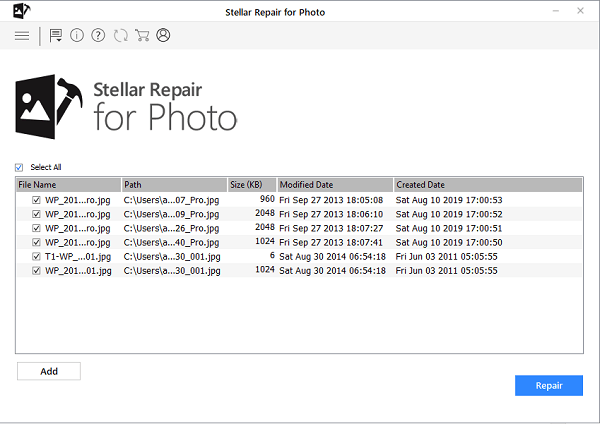 During the repair process, each of the images will be marked as repaired or advanced repair. The one with fixed can be exported out.  However, pictures marked with Advanced Repair means, additional processing is required. For each image, a thumbnail is also generated.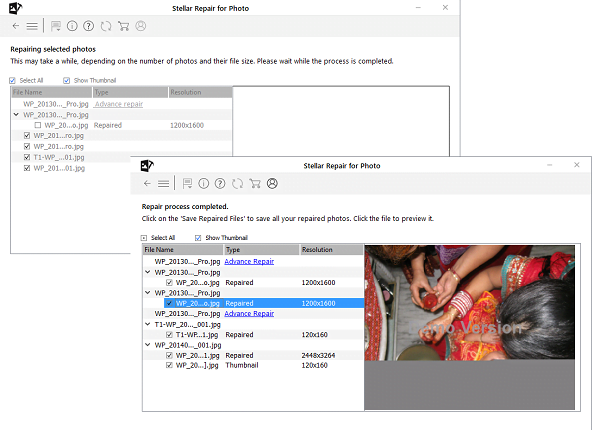 Advanced Repair for corrupted images
It is no trick, but smart processing. Here an image can be repaired using a sample image of similar type. We usually end up taking multiple pictures of the same scene. So if you have anything related, the software can use that as a template to fix corrupted images.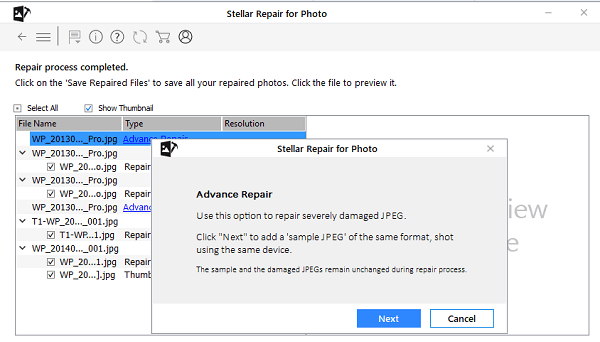 Click on the advanced repair, and click on Next. Select a similar image, and continue with the advanced recovery. The option works only for severely damaged JPEG files. Make sure the image is of the same format, was shot using the same device. The original photo remains untouched after the process is complete.
Overall Stellar Photo Repair tool looks great. It is simple, straightforward, and it works as expected. It should work with most of the corrupted photos unless it is severally damaged. Even for those, the software attempts to recover them by analyzing similar looking images.
If you are reading this as soon as the post was published, Stellar is offering 40% off on photo recovery/ video repair/ Photo repair software on the occasion of Photography day.