Online file sharing and storing, is one of the most desired functions of internet and no-doubt developers have developed several such kind of services, 4shared is a service of this kind.
Account creation is required to enjoy the service fully, an account with 5GB storage space can be created for free. You can see more about other plans here.
Once you are done with account creation part, signing in into your account will let you come across a Windows like interface, which has several buttons on the upper panel, the explorer in left and rest is the main window.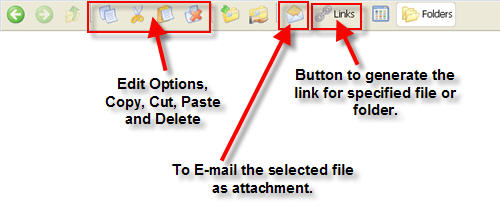 Files Upload and Operations
Upload files option can be seen on the page itself, multiple files upload option is also there, which can be used for uploading several files in one go, from your HDD or any other media.
Each uploaded file has several options which can be seen by right-click on the file, as shown below.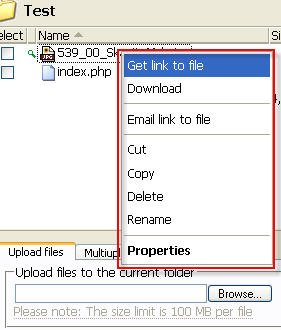 All the options are simple enough and don't require any description, however the third option i.e. 'Email link to file' lets you e-mail the link to particular file directly from the 4shared page itself, without making you login to any e-mail account.
Menu options with Folders
As seen during the buttons introduction part, you can create folders on 4shared as per your needs, every folder has some attributes, which can be accessed and edited using the folder options, folder options are accessible by right-click on the folder, as shown below.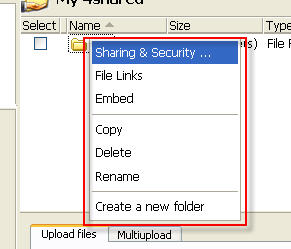 'Sharing & Security', allows you to grant the access permissions.
'File Links', provides HTML, Embed, IMG links for each and every file in the folder.
'Embed', gives you the embed code for the folder.
Rest of the options are simple enough.
You can also create a subdomain, of the format www.yourname.4shared.com, to share your files with others, and also keep it password protected. However you can only get on subdomain with the Free plan of 4shared.
More about 4shared
You may upload as many files as you like to, but they should fit your virtual drive space (the space allocated for your account on the server). The space limit is 5 GB per account.
Currently 4shared sets a 100 MB size limitation per file. Your files must not exceed the limit, otherwise they will be rejected.
If the size of the file is more than 100 MB, you can split the file into smaller parts and upload them separately using the multi-upload feature.
Don't forget to login into your account once in a 30-days span, else you may loose all the files there. You can also allow your files to be seen in public search results.
My Experience with 4shared
User friendly, windows like interface makes it simple to use.
Fast Uploads and downloads
Different modes of sharing are present, Links, embed code, IMG codes etc.
Individual file sharing as well as full folder sharing feature.
Different levels and several modes of access restrictions can be imposed.
Overall, a nice service, with lots of features, give it a try and do share your experience.