Browser tabs sometimes get excessive and clutter your navigation bar. The number of tabs you have opened on your browser also strains your CPU and GPU and slows your computer. Out of these tabs, some tabs put a more significant strain on your PC resources than the others, and these are called Background tabs. This article suggests methods to suspend background tabs in Edge, Firefox, and Chrome in this article. Please make sure you read this article till the end.
What Are Background Tabs?
Background and idle tabs may look to you the same, but they are entirely different. Background tabs will strain your PC's resources as they keep reloading or extracting information. The most common background tabs are email sites like Gmail or social media sites like Facebook. These sites refresh in the background to show updates like new emails and social media notifications. It puts your memory and GPU to use, and the more such tabs are opened, the more difficult it will get for your computer.
Well, now that you have a fair amount of idea about what background tabs are and why you need to suspend them if not in use, let us proceed with our methods.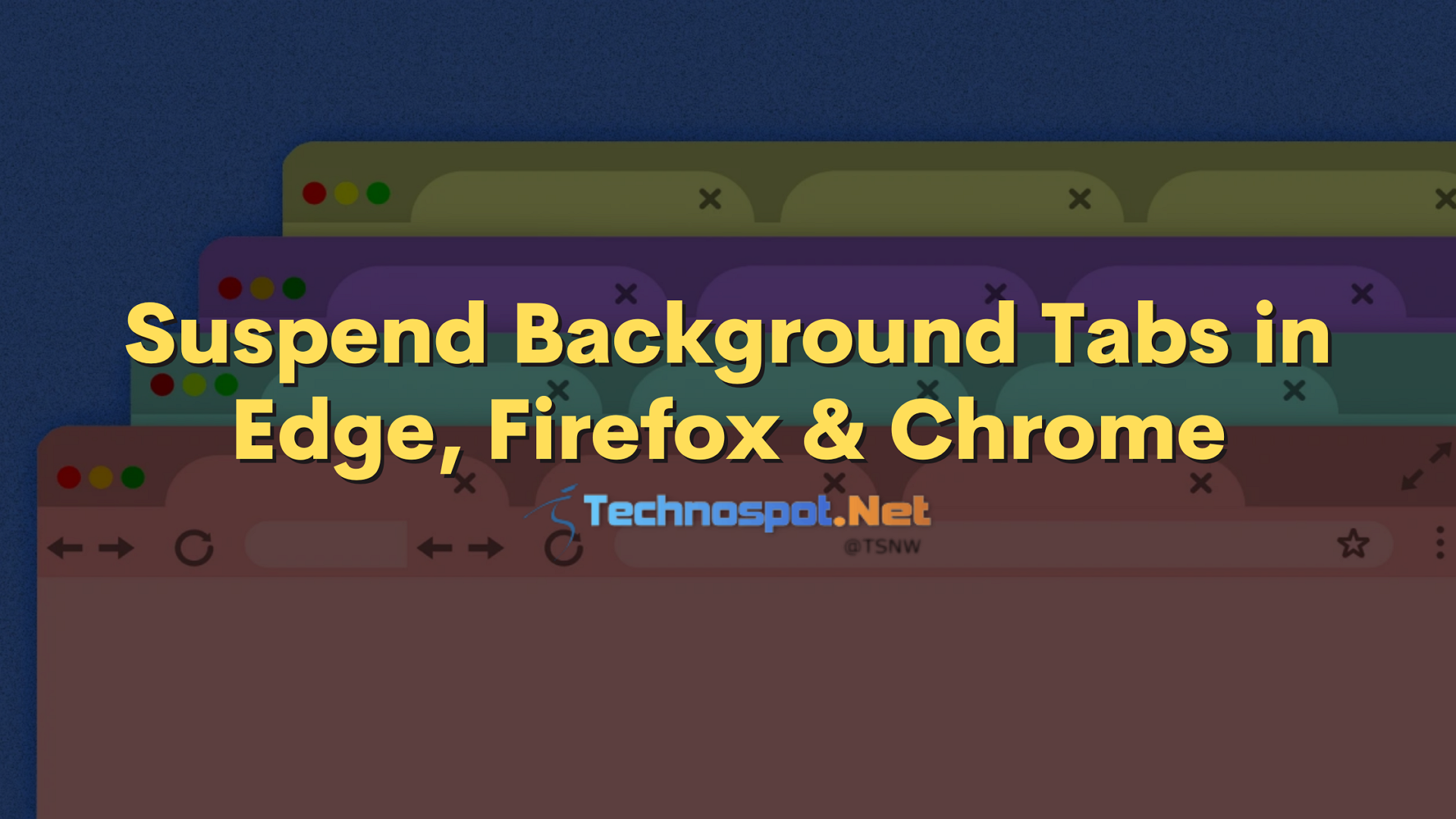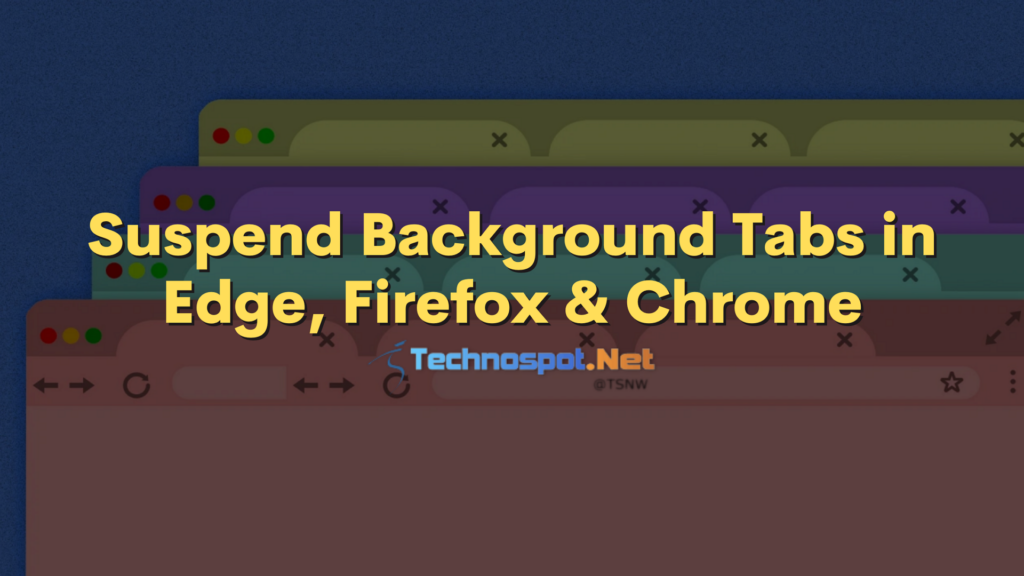 Suspend Background Tabs in Edge, Firefox, and Chrome To Improve Performance
Suspending Background tabs manually can be a hassle, and you might also need to do it too often. We have curated two browser extensions for Edge and Chrome and one specifically for Firefox. It will save you from the hassle of doing the process manually, and here are their names and how to use all of their features. Here are what's covered:
Use Tab Wrangler for Edge and Chrome
Use Tab Suspender for Edge and Chrome
Use New Tab Suspender for Firefox
Make sure to give all of them a try, and then choose based on your liking.
1] Use Tab Wrangler To Suspend Background Tabs In Edge and Chrome
Tab Wrangler is a widely popular tab management extension available for Chrome, Edge, and some other Chromium-based browsers. However, the extension does not support Firefox. You can set Tab Wrangler to automatically suspend tabs that are not used for a specific period. The timer for the tabs can also be customized according to your will. Every time you open the tab again, the time resets automatically. Let's have a detailed look at the features:
Customizations 
Tab Wrangler is one of the most customizable tab suspender extensions. You can customize almost everything related to the extension. The customizations can be done from the Options tab in the extension menu.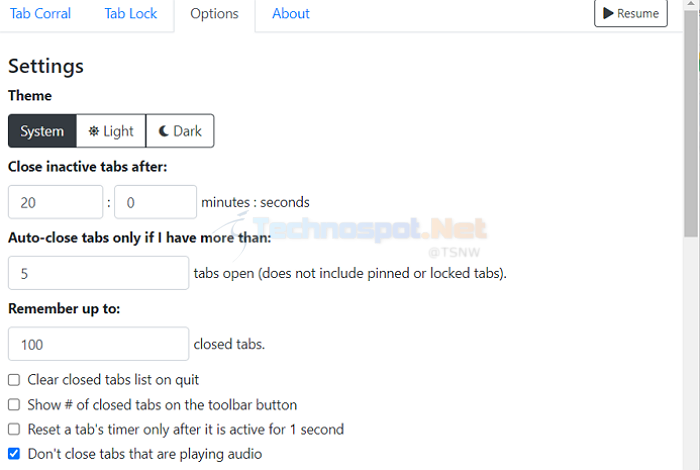 You can customize the extension theme from light and dark. You can also modify the inactivity time, after which a tab is suspended. You can also prevent the browser from opening duplicate tabs; there are a bunch of other valuable customizations too.
Tab Corral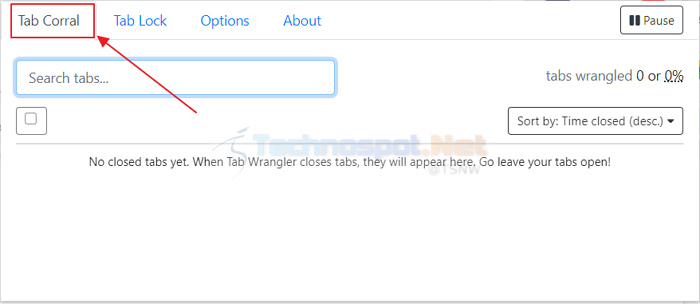 Tab Corral is a special tab in the Tab Wrangler extension where the data related to all the suspended tabs is stored. You can quickly restore a closed tab with the click of a finger without losing much of the essential data. The Tab Corral can be accessed from the top bar in the extension menu.
Tab Lock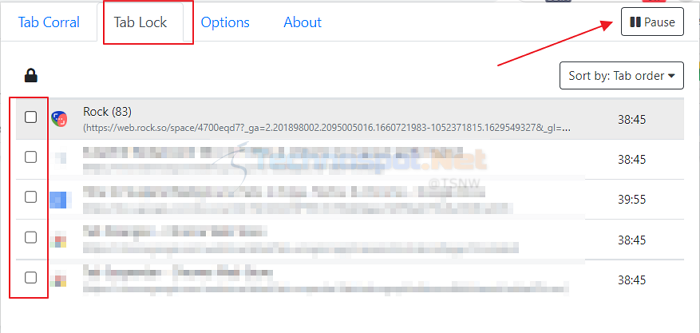 The Tab Lock tab allows you to lock certain or all the present tabs. It means these specific tabs won't be closed or suspended even after they exceed the set inactivity time. This feature comes in handy in case some tab is essential.
There can be times when you might not want the extension to keep suspending tabs for you, and in such a case, you can use the dedicated Pause button in the top right corner of the Tab Wrangler Extension menu.
Download from the Google Extension store
2] Use Tab Suspender To Suspend Background Tabs In Edge and Chrome
Tab Suspender is more ideally a tab suspender tool for the features. Unlike Tab Wrangler, Tab Suspender does not remove the tabs from the top bar. It hibernates them. The Tab is reactivated when you return to those tabs and move your cursor around. You can also set a specific time after which inactive tabs are closed. You can do tons of customizations and tweaks to this browser extension. Let's look at the features:
Prevent Sites And Tabs From Suspending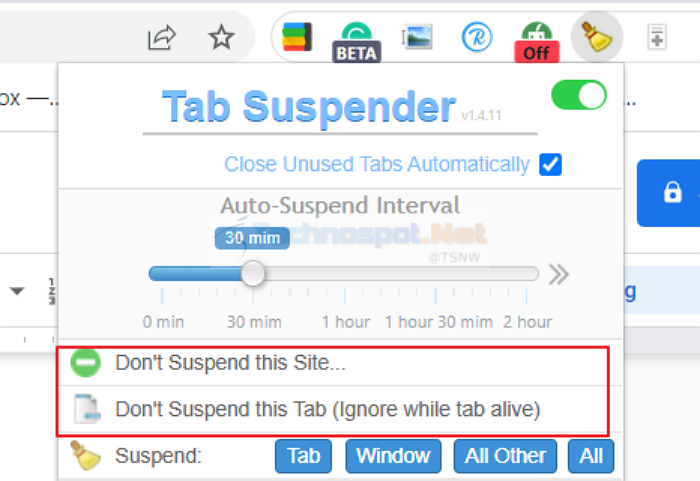 You can whitelist a site and prevent it from suspending every time it is opened in a tab. This will save your favorite or essential site from going into hibernation. If you don't want to allowlist a site forever and only want to prevent it from temporarily suspending, you may choose the second option.
Suspend And Unsuspend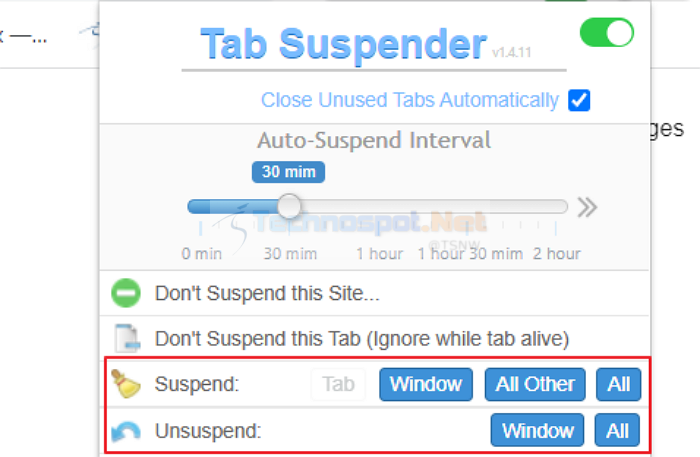 The Suspend option allows you to suspend a tab when you want it manually. You can also choose to suspend an entire Window, All tabs other than the current one, or just all the tabs in the current Window. The Unsuspend option allows you to unsuspend an entire window or all tabs in the current Window. 
Session Manager And History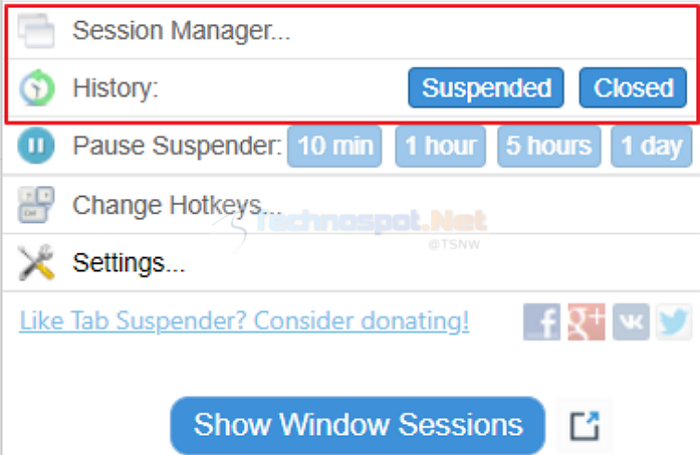 The Session Manager is an advanced utility in this extension that lets you view a snippet of all the tabs opened across the windows of the particular browser. The history feature allows you to view a record of all the previously suspended or closed tabs.
Extension Settings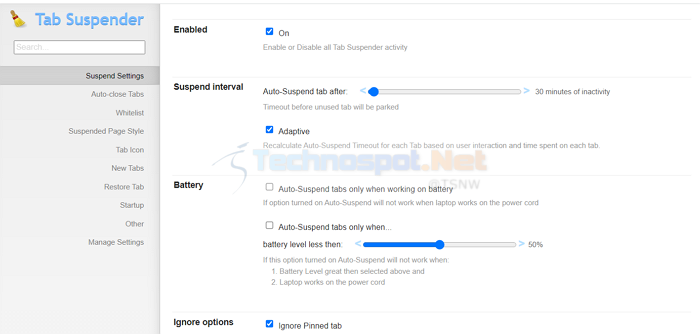 Extension settings allow you to go deep into customization. You can set the Auto close tabs feature from here. You can customize Suspend Settings, Tab icon, Suspend Page style, Restore Tab behavior, and many other things.
Suppose you wish to prevent the extension from automatically suspending and closing tabs after the specified inactivity time. In that case, you can always use the pause option from the extension menu, which allows you to set a specific time until you wish to keep the extension paused.
3] Use New Tab Suspender To Suspend Background Tabs In Mozilla Firefox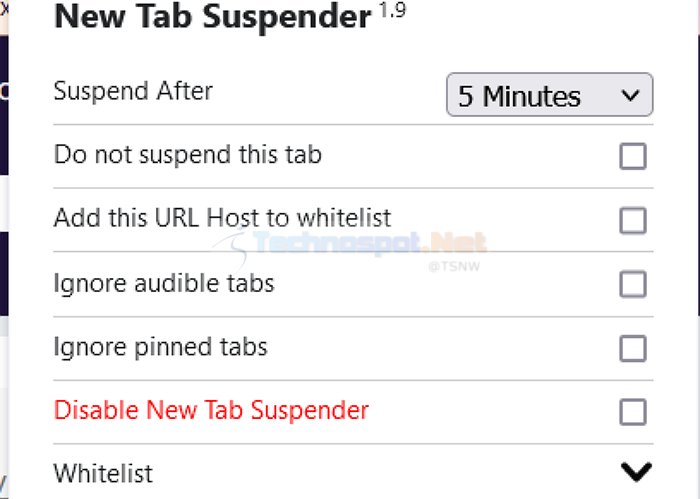 New Tab suspender is a similar tab manager extension specially curated for Mozilla Firefox since Firefox does not support Tab Wrangler and Tab Suspender. You get to set a specific inactivity time and prevent specific websites and tabs from suspending. Here are some of the essential features of the New Tab Suspender for Firefox:
Custom Tab Inactivity Time
You can customize the minimum inactivity time, after which the tab gets suspended. The default time is set to 5 minutes, which can be lowered to 5 seconds and increased to 1 hour. You can select from the list of predefined periods available.
Prevent Tabs And Sites From Suspending
You can prevent sites and tabs from suspending with the help of a New tab suspender. You can either whitelist a tab for the particular session or whitelist the entire site whenever you open the particular site in Mozilla Firefox; the tab isn't suspended even after it surpasses the set inactivity time.
Ignore Audible Tabs And Pinned Tabs
You can ignore Audible tabs (tabs with some media playing in the background like music or a video with sound), Pinned tabs, or both. It gives you greater control, and you don't lose essential tabs.
To prevent the extension from suspending tabs, the New Tab Suspender extension does not temporarily allow you to pause the extension. You have to uninstall it entirely.
Conclusion:
Working with tabs is necessary since not all of our work can be done with one site opened on our browser. A simple and intelligent decision can improve productivity and make work much more manageable. We hope you found the article helpful and got what you wanted. Please make sure you share the article with everyone.
How To Install Extensions In Google Chrome?
To Install extensions on Google Chrome, head to the Chrome Web Store. Then, look for the specific extension you wish to install. Once found, open the extension download page and click on the blue Add To Chrome button to install extensions on Google Chrome. The same method can be used to install supported Chrome extensions on all Chromium-based browsers like Microsoft Edge, Opera, Brave, and Firefox.
Is It Safe To Install Any Browser Extension On Google Chrome?
It is generally safe to install any browser extension from Chrome Web Store. However, web extensions can read and analyze your data if you permit them to do so. So before installing any extension, make sure that it comes from a trusted developer and is widely used.