Android Sync Manager WiFi is an excellent Desktop Manager ( equal to BlackBerry, Nokia etc Desktop Manager ) which lets you sync data between your computer and phone over WiFi giving you ultimate freedom from wires. This application makes sure no other PC is able to connect to your phone by using a special PIN which you set on the Android App which is installed on your phone.
Features :
Syncs Contacts with Outlook or Windows Contacts
Sync Calendar with Outlook. If you have multiple calendars, you can choose which calendar it will sync with. Sadly you cannot create a new calendar while choosing, so make sure you created one before sync begins.
Syncs SMS and lets you send SMS from your computer via your handset.
It can Sync Folders between Phone and Computer.
Create Backup and Restore when required.
Downloads Video and Images separately under Camcorder and Image headings.
You can install Android Apps directly from desktop manager.
Comes along with Music Manager which helps you find music on your computer, create music library etc.
The desktop app lets you browse the files on your phone remotely. So if you don't want to sync you can still download files directly.
Video Demo
How to Setup Android Sync Manager WiFi :
Download Setup Files
Set the App on your phone :
Launch the app you installed on your phone.
By default it will come with a PIN set. Feel free to change it and then note. This pin is required to be configured on the desktop application.
Set the Idle Timeout. You should do this so if you are not using it for a long time, it saves your battery power.
Once done, keep the app running so you get to the IP of your phone. Note that down too.
You will need IP and PIn both to connect with the Desktop Manager.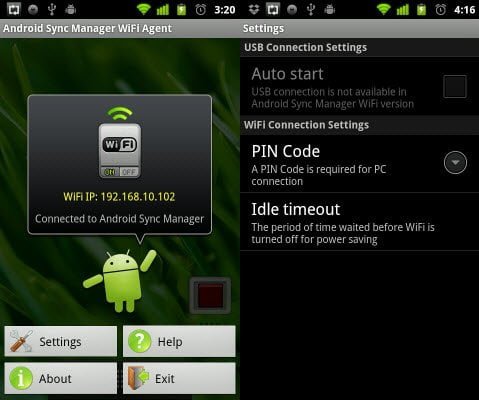 Setup the Desktop Manager :
Once you have installed the Desktop Manager successfully, launch it.
The first thing you need to do is set your PIN which you noted in the above section with this software.
Make sure WiFi is turned on and your phone and computer are on the same network.
Now in the application, Go to Settings > Connection and Enter IP and Pin both.
If you have entered it correctly, You will see the message on your phone that it is connected to Android Sync Manager.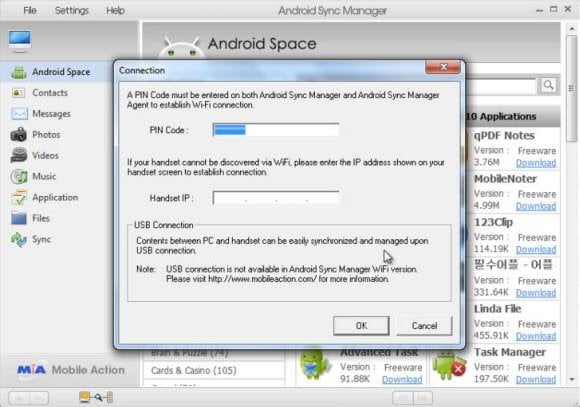 Note :
I will caution you to make your Phone as Master, so you don't lose any of the data of your phone when using for the first time. Once you have the understanding of all the functions, make your choice.
First time sync will take long time specially of you have huge data. So if you just want to test, skip Folder Sync Option.
Settings up the Sync Between your PC and Android
Skip everything and move to Sync Menu in the left sidebar. This place you can configure what can sync and what needs to be skipped.
The first section or the tab, gives you clear option for this. Make your choice.
At this place also make your phone as master data so it can overwrite everything on your PC.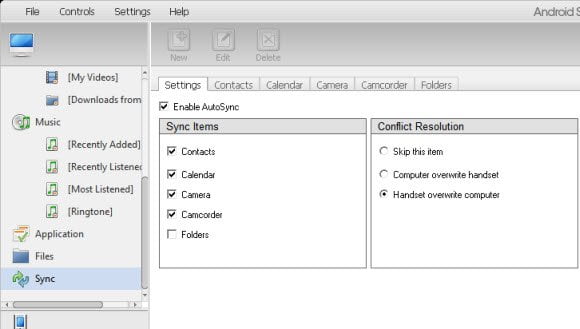 Start Sync :
Hit the Sync Button when you are ready.

When Sync Begins it asks you what to do for every section i.e. Contacts, Calendars etc.
For Contacts and Calendars you have option to choose which needs to be synced which can be skipped.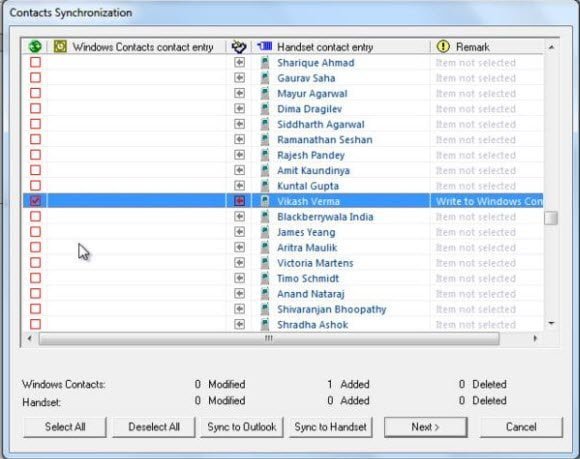 If you have chosen a Folder to sync with Phone, All your data is dumped there. This is what takes most of the time.
While Syncing, You will see the notification on your phone.

Once done you will be able to change files on your computer and then sync back to your mobile again.
Summary :
Overall this an excellent choice if you are looking for an Android Desktop Manager specially one without a Wire. However I should warn you that if you have large size files like that of a movie, it will take very long time.  Rest of the things are pretty neat. !!
 Related : Looking for a Sync Manager that Works over USB ? Check out Mobile GO