There are tons of applications which you can find over the Internet and they are based on the same old concept which was started by Windows Briefcase. Talking about the current generation, we don't remember long titles but we do remember with nick names which are often termed as tags when it comes to twitter. So you can see how easy it is find stuff on twitter with just a small hash tag no matter where it is.
If you ask a typical computer users this is what he might be always doing :
At the end of each day at I search "My Documents" (where I keep all my files) for files that I changed, created or saved that day. I then take those files and add them to another folder in the same computer.
So if you see he is trying to synchronize files every day with a common idea or call it tag "modfied".
Syncless is one such tool which does syncing between two or any several folders tagged with a term which is common to all of them. So anytime you can right-click on couple of  folders and tag them with some common word and you are done. Combine it with a Dropbox folder you can sync across computers like we did for Live Messenger Chat.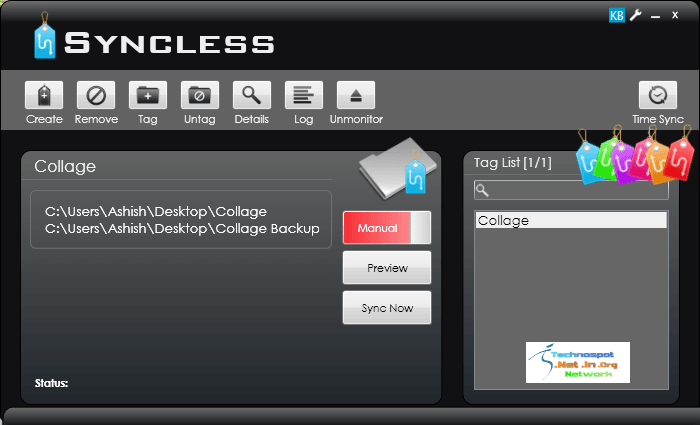 Using this application is very simple. Once you install it either launch the app or right-click on any folder and you would get an option which says Syncless-Tag and you will be prompted to add a tag. Repeat it any number of times with any number of folders.
Once done this you can click on Preview to get a report which would gives you an exact view of what is going to happen i.e. how folders will be synced, what will be deleted etc etc.
Adding a bit of complexity there is an option of filter available with every tag. It uses the regex but you don't need to sweat a lot. It is only required if you want to make sure what files go in and out.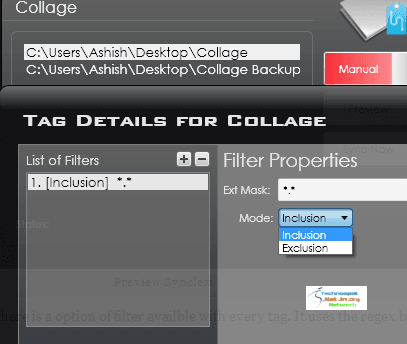 There are couple of more features like Log, Monitoring etc which you will like it.
Said that there are few options I find missing.
The filter is too simple but I guess the application doesn't want to complex you. But still time based filter and few simple ones can be added.
I cannot use a network folder. It will give you an error saying invalid folder. There are couple of scenarios where this is useful.
In case I want to Keep one as master folder I can't change it as it assumes the first one to be so.
Feature which I would love to see in this ? When I right-click on any folder first find out if its is already there or not in any of the tags if not just let me select of the hundreds of tags that might be already available. I really don't like that app to get launched to just add the tag.