If you use Dropbox to store all your photos taken using your iPhone and iPad and as of now you do it manually by using the Dropbox App for iPad even though it supports bulk upload, with iCloud you now get this sync automatically done for you.
Moreover you need this because iCloud is limited to 1000 Photos for 30 days after that either it will be replaced or deleted but photos on your computer will not be. So if you sync it with dropbox, you photos get permanent place.
Summary :
iCloud Allows you to configure your Upload and Download Folders, at least I see that in Windows. If you can configure those folders and point them to folders in your Dropbox, the images which you take will be automatically synced when you turn on your Mac or PC and even any file on your computer can be sent to Photo Stream using the Upload Folders.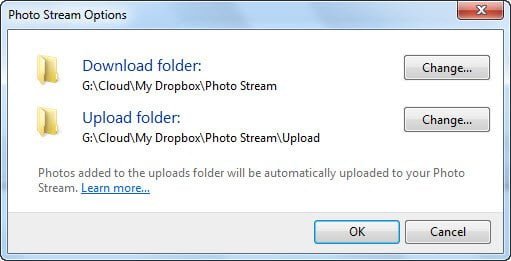 In Detail : Configuring Photo Stream with Dropbox
Turn on Photo Stream :
First you need to enable iCloud and turn on your Photo Stream. This can be done by going to Settings > Control  and turning on the Photo Stream. Remember any photos taken before turning on the stream will not be synced but all new ones will be.
PS : Make sure you are using Different iCloud id if you share the app store id with your family.
Configuring  Photo Stream Folders :
On Windows, First you need to download the iCloud Client

from Apple

. 

Next 

sign in

with the same account you had used on your iPhone or iPad.

Select option which says Photo Stream and click on Options Button.

Here you can configure your Download and Upload Folder.

Change them and point to a folder in Dropbox.

Next Click OK and then Apply.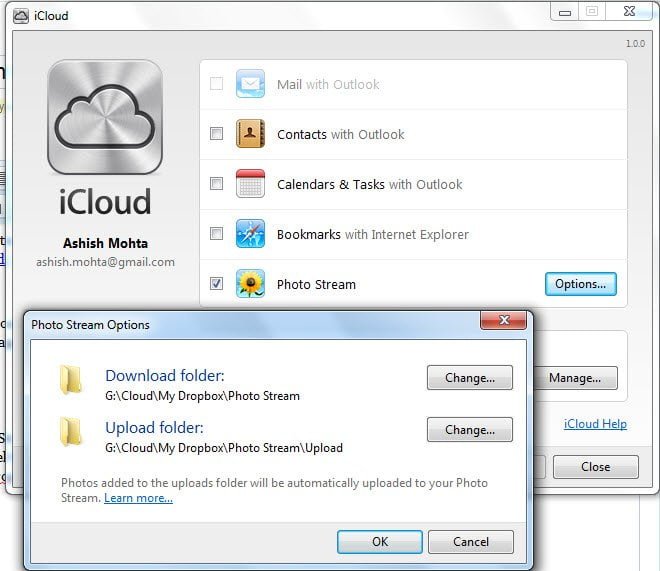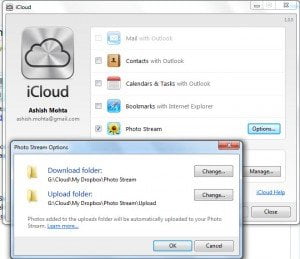 So now these are the following things you can do :
Any picture you take using your camera or save to the "Saved Photos" will be downloaded to the Download Folder and hence will be automatically uploaded to your Dropbox Account.
Any Exiting Photo you want to add to your Photo Stream can be uploaded using the Dropbox App. Upload it to the Dropbox folder you configured as  Photo Stream"Upload Folder" for iCloud.
Not necessary but if you want anybody near your computer can add an image to Upload Folder and it will be synced with your photo stream.

Mac Users 
For Mac users there is no option change the location where files are stored and hence they cannot make use of this tip, However if they can run an application which syncs folders in Dropbox and iPhoto Folder Location on Mac, It is possible to get the same sync.