If you use the same Microsoft account on multiple computers, then you can choose to sync the user profile and settings between both the computers.  It makes sure you have the same experience when you switch from Home PC to a Work PC if that works for you. In this post, I will share how to Sync Windows 10 User Profile and Settings across multiple Computers.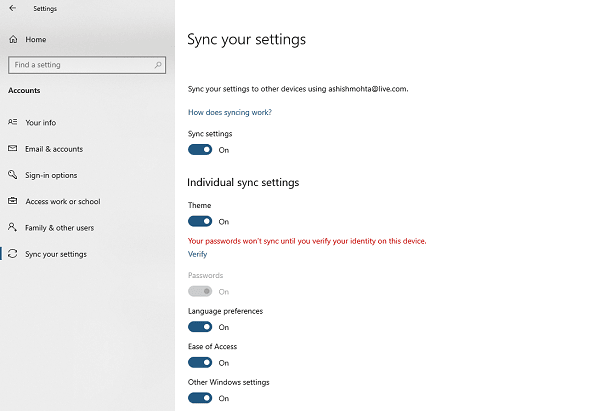 Sync Windows 10 User Profile and Settings across multiple Computers
Link-Local account to Microsoft Account or Create a new one
What syncs between computers
How to set up PC Sync
1] How to connect a Windows Account to Microsoft Account
There are two ways of doing this. First is you create an account using Microsoft Account where you need to have an internet connection ready. Second is upgrading a local account to Windows Live id. You can always switch from Microsoft Account / Live ID to Local and vice-versa.
Create a new account using Microsoft Account
Go to Settings > Accounts > Family & Others > Add. Here you can click on Add User and your Microsoft account. Once you finish the process, an email will be sent to that person, and he will have to confirm your PC as a trusted PC.
Link an existing Local Account to Microsoft Account

The second way is to link your account using a  Microsoft Account. Go to Settings > Accounts > Your Info. Here you will have the option to Sign-in with Microsoft account. You can always choose to unlink.
2] What can be synced across Computers, Tablets, etc.?
Personalized settings like Colors, Background, and Lock Screen
Windows 10 Themes, i.e. Background Images, Sounds, Event Sounds, etc
Ease of Access: Settings for Speech Recognition, magnifier, etc.
Language Preferences, Keyboard, display language
Windows Apps Settings. Remember, not all settings will sync; only whichever app chooses to sync.
Taskbar, Windows Explorer, etc.
3] How to Setup PC Sync
First, make sure that all the computers or tablets where you have used Windows 10 are connected with the same Microsoft Account. To confirm if the device you are logged in to go to Settings > Accounts > Sync your Settings, and see if you see a message which  says :
To help protect your personal info, we won't sync Sign-in info unless you confirm this PC is trusted. Confirm this PC
When you click on the Confirm this PC, it will open your account settings and show you a list of devices you need to confirm. Once confirmed, your settings will be synced for that particular device also.
Once confirmed, select the list of settings you want to sync.  It includes Theme, Passwords, Language preferences, Ease of Access, and other Windows settings. If you want to sync passwords, you need to verify your identity.