In an IT environment, we regularly deal with shared paths when it comes to transferring files or taking backups or sharing data between the team. Most of my team members had hated one thing— Remembering the share path which takes a lot of remembrances especially if your computers are have naming conventions like columns rows and grid.
The other option is to map them on My computer as a network drive but then it's like an opens invitation to anybody who accesses my computer. So we manage in mails or notepad or even on a scratchpad.
Syspad: Easily Remember Network paths
Syspad is a small but pretty efficient solution if we face similar problems. It lets you manage folders and files and even network path with a name which you can remember so instead of having \\xyzserver\\xyz123backuparea\u348976 you can just have xyzproject has tag name to remember.
Syspad comes along with a scratchpad which is like multiple notepads and folder pad which is the hero of this software. As soon as you launch the program, Syspad just sits on your notification area or system tray (It's pretty silent, so just don't wait for something happen),  just look for this icon and make a right-click: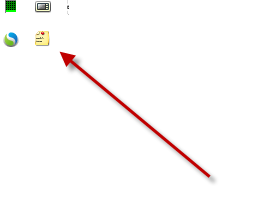 This launches the folder icon where you get quick access to sections like my computer, my network, control panel, etc and also you can browse and any number of folder path which is launched when you click on it.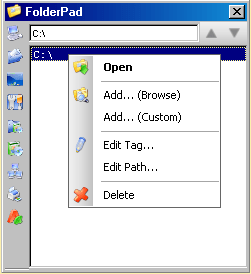 That is, keep on adding any number of path and you will never forget. The only thing I would suggest is you make it run with Admin privilege to make sure it doesn't get any problem in I/O operations.
Download Syspad. And yes there is a notepad like a program that I am leaving on you to explore. You gonna love that too!!