Microsoft Research is working on a project they call T Drive, which aims to make taxi drivers even smarter and help people reach their destination even faster. Combining the power of Cloud and Mobile and taking factors of traffic, routes, driving directions, time-variant traffic flows on road surfaces, traffic signals, direction turns contained in a route, and the probability of accidents.
Taxi Drivers mainly consider these factors, which are based on experience. T Drive Project collected from over 33,000 taxis in 3 months. It also went under field testing to build the best real-time traffic-based (RT) and the speed-constraint-based (SC), which is good in both efficiency and effectiveness.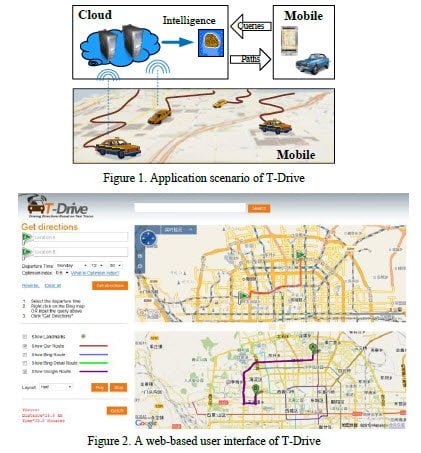 Below is the direct quote from the official document open to the public. The contribution of this work lies in the following three aspects:
We perform "sensor data  -> driving direction" instead of "sensor data -> Traffic information -> Driving direction", i.e., we do not need to explicitly build speed estimation models (for each road) that may introduce errors to routing processes.
We propose the notion of a landmark graph that can well model human knowledge of taxi drivers based on the actual taxi trajectories and improve the online computation of path-finding
We build our system using a real-world trajectory dataset and evaluate the system by conducting both synthetic experiments and in-the-field evaluations.
 The T-Drive Web Interface :
The web interface is going to be available as an option in Bing maps or a dedicated page in Bing but what is interesting is that it includes a comparison with Bing Route (Bing Maps) and Google Route (Google Maps), which gives an option to user find more ways in case.