I have around 8000 music files on my computer, which I have arranged alphabetically to find music easy but there is one problem with it. If I need to find a song by its artist or genre, it gets impossible for me. I had used Some audio players like Winamp for editing ID3 tags but in vain is too time-consuming. But recently I found one solution which I had been using for a couple of days, and it's astonishingly amazing. TagScanner.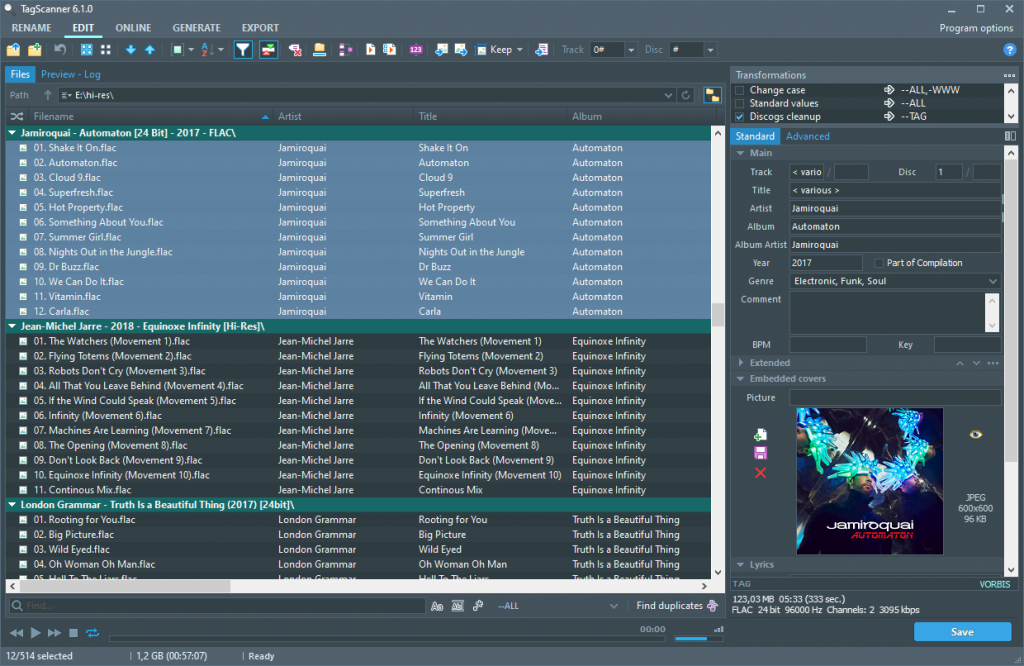 Tagscanner: One-stop software for organizing and tagging music files
This software is specially meant to edit your tag files in mass or individually and organize your music collection pretty smartly. It supports ID3v1, ID3v2, Vorbis comments, APEv2, Window's Media, and MP4(iTunes) tags, making its usage for any group of music listeners. If you have a music file with absolutely no information, it uses online databases like freedb or Amazon and does the job for you.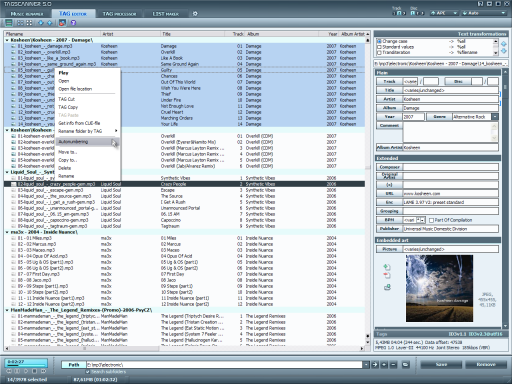 TagScanner Features
Rename files based on the tag and file information
Powerful multiple files tag editor
Import tag information from online databases like freedb or Amazon
Manual text-search for information in freedb
Generate tag information from file/folder names
Words replacement and case conversion from tags and filenames
Full support for Unicode
Supports MP3, OGG, Musepack, Monkey's Audio, FLAC, AAC, OptimFROG, SPEEX, WavePack, TrueAudio, WMA, MP4 files
Supports ID3 1.0/1.1/2.2/2.3/2.4 tags, APE v1 and v2 tags, Vorbis Comments, WMA tags, and MP4(iTunes) metadata
Supports for embedded lyrics and cover art
TAGs versions conversions
Playlists editor
Playlists export to HTML, Excel and CSV(e.g. for MySQL)
Multi-language interface
Built-in multi-format player
Steps to Add and Edit Song and Music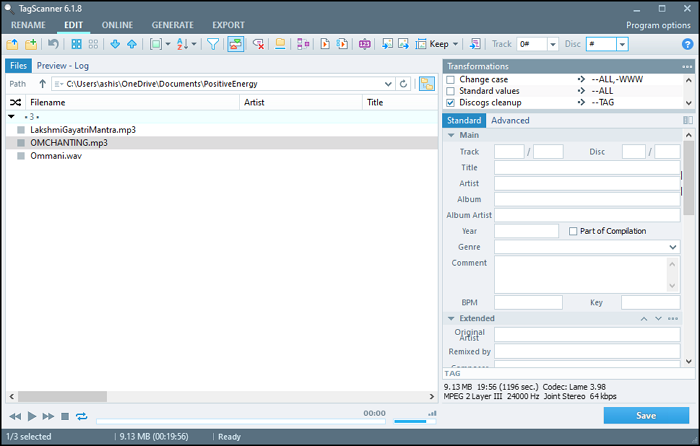 Step 1: Launch TagScanner, and paste the path of the folder where all your songs are available. Enter, and it will list down all the songs in that folder.
Step 2: Select the song, and you get access to all metadata of the song that cab be entered on the right-hand panel. Enter all the details and save.
Step 3: Repeat the process unless you are done. You also have access to batch operation where you can change the case, cleanup existing tags, and more.