Madame Tussauds wax museums don't need any introduction; wherever you stay on this planet, you would have heard about these wax museums. It specializes in the wax sculpture of celebrities across the world, let it be a business tycoon, an achiever in films and acting, a sports star, etc. Madame Tussauds have this website, where you can see the wax sculptors of your favorite celebrity, as soon as you reach the homepage, you need to choose the museum you want to visit, make a choice and move further. Let's find out how you can take Virtual Tour Madame Tussauds Wax Museums.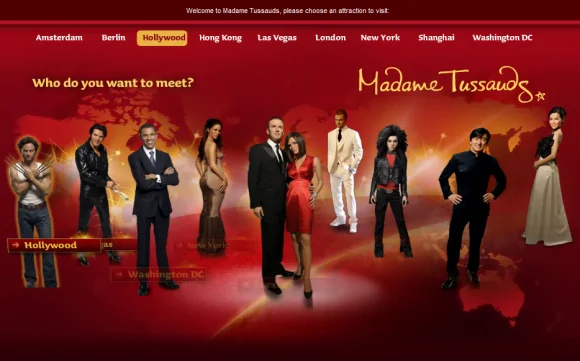 Take a Virtual Tour to Madame Tussauds Wax Museums
Now you will reach a page where you can find information, like, Museum Timings, History, Option to book a ticket, etc. The first thing you will need is to select a country or region. You get access to museums in Amera, Asia, Europe, and Australia. It will reveal all the Madame Tussauds Wax Museums based on the area. As an example, for America, you get access to Hollywood, Las Vegas, Nashville, New York, Orlando, San Francisco, and Washington, D.C. Next, click on What's Inside the menu, and you will have access to some of the popular ones for free. For Hollywood, you have access to Our Stars section. The same applies to another part.
Some Pages have 'Our Figures' menu, to see sculptor there in that particular wax museum. Here you will again get some options select as per your choice, and move further; finally, you can see the photo of the wax sculptor for the celebrity you chose, and also a short bio of the same person.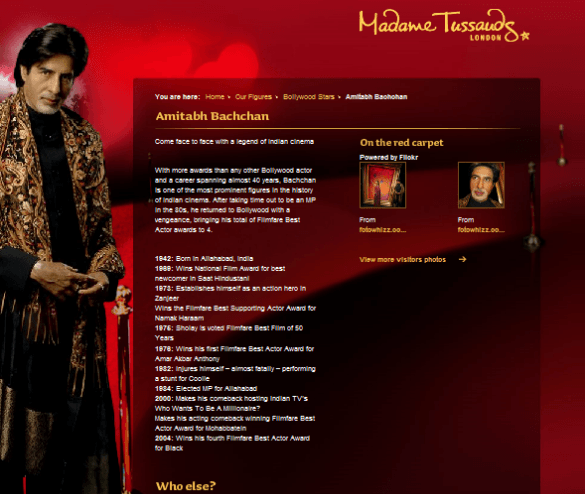 Also, every page has a link to the Flickr stream, where you can see more photos of the wax sculptor. Some pages have a short video message by the same celebrity. So, go ahead and enjoy, if you wanted to visit one of the Madame Tussauds Wax Museum, and couldn't make it as yet. At least try this and have fun, hope you soon get a chance to visit the museum, all the best!!