How about keeping in touch with your work, studies, home responsibilities, and much more? Whether you have to engage in multiple tasks or not, even our single activity in office work or studies involves a series of tasks. It's unsurprising if you forget anything that also goes for lectures and meetings. If you own an iPad with a big screen, you can catch up quickly on the go. Yet, proper organization and its correct use to help you, in this case, is essential. That's how you would look for the best task + notes app for iPad, and we have covered you all with it!
Best Task + Notes App for iPad!
So, we have handpicked some of the best Task + Notes App for iPad, which can help you remember things while on the go.
Apple Notes
Notion
Zoho Notebook
Google Keep
Awesome Note 2
Office OneNote
These are the four tasks and notes apps. So let's dive in and check out the features of each one of them.
1] Apple Notes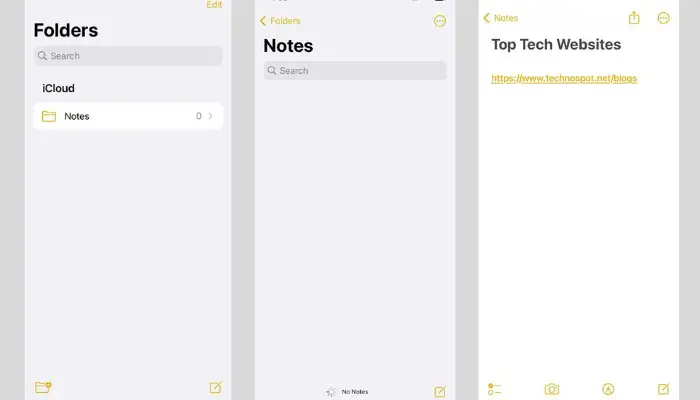 Like the iPhone, the iPad has an inbuilt note-taking app called Apple Notes. You can upload or write text notes and upload them to Apple iCloud services. You get a non-textured paper background where you can take down important messages with a pencil or crayon online.
Features
Add notes using Siri: You can give voice commands using Siri to add notes.
Share Notes: You can easily share any notes with your other teammates.
Make Tables: Like Word Processors, Apple Notes helps you quickly make simple tables to organize notes.
Lock Confidential Notes: You can note and secure confidential notes with Face Lock or passwords.
Pros
Error-free synchronization to iCloud and other Apple devices
Easy to add attachments
Free to use
Cons
Limited formatting options
Fewer collaboration features
Check out Apple Notes Here.
2] Notion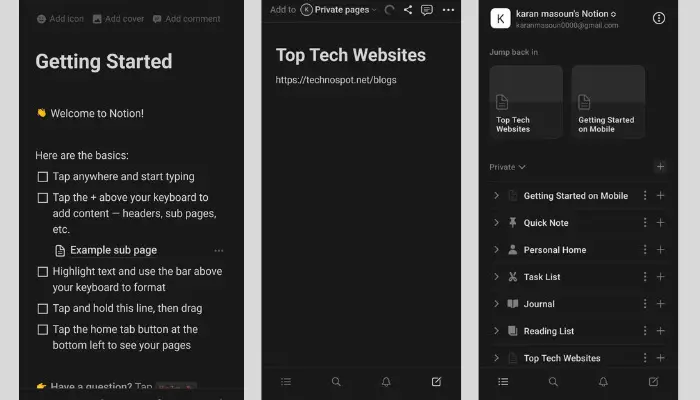 Notion is one of the most aesthetic and helpful task+note-taking apps for all devices, but it does wonders with iPad. It makes your personal and professional life easy. You can even share your notes and tasks with peers using online collaboration. Besides, you can highly customize it per your requirements, with no storage limits.
Features
Text Editor: Text Editor helps you to add and edit text in a clean and custom interface with a color palette.  Also, you can add lists, headers, links, dividers, quotes, and callouts for better formatting.
Save and Display Bookmarks: Add bookmarks as visual links to easily reach your desired note.
Board Database: Get a beautiful visual layout with the board database feature. With this feature, you can add Content Calendar, Task List, or Team Tasks templates in a single note.
Public Pages: Share any information or notes using public pages. Thus, you can create a quick and painless web page from your note-taking app.
Customize Everything: The most loved feature of Notion is the option to customize everything as per your chosen layout.
Pros
Easy to use
Free basic features + affordable pro features
Free templates for multiple uses
Cons
Poor Security features
Difficult to use for technical novices
Check out Notion App Here.
3] Zoho Notebook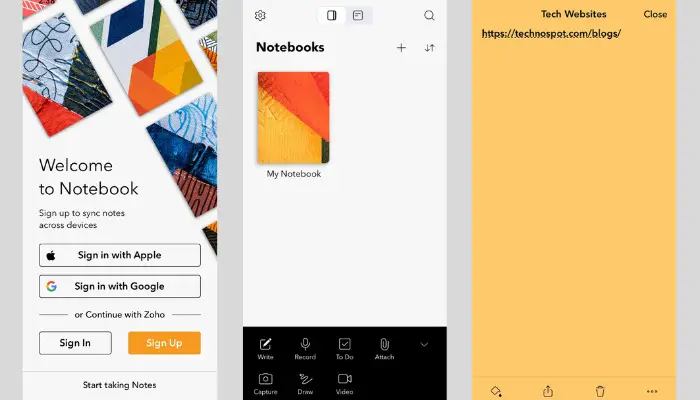 Zoho is a simple yet comprehensive note-taking app that works meticulously over iPad. You get all the advanced features for note-taking, and you can add notes using some additional layouts. You can thus use your rough notes for project management as you can use it as a word processor, image, audio creator, and organizer. Although it is a free-to-use app, you must purchase a premium plan to access all its features.
Features
Task-taking and Sketching: Add Task lists to your Zoho notes and send sketch illustrations directly.
Photo Support: You can capture and save photos using your mobile camera. Also, scan pictures and documents in PDF formats and integrate them into your notes for better understanding.
Visual Note Recording: You can record audio files like meetings, discussions, presentations, and other conversations with high-quality audio recordings.
Drag and Drop: Organise your day by creating, editing, and rearranging tasks using an intuitive drag-and-drop tool for checklists.
Pros
Easy Integrations
Better User Privacy
Simple categorization of documents
Cons
Limited customization
Limited viewing options
Check out Zoho Notebooks Here.
4] Google Keep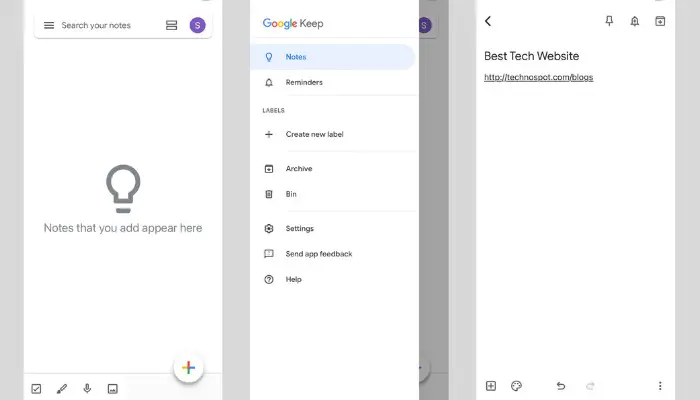 When Apple and Zoho offer you a good Task and note-taking app, Google doesn't stay behind. Google Keep has an application for iPad as well. Further, with its beginner-friendly approach and being completely free, it has boosted its popularity.
Features
Change Backgrounds: Colour coding or adding images in the background helps to organize and highlight a particular note easily.
Link Reminders: You can add reminders and alarms to update you about your scheduled tasks.
Share Notes: Google Keep lets you share your notes quickly and to-do lists with others.
Add Labels:  Adding labels helps you better organize notes where you can see all matches in one click.
Pros
Simple-search function
Easy to use
Can create long notes without any limit
Integrated to Google account and hence quick sync
Cons
Average organization
Weak web clippers
Check out Google Keep Here.
5] Awesome Note 2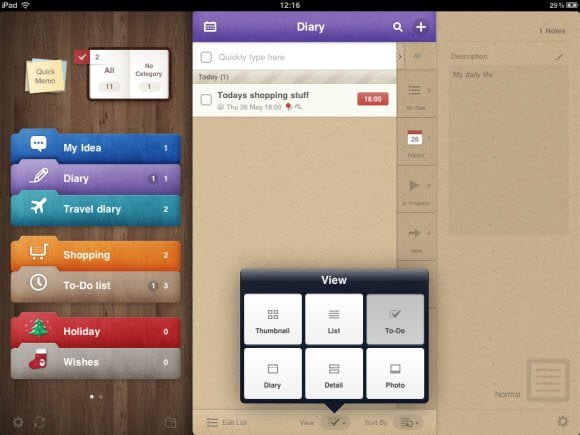 The most powerful of all here. This Note taking app is like a collection of Diary where you can have :
ToDo Lists.
Images and Maps
Handwriting
Reminders and Alarms
Categories and Ratings.
Tag Notes so you can search for them later easily.
Supports Drag and Drop, i.e., Tasks or Notes from One Diary to another.
Ready Made templates, e.g., Shopping, Work, Email / Print, and Scrap. Recipe, ToDo List.
However, any feature can be used anywhere and is not restricted to one template.
Ratings, Dates, Priorities, etc., can sort Notes within a Diary.
Also, you get a tabbed interface to quickly check today's task, a task in progress, etc.
6] Office OneNote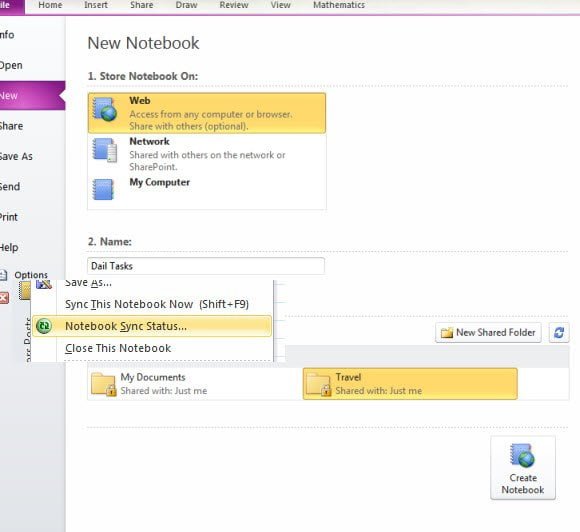 OneNote for iPhone, which also works on iPad, is the simplest way to note down things. It quickly creates the tasks like OneNote on a desktop and syncs online with a live account. This means your wife can also keep adding to the list; all she needs to do is ring you up and make you shop for her. Apart from Tasks, you can quickly note down things and keep syncing. In case you are not connected, the sync will take place later.
Since iPad App is a very refined version, the best way to start is with your desktop and link it with your online account. Now in the settings of OneNote for iPad/iPhone, use the same account, and the notes will be visible on your mobile device.
Make sure you have a Live Account and Signup with Office Web App Account at office.live.com
Open OneNote on your OneNote and create a new one which you will Sync Online.
Choose Notebook on the Web when creating a new one.
You will have to sign in with your live account here.
Once all steps are complete, any changes you made on your Desktop OneNote will also be reflected on the iPad App. Make sure you keep it syncing.
Conclusion
Correctly noting your tasks and taking notes can help you manage all your work properly without forgetting any necessary tasks. For an iPad user, apps like Apple Notes, Google Keep, Notion, and Zoho Notebook are the options for this use.
They have simple to advanced management features that can aid you in personal and professional tasks. Plus, their wide range of features and easy formatting options will make your life more seamless. My favorite amongst these is Notion, as it's ideal for my multi-tasking approach. If you are a beginner, you must go for Google Keep.