Have you ever heard of Wikipedia? It is hard for anyone on the internet not to hear, know, or even use Wikipedia at some point. Here, you can find almost anything you want. From travel locations to celebrity facts, you have got it all. With more than 6 million articles and 43+ million users, Wikipedia is a precious resource for information.
However, credibility plays a significant factor in determining the authenticity of the information. As non-profit volunteers maintain the website, differentiating bias from facts becomes difficult. Moreover, a lack of experience leads to more confusion for people looking for concrete data.
In that case, seeking other alternatives becomes a necessity. For that, we have listed ten Wikipedia-like sites.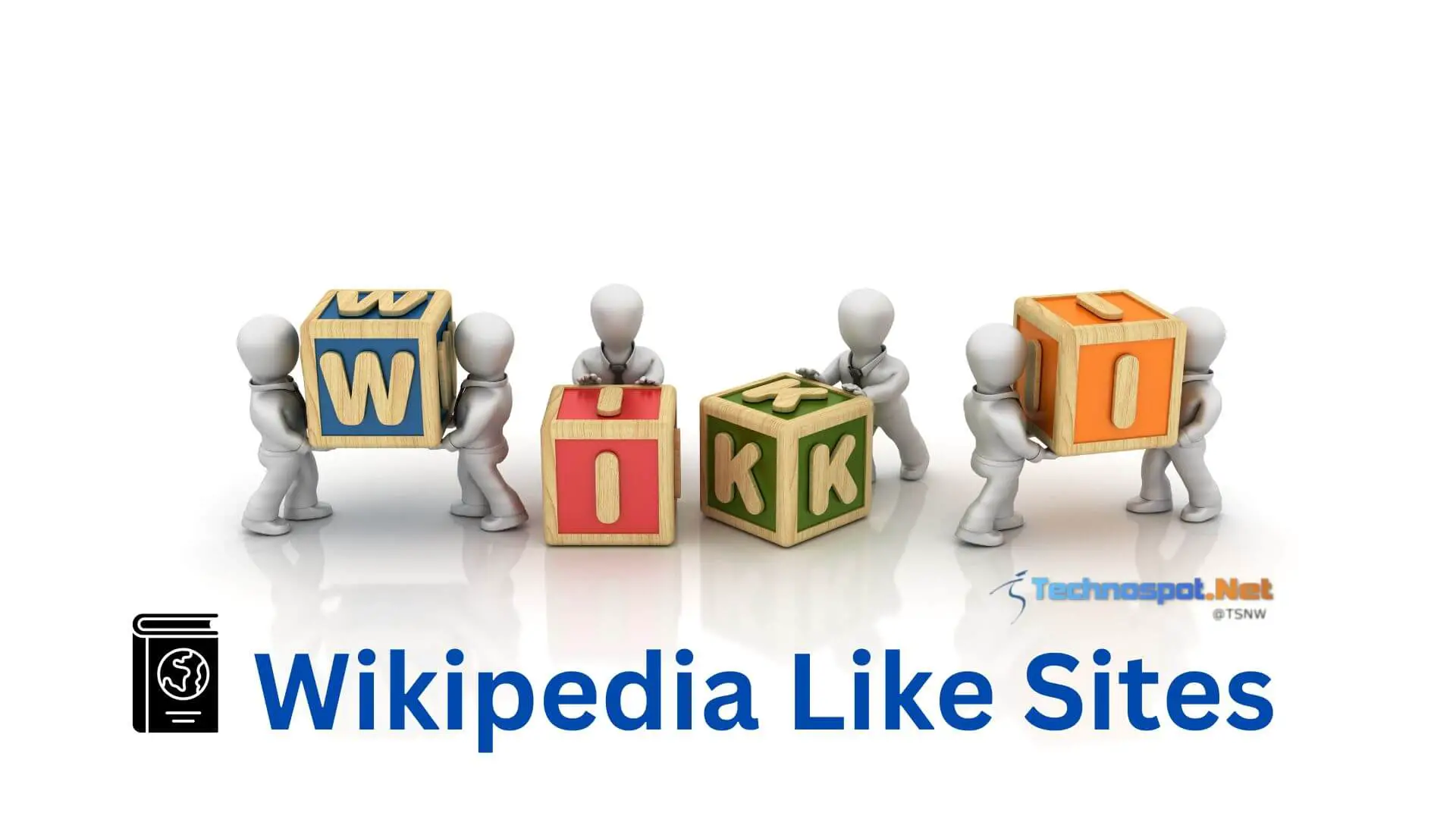 Ten Wikipedia Like Sites That Are Interesting
The sites we have mentioned below are popular worldwide because of their distinctive features and the kind of information you get from these websites. The Wikipedia similar sites that are listed in this article are:
wikiHow
Wiktionary
Wikiquote
Wikibooks
Wikiversity
Wikisource
Wikivoyage
Wikinews
Wikidata
Wikispecies
Quite excited to know what these Wikipedia-like sites do. Scroll down and know for yourself.
1. wikiHow – A How-to Website With Over 180,000 Articles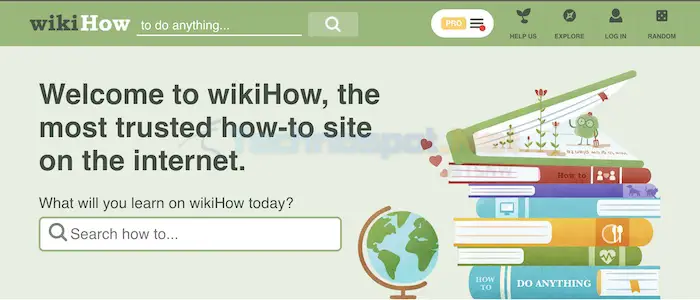 Launched in 2005, wikiHow is one of the leading websites that offer trustworthy information. The website contains more than 90,000 academically researched articles. It also has a team of 1000+ expert co-authors, experts, and researchers with credentials. Besides, the ever-supportive community aids in the creation of reliable and relevant how-to content.
Moreover, users can easily search articles using the advanced search bar at the top. You can also browse by various categories such as arts and entertainment, cars & other vehicles, health, family life, computers, electronics, etc.
2. Wiktionary – A Free Multilingual Dictionary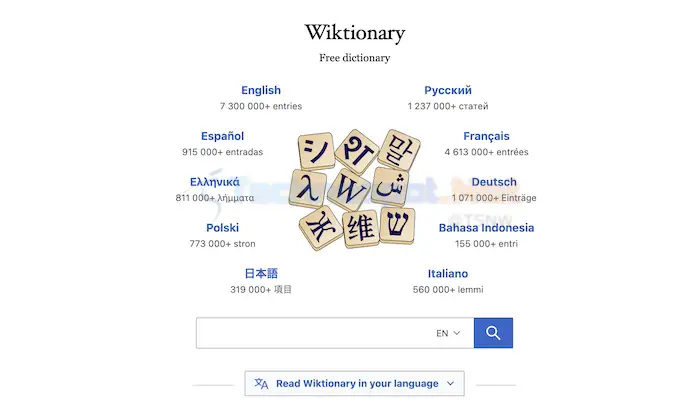 Have you encountered fascinating information but couldn't read it due to the language barrier? Worry not! Wiktionary resolves the language problem by offering a dictionary in multiple languages. For instance, you can opt for English, French, Dutch, Spanish, Italian, etc.
Wiktionary is available in 187 languages, and Wikimedia Foundation runs the project. The website is maintained by volunteers who have the authority to create, upload and edit articles or content. However, to maintain accuracy, Wiktionary (English) has an established policy for verification of the terms.
3. Wikiquote – A Collection of Quotations From Notable People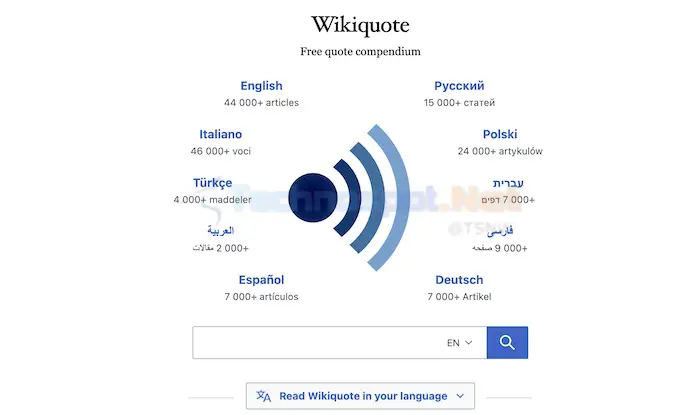 If you are looking for a website offering a collection of quotes from esteemed professionals, you can check out Wikiquote. The website provides these quotes in different languages. Besides, there are links to Wikipedia if users want to gain more information.
It is easy to search for quotes on Wikiquote. For instance, you can explore by categories. These broadly include people, products, and browsing Wikiquote. These categories also have sub-sections for easy searching. If you are wondering about the website's accuracy, you can look at the sources cited.
4. Wikibooks – A Library of Open-Content Textbooks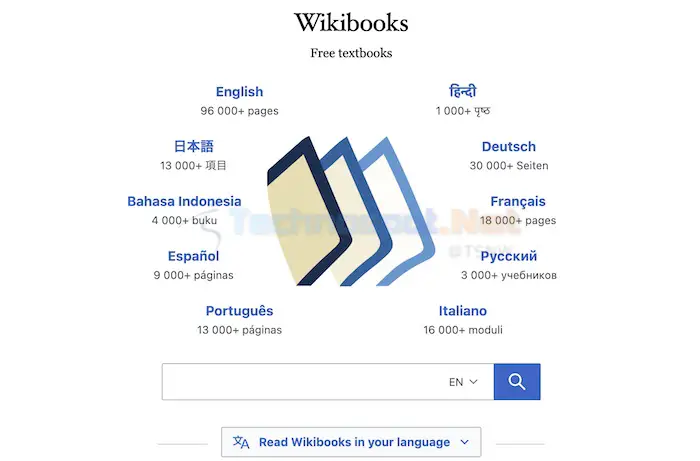 Do you love books? In that case, exploring Wikibooks is an excellent idea. The website is dedicated to offering a vast collection of open-context textbooks. Here, you will find more than 3531 books with 96,096 pages and is available for editing by anyone.
If you want to search for an open textbook, take the help of the search bar at the top. Apart from that, you can also use the different categories listed. These include featured books, cookbooks, browse books, Wikijunior, etc. You can search by subjects too, like science, computing, mathematics, etc.
5. Wikiversity – A Collection of Open Educational Resources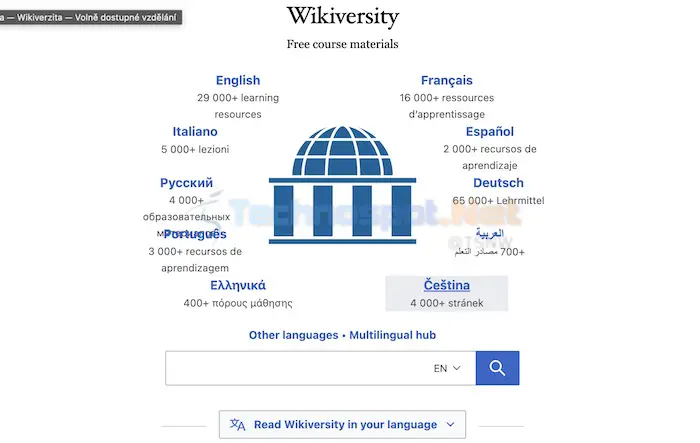 Founded to offer open educational resources to the public, Wikiversity is a top-rated website. From preschool to professional training and university, the website provides learning resources and information for different levels of education. The platform welcomes researchers, students, and teachers to aid in the creation of reliable content.
The website boasts 29,716 learning resources and keeps on growing. Moreover, there are different categories one can use to browse. These include arts, humanities, mathematics, medicine, science, etc. The platform also displays – Today's featured project, Educational picture of the day, and News.
6. Wikisource – A Library of Primary Sources and Historical Texts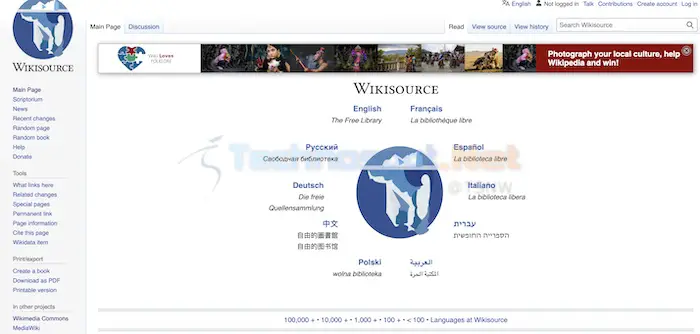 Maintained by the Wikimedia Foundation, Wikisource offers a library of textual sources on free content. The site primarily aims to provide free text in different translations and languages. Previously, the platform was built as an archive to host vital historical texts. But now, it has evolved into a digital library of various types of content.
The information available in Wikisource is found in 72 languages. It contains 5,538,011 articles and continues to grow steadily. The platform stores novels, letters, historical documents, non-fictional works, law documents, speeches, and more!
7. Wikivoyage – A Travel Guide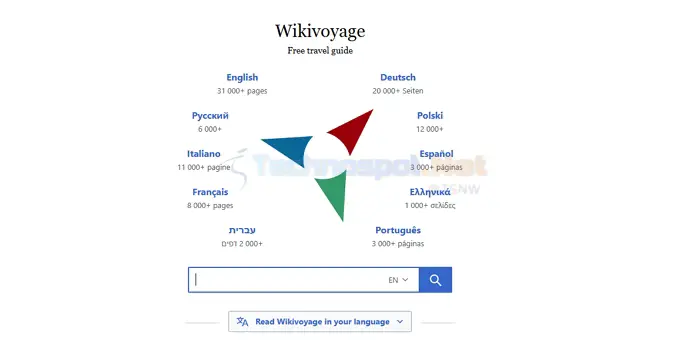 Wikivoyage is a well-known travel guide offering information on different travel destinations and tourist spots. Different authors pen the topics from across the globe. Wikimedia Foundation hosts the platform as a sister project of Wikipedia.
Wikivoyage is available in 25 languages and is highly revered for its multilingual aspect. Moreover, there is a specific hierarchy that keeps the platform together. These include continents, continental sections, countries, regions, cities, districts, national parks, attractions, and more!
8. Wikinews – A Source for News From Around the World
Collaborative journalism is the principle that led to the foundation of Wikinews. Managed by the Wikimedia Foundation, the website offers free-content news. Moreover, the platform has a strict neutral point of view policy to maintain the ethics of journalism.
Wikinews hosts 29 active languages and has a cumulative of 1,740,825 articles. It also has 592 editors that constantly create and edit news pieces. Wikinews reporters have gained a massive reputation by interviewing several notable personalities. These include Shimon Peres, the President of Israel, Tony Benn, a British politician, etc.
9. Wikidata – A Database of Structured Data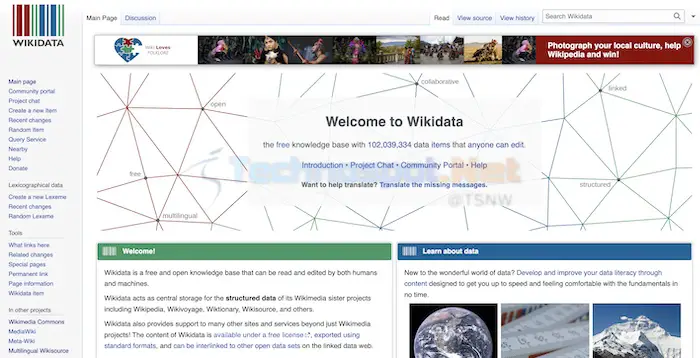 Wikidata is the central storage of structured data of the different sister projects of Wikimedia. It is a free platform offering a massive knowledge base open to editing by machines and humans. The website also provides support to other sites. Besides, the content is present under a free license.
The knowledge base is available in different languages and is powered by the MediaWiki software. Also, Wikidata has published more than 300 papers. Different virtual assistants like Alexa and Siri even use the structured dataset.
10. Wikispecies – An Encyclopedic Database of Species From Around the World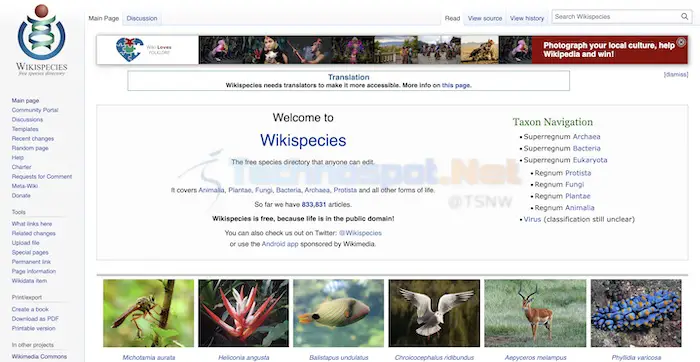 Have you ever wondered about a database that houses information on species worldwide? Well, there is such a directory in existence, and it is known as Wikispecies. The platform is free and boasts 833,897 articles as of now.
You can use the Taxon navigation to go directly to your desired species. These include Superregnum Archaea, Bacteria, Eukaryota, Regnum Protista, Fungi, Plantae, Animalia, and Viruses. Apart from that, you can also explore distinguished authors and species of the month.
Conclusion
These are the list of ten sites similar to Wikipedia that are interesting. You can always explore these sites to get the information you need. Keep in mind to research these facts and double-check them. If the sites are available for editing for the public, there could be chances for bias.
However, Wikipedia is still considered a good source of information. Though starting the research is an excellent point, every piece of information must be rechecked.