Sharing the same stuff which you are reading on your desktop to a mobile phone is one of the features that many of us hope becomes an integral part of the browser but until then we have some awesome third part apps which can do it for us. One of the posts we discussed how you can send it using the QR Code but today we have even a better service, Textme which lets you send anything on your browser to a mobile phone via SMS.
Video Demo :
All you need is visit the website, and install the extension for your browser ( Supported for FireFox, Chrome, Safari, Opera and IE ),  Once installed, you can signup with them with your phone number and then just visit a page, right click and share to a number you want.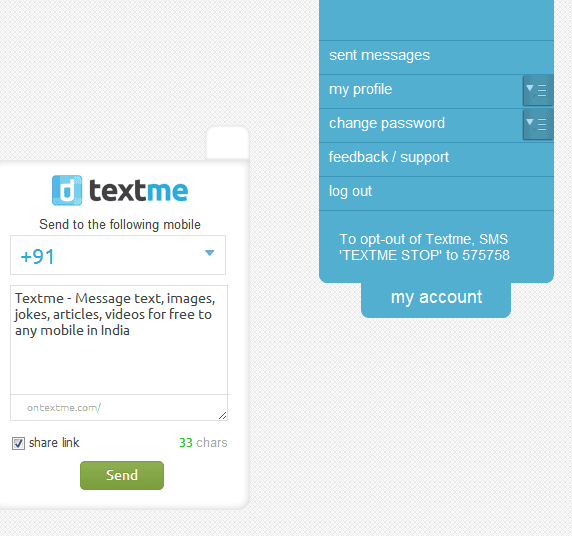 So its basically a SMS sending service but has certain advantages. When you share a link of any web page, the user gets to see a mobile optimized website instead of a web page which is made for  desktop. Second you not only send just whatever is on a web page but also a text from your email or a custom message. Lastly, all the messages which is sent using this service is listed on your account and can be accessed via the extension interface.
From the point of view of the user who receives it, the biggest advantage is that he does not receive any kind of spam along with it. Also if he wants to quit getting SMS from Textme i.e. To opt-out of Textme, SMS 'TEXTME STOP' to 575758. However this should be told to the users in at least one of the SMS, otherwise he or she has no way to know about it.
Textme also comes with a widget or button which publishers can add it to their websites, so users can share the webpage to anybody on mobile, right from there and without having the extension installed.
Check out TextMe