Technological advances are making it increasingly important for organizations to ensure that their computer networks are safe and effective. This means SAP security software has seen tremendous advancements over time and is particularly important for companies. This article will examine its history and explore what role access control and identity access management solutions have played in the growth of SAP security software. We will also look into its development using key industry solutions like IAM solutions.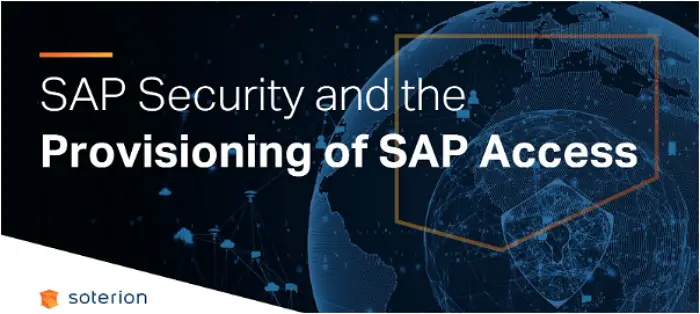 A Brief History of Sap Role Design
Access to SAP (R2) was originally provided via profiles created using the profile generator (PFCG). Over time, however, this strategy transitioned into using roles instead. By assigning these to HR organization structures, SAP attempted to reduce "SAP authorization creep" or when users gradually gained improper access. To combat this "SAP authorization creep," any time someone was transferred into HR jobs, they automatically assumed the roles associated with that position within SAP Security.
SAP later created composite roles to increase the effectiveness of provisioning processes. Users allocated such roles can inherit all single roles contained within it – an SAP composite role acts like an umbrella over several individual roles.
Access control solutions have emerged due to SAP roles being assigned without adequate knowledge of their risk implications and as a viable option to address modern business needs.
Initially, access control solutions focused on analyzing SAP systems for access risk violations and performing "what-if" simulations on proposed role assignments. As these systems progressed, they added more capabilities, such as user access reviews and role provisioning. Additionally, they introduced the concept of business roles, which function similarly to SAP composite roles as data containers for multiple roles – users automatically taking on any roles connected with their assigned business role.
Business roles in access control systems tend to be more flexible than SAP composite roles and, in many instances, can allow the allocation of partial permissions for specific roles. For example, an accounts payable clerk who needs only 80% of what's included in an ACCOUNTS_PAYABLE_-CLERK business role could only partially assign that role. When an SAP composite position is granted, all associated roles become immediately accessible, reducing versatility considerably.
Identity and Access Management Solutions (IAM)
Initially, these were created to manage identities across an IT environment and ease joiner-mover-leaver processes. Many believed these solutions, with access to multiple systems, would solve all prior provisioning challenges and make onboarding and user provisioning substantially faster and simpler. Unfortunately, this was not the case – they only further complicated these difficulties! IAM systems also incorporate business roles into their solution, but their implementation is far more effective than what is offered by access control solutions. Access control solution business roles only apply to roles existing inside SAP systems. In contrast, IAM solution business roles may accommodate roles found across various systems (both SAP and non-SAP ones).
Integration Remains a Crucial Challenge
Practice has revealed the difficulty of seamlessly integrating solutions for access control and IAM, which prevents organizations from reaping the benefits of an effective partnership between risk management and provisioning. Therefore, businesses need to select which of these solutions will handle any redundant jobs or operations. Access control systems share various functions with IAM systems, including those outlined here.
Business Role Concept Access Risk Analysis
What-if simulations
Approvals of workflows and reviews of role provisioning user access are among many features included within these business roles.
Sourcing an appropriate answer for an organization's functions is key to meeting its business goals and reaching its desired destinations. Several solutions in scope, systems, and applications involved, business goals set, and any possible outcomes of each potential solution play into this decision-making process.
Organizations that operate SAP solutions need to manage access risk carefully, and striking the appropriate balance between efficient provisioning and effective access control is of utmost importance. An IAM solution that performs multiple duties may fail to deliver sufficient access risk management; under such circumstances, using access control solutions for SAP access could bring about desired results. On the other hand, an IAM solution might suffice if a company only requires limited SAP usage and does not need extensive risk analysis for SAP access. Organizational needs and specifics of any situation should determine which solution should be pursued.
Consider Future Prospects of Sap Security
SAP security software will continue to evolve alongside advances in technology. Businesses must remain aware of new developments and be willing to adapt to protect both safety and efficacy in their systems. Access control and IAM systems could soon see additional developments, such as better integration between the two, improved risk analysis capabilities, or more rigorous user review procedures.
As cloud technologies, artificial intelligence, and machine learning become more widely adopted, their impact may significantly impact SAP security software. Because of these innovations, companies may now be better able to accurately forecast and avoid security breaches, optimize user access management processes, and automate provisioning operations more reliably – resulting in improved overall security and efficiency.
Conclusion
SAP security software has seen significant advances in access control and IAM solutions, which has marked its evolution for commercial enterprises. Organizations should remain apprised of new developments to remain safe as they navigate their complex environment. Their goals should guide which solution they choose as an optimal option; with such knowledge, they can better make informed choices that safeguard systems against potential hazards.