Using a browser with extensions is very common. When you have multiple addons, and your Firefox is not working as expected, it is best to disable all the addons. In this post, we will share how you can restart the browser with all Addons disabled. There are two options. One is you can choose to restart Firefox in Safe mode, or you can refresh Firefox to start from scratch.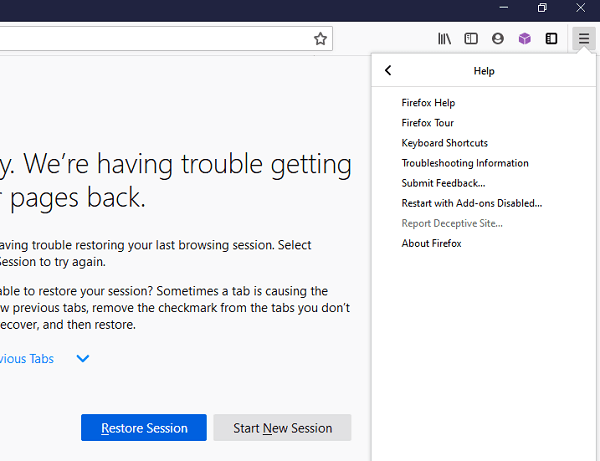 How to Restart Firefox in Safe Mode or Refresh Firefox
Launch Firefox and click on the hamburger menu on the top right
Then click on Help.
Look for the menu which says Restart with Add-ons disabled.
Click on confirm, and the browser will restart in its vanilla state.
When you choose to restart, Firefox will pop another window where it will offer you two options:
1] Start Firefox in Safe Mode
It is a particular mode of Firefox that can be used to troubleshoot issues. Your add-ons and custom settings will be temporarily disabled. And Firefox features may not perform as they currently do.
There is one small problem there is no option provided to enable all the add ons with the same switch. You will need to enable all of them one by one.
In previous versions, Firefox used to give more granular options. Instead of Disabling addons, you could choose to reset.
Reset Toolbars and Controls
Delete All Bookmarks
Reset user preferences on Firefox Defaults
Restore to the default search engine.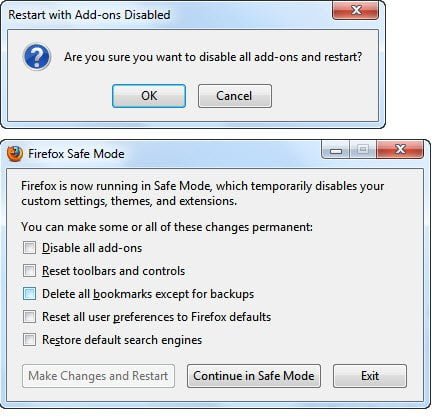 These are not available anymore.
2] Refresh Firefox
If you're having problems with Firefox, refreshing it can help. When you refresh Firefox, it can fix many issues by restoring Firefox to its default state. It will save your essential information like bookmarks, passwords, and open tabs.
Since Firefox will revert to its original state, your configurations and customizations, including extensions, extension data, and about: config preference configurations are removed.
Firefox will save these items:
Bookmarks
Browsing and download history
Passwords
Open windows and tabs
Cookies
Webform auto-fill information
Personal dictionary
Firefox Refresh will remove items and settings
Extensions and themes
Website permissions
Modified preferences
Added search engines
DOM storage
Security certificate and device settings
Download actions
Toolbar customizations
User styles (

chrome

 subfolder containing 

userChrome

and/or user content CSS files, if previously created.)
How to Restart Firefox, i.e. Plain Simple Restart :
If you want to restart Firefox without manually closing and then relaunching, Quick Restart is an excellent Firefox Add-on. In case this doesn't work on your Firefox, learn how to install it here.