Theme builder is a beta tool from Microsoft Office which allows you to create custom themes so it can be applied to all the documents in your office to maintain uniformity in your document colors, styles etc. This tool is particularly for Office 2007 Products i.e. Word, Excel, Powerpoint, Outlook.
Remember Theme is different from template. Theme is meant just for defining colors, image borders, lines, styles,  font styles etc where as a template is multi-paged document where you define how the document will contain data.  You can apply themes on a document template.
The image below describes how you change theme in office products.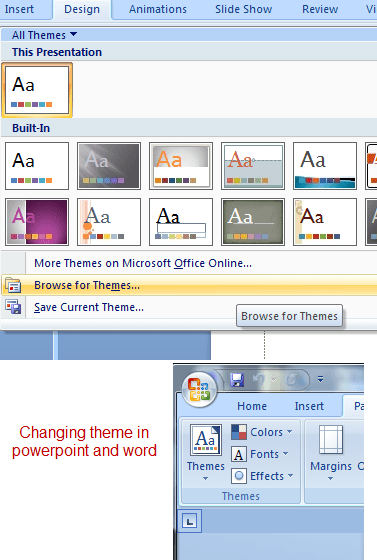 Theme builder tool has very easy design interface. This must have been made keeping in mind that anybody can create a theme for them. This tool has 5 Sections :

Colors and Fonts
Line Style
Fill Style
Effect Style
and Background style
Settings Colors and Fonts
Like the name says this is the right place to choose colors for different sections i.e
Text  / Background Color
Accent Colors
Hyperlink Colors ( Visited and Non visited )
After this you would see preview of how your colours would look like when they come together. This is an excellent feature which will help you make look and feel better.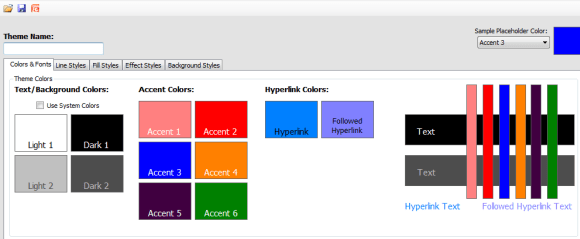 Coming to Fonts, you have huge options with language support and scripts in Latin, complex script and east Asian scripts.
You also get to see 2 more sections which is called as Major Fonts and Minor Fonts. In plain English any document contains Heading Fonts ( Major ) and Body Fonts ( Minor ) so as to keep them distinct. This is important and make sure you dont make them look same.

Choosing Line Style and Filll Style
In Office document we need to create lines at certain places to emphasize or to make it look distinct. What kind of line e.g. dotted, solid etc suits for your theme is you should decide in the Line Style section of theme builder.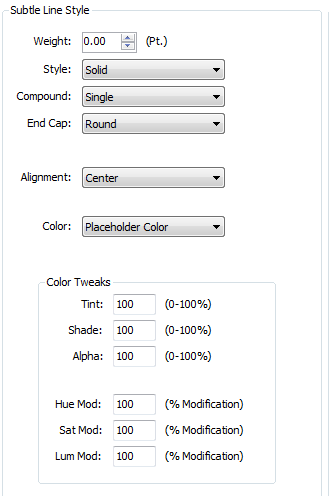 This section again has 3 parts Subtitle, moderate and intense line style. You can choose weight, compound, compound, colour. Colours can be further tweaked for amount of tint and shade etc. Fill Style has similar sections and lets you choose fill which can be Solid, Gradient or Image.
Choosing Effect Style :
Here you can define shadow effects, 3d properties.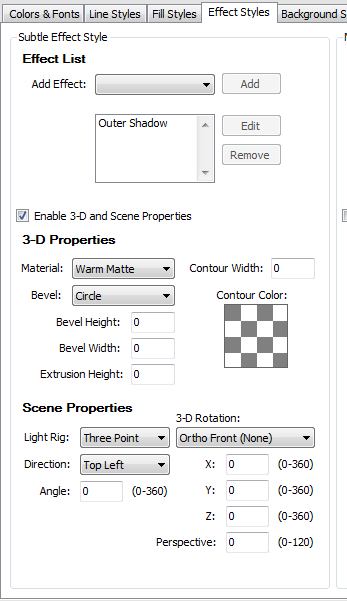 Finally the Background style :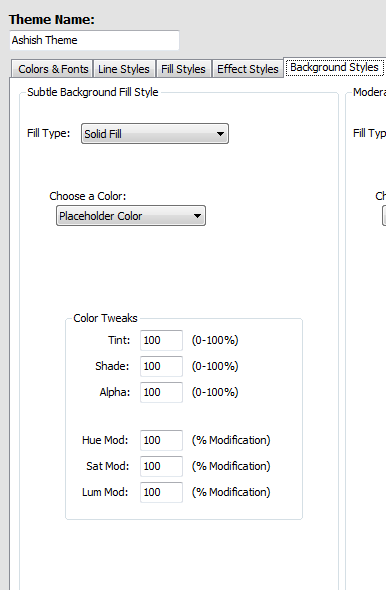 After you are done configuring all the options  you can run a test to see how the theme would on a document. The current test available creates a temporary PowerPoint file and applies the current theme which you made. This gives you can excellent feedback on your theme and choices you made. Once you are satisfied you can save it with name of your choice. The extension for this file would be thmx.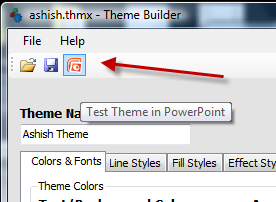 So if you are a company or a free lance you always need to define how your documents should look like. You can have themes designed to be used in different occasions also.
Download Theme Builder from here and make sure you have necessary components installed mentioned on the download page.
Do share in comment how you find this tool. Still in beta but does a great a job. Your feedback will only make this product better. Give it a try.