Are you looking for an excellent planner online? Sometimes, it becomes tough to organize and manage several day-to-day activities seamlessly. There is always a fear that you might have missed something. Herein comes Toodledo. It is a robust online tool helping you increase your productivity. The application boasts of organizing your life, work, and schedule. It comes with many features and helps maintain a structured schedule.
Do you want to try Toodledo? Sounds exciting, right? This review will discuss Toodledo's features, pros and cons, and cost.
Review: Toodledo -Your Online Planner and Organizer
What is Toodledo?
Toodledo is a trendy online organizer and planner. It is a multi-functional tool that helps users boost their productivity. Apart from being a great to-do list app, this flexible tool enables users to write notes, create outlines, develop custom lists, and much more!
You can even collaborate with others and ensure data is stored safely. Toodledo also allows seamless syncing of your data to multiple devices.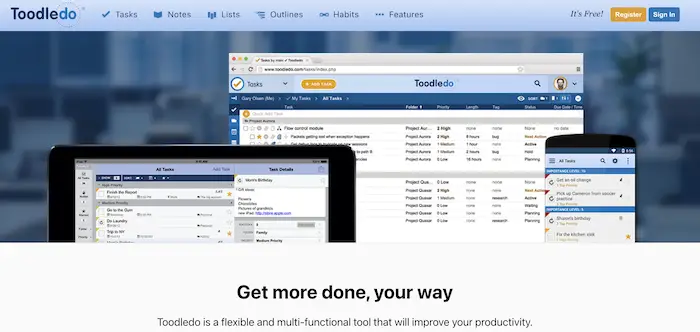 What can you do with Toodledo?
There are multiple things you can do with Toodledo. It is, without a doubt, an impressive to-do list application with a wide array of features. For instance, you can set alarms and get notified of due dates with ease. It also helps in scheduling tasks and ensures users get all things done.

Customization is one of the most unique aspects of Toodledo. However, this pro can also act as a con. Not all users might be interested in customizing the app at every step. Besides, the availability of excess information might be too much for some users.
How to Use Toodledo?
To start with, make an account on Toodledo. Once you finish it, you will be taken to the home page to create new tasks, due dates, and priorities. To create a new task, click the Yellow Add Task button on the right-hand top corner of the Toodledo home page.

After scheduling your tasks, click on the Profile pic in the top-right-hand corner. Here, you can find all the tools and organize your tasks. Some of them come with free accounts; you need to buy the premium version for some features.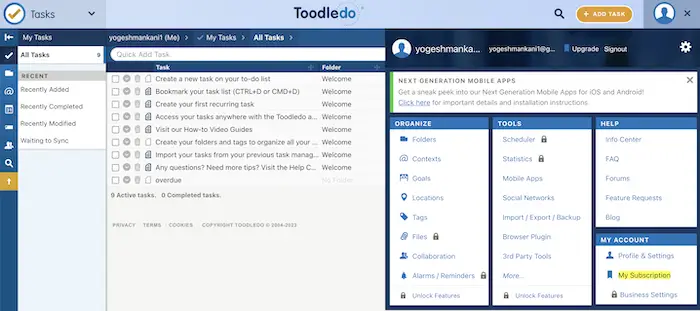 Toodledo Salient Features
Search: Toodledo's search functionality is one of a kind. It is powerful and user-friendly. It allows users to make simple rules that will help them in matching tasks. Users need to invest some time to create the perfect search. After that, it can be saved for quick access.
Due dates: Deadlines are critical for any task, and missing them can be disastrous. With the Due & Start Dates, you can set a timeframe for the upcoming tasks. The feature also allows you to add reminders and times, so there is no chance of forgetting these crucial tasks.
Tags: Another excellent feature of Toodledo is Tags. With this impressive feature, you can add keywords or phrases to make the task more descriptive. That way, you will get an instant idea of what the task is all about. When paired with filters, it works seamlessly.
Batch edit: The Batch edit tool is a lifesaver. It enables users to perform one edit on different tasks simultaneously. You don't have to waste time doing it individually, one by one. It is an excellent feature for those who manage multiple tasks daily.
Scheduler: The scheduler helps user utilize their free time productively. With this feature, you can search the tasks you have coming up and tell you what is most important. You can choose to work on that particular task in your free time.
Alarms/reminders: Toodledo never lets you forget you have a task. Users can set up personalized alarms for different tasks. The app will send reminders via email; if you use the mobile app, you will get notifications. You can also take advantage of the location-based alarms. This feature reminds users of tasks when they are near a particular location.
Syncs multiple devices: Toodledo syncs perfectly across multiple devices without much hassle. You can quickly start a task on your mobile and end it on your desktop. There are mobile apps available for iOS and Android platforms.
Costing
Toodledo is a freemium app. That means it has a basic free version that comes with multiple features. Here, you will get unlimited tasks, simple alarms, task notes, advanced search, unlimited device sync, etc. However, the features are limited.
Apart from the free version, Toodledo has Standard, Plus, and Business plans. The standard plan costs $4.99 when billed monthly and $3.99 when billed annually. It gives you access to subtasks, graphs, saved searches, customizable hotlists, etc.
The Plus plan is set at $7.99 when billed monthly and $5.99 when billed annually. This plan gives users a scheduler, 10 GB of file storage, file uploads, etc. The Business plan is customized and requires you to contact the app team.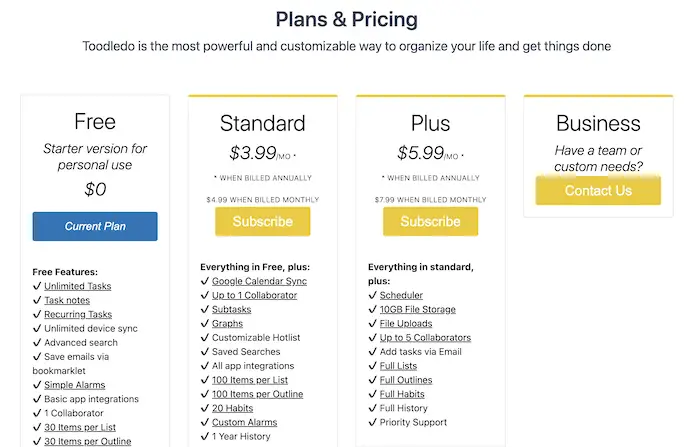 My experience Using Toodledo
Toodledo is a great planner and organizer application. It offers a wide array of features that are interesting to explore. However, customization is a real problem here. Everything needs customization, and I couldn't help but feel exhausted when I was done with it. 
A few customizations here and there would have made the app a better choice. This is perfect if you love personalization and prefer to make the app how you want. For regular use, something simple would be great.
Conclusion
Toodledo is an excellent planner and organizer application. The app helps users create a great to-do list along with a bunch of exciting features. It is an excellent option if you love customization and want the app to be exactly how it should be.
However, an outdated user interface and too much customization complicate the app. The time it takes actually to set up the app is long, and people might prefer something simple to organize and streamline day-to-day activities.