While LG G2 was a huge success for LG, G3 and G4 went out only for name sake, but finally LG's latest flagship G5 is going to make a huge difference.  The LG G5 is powered by a Qualcomm Snapdragon 820, 4GB of RAM, 32GB of internal storage,  a removable 2,800 mAh battery, and Android 6.0 Marshmallow. It has a 5.3-inch, 2560 x 1440 resolution (QHD) display at 554ppi. It also comes with a microSD slot. The phone has specification very close to HP Elite X3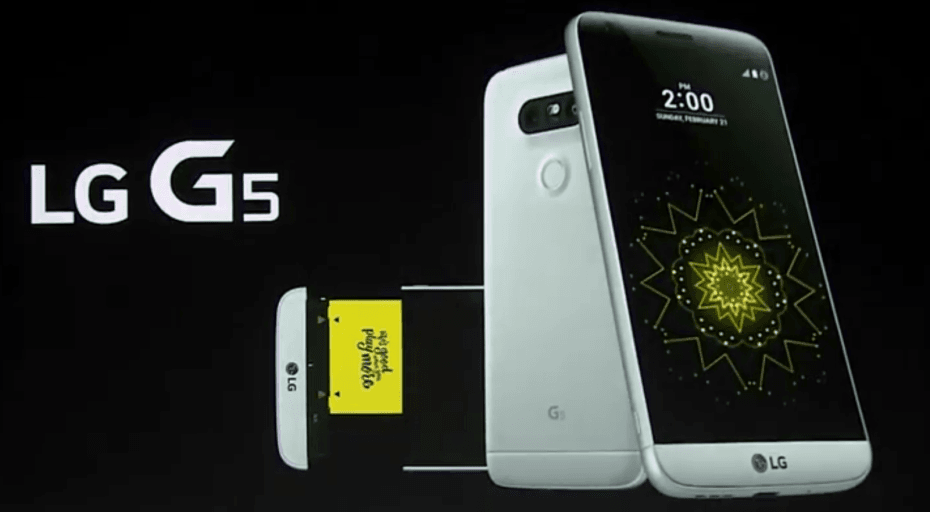 Metal Body:
Finally a metal body, and the leather looks are finally gone. This is  major shift for the company, and we will see more phones from LG on similar lines.
Add Modules:
This allows you to add modules to improve existing hardware capability or add missing features. There are two modules that is known :
Cam Plus :  This reminds me of the Lumia 1020 Camera Grip which allowed one to take better pictures, stable videos, and handle the phone in a lot better way. On similar lines, the CAM plus offers auto focus, exposure lock and provides physical buttons for power, shutter, record and zoom. It comes with 1200 mAh battery pack. This is going to be a show stealer accessory for G5.
Hi-Fi Plus with B&O Play:  This modules transforms your LG G5 into a Hi-Fi audio player which supports 32-bit 383 KHz hd audio playback.
Always On Display:
LG G5 comes with always-on display which lets you check on few important things on your phone without taking the hassle of  entering password, and then going around the phone. Using this, you can check on time, notifications, battery status by just looking at it. Reminds me of Glance Screen. LG is doing this  by illuminating small part of the display  which reduces less battery.
Two Rear & Wide Angle Camera:
G5 comes with two rear cameras of which one is standard 78 degree lens while another is a wide lens that can shoot at 135 degree.Using this combination, not only G5 camera be able to capture large landscapes, but also a lot of details combining both of them.
Hi-Tech Accessoires:
To make sure G5 is worth, LG is also offering a lot of unique accessories that will work with the phone. Here is the list:
360 CAM: This will let you shoot videos in 360 degrees using the two 13 MP wide angle camera which comes with 4GB internal memory, and shoots video at 2K with 5.1 surround channel.
360 VR: This is getting common with high end phones now, and G5 is not an exception. You can use these foldable goggles for watching VR content on the go.
Rolling Bot: Time for Star wars. This ball camera rills around capturing images, and videos using the 8 MP camera, and connects over WiFi. I guess you can use it as a toy or a security camera.
Tone Platinum : This is the  world's first Bluetooth headset equipped with aptX HD codec i.e. which means lossless 24-bit audio.
Smart Controller: Control drones, watch a drone's video stream through the LG G5 in real time, and generally move other smart devices that LG has yet to reveal.