Torrents have a very special place in the life of a download junkie. Torrents definitely are the best way to download huge files, especially if you have a slow internet connection or you get spikes in your download speed.
Well, so how do you search for torrents? In most cases the reply would be in the browser, either directly on torrent websites, or may be something like Torrentz.com, which provide comprehensive search results for torrents from different torrents site.
Here is a small desktop app, which is simple to use, and works pretty fine. TorrentFetcher is an awesome searching app for torrents.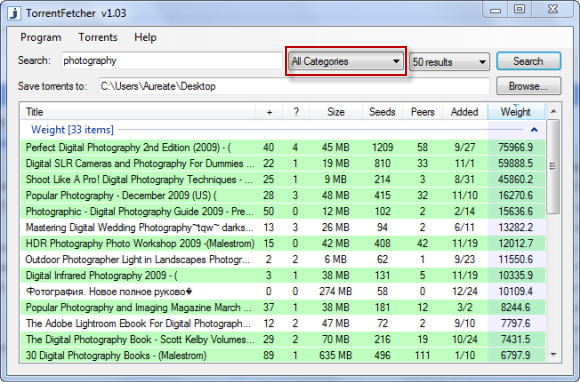 You can simply key in the keywords for the torrent you are looking for and later right click on any result to see the torrent page in browser for more details, or download the torrent from the right click menu on the result.
You can also choose the drop down category menu, to narrow your search.
Torrents are downloaded to a specified folder; under the Torrents tab you can choose to auto start the download for the downloaded torrent file.
Feature list for TorrentFetcher as seen on the program page –
Auto-update keeps you current with the latest changes and fixes.
Automatically move downloaded torrents to a specified output directory.
Automatically launch downloaded torrents.
Know which torrent files you already have in your downloaded folder through automatic highlighting.
Minimize-to-tray option to keep the utility handy at all times.
Results highlighting lets you know if a torrent is well or poorly seeded or if it has negative comments left about it.
Right-click to open torrent details, useful for reading comments and manual control.
Search through multiple pages of torrents at once.
Sort and group torrents for quickly finding the one you're looking for
TorrentFetcher is good way of finding torrents, go ahead and try it out.
Download Torrent Fetcher
Related –  How to use Dropbox to trigger torrent downloads remotely