If you are heavy Piratebay (TPB) user, you must have seen that, instead of listing the direct torrent file, magnet links are listed. These magnet files are similar to Torrent files except that instead the file behind the torrent file is not hosted on their servers but are pulled in from different seeders who already have thew file with them.
This most of the time is useful when the source is gone missing, but since the original source torrent file are bandwidth hungry, Piratebay might hide them from time to time, depending how popular the torrent is and let the user download them from seeders itself. This however, slows down the experience because different users are on a different kind of network speed and this totally results in mix environment.
So how do you get the Torrent link back ?
It seems the links of the torrent files are being just made hidden by using HTML tricks and its there in the sources. Taking advantage of this, YIFY Torrents has created a User Script, ThePirateBay: Magnet to Torrent ,which will find that link and make it visible for you.  This is how it looks like :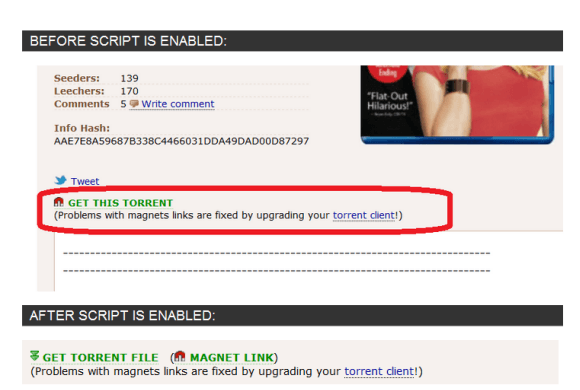 So all you need is Greasemonkey  installed on Firefox or Chrome and download the script from here and start using. If you are already on the page which does not display any torrent link, hit refresh and you should be able to view "Get Torrent File" link right  next to Magnet Link.
Thanks Ghacks, He has tested it both on Chrome and Firefox and it works well.