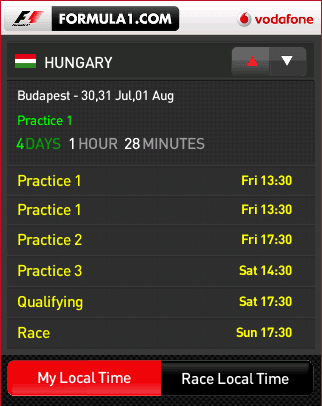 The heat on Formula 1 Races are on and if you are missing all those matches of the Grand Prix, The Formula 1 team have apps for every phone right from BlackBerry to iPhone.
Features of Formula 1 Race tracker :
Create a Formula 1Account right from there.
Live Timing, Races and Standings.
Race timings including the practice sessions, qualifying and the actual race.
Track the progress of every driver.
Their position and best lap time to their latest sector times and lap count.
Yellow/red flags and safety car phases
Text commentary as soon as the race begins.
Current air and track temperatures, rainfall, air pressure and humidity levels, plus wind speed and direction
Current season, the season calendar, timetables for every Grand Prix
The current championship standings.
Mobile version of this app is available at http://mobile.formula1.com/
Show timings according to your local time or race time.