Process Explorer gives you an extra hand to manage the process, handles, DLLs in Windows. Task Manager gives you a basic set of control over processes running under Windows. Process Explorer goes on a step ahead and can tell you the files and DLLs that are open and loaded for any running process. Here is how you can Track handles, DLL, and Processes with Process Explorer. It works with Windows 10, Windows 8, and earlier versions, including Windows 7.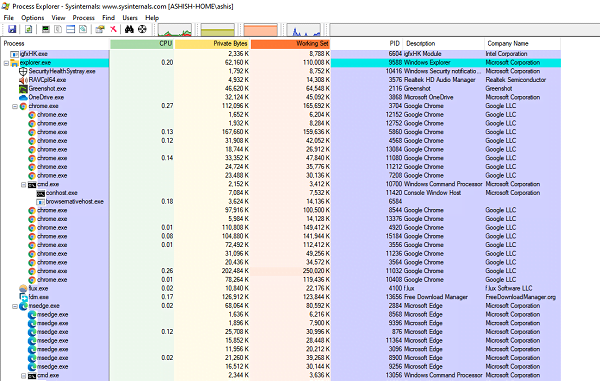 Track handles, DLL and Processes with Process Explorer
Track All DLL's and handles used by a particular process.
You can set the priority of any process to real-time.
It allows restarting any process or program from process explorer.
You can restrict any application to have one instance. For example, if Internet Explorer is taking too much memory, you can set it to have one instance to save memory.
Process Explorer also has a powerful search capability that will quickly show you which processes have particular handles opened or DLLs loaded.
Replace the Default Task Manager by Process Explorer on using hotkey ALT + CTRL + DEL.
The unique capabilities of Process Explorer make it useful for tracking down DLL-version problems or handle leaks in Windows.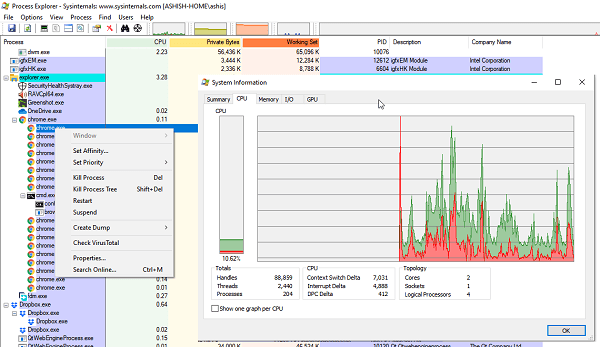 That said, if you wish to replace Task Manager with Process Explorer, it is possible. Click on the Options menu in process explorer, and select replace task manager. Next time you launch Task manager from anywhere in Windows, it will launch process explorer. If you are a developer or have a keen interest in how processes work and want power user options, this is for you.
Here are the features which can be attractive to developers:
ASLR column for processes and DLLs.
Process and thread I/O and memory priorities in process and thread properties.
Process and thread I/O and memory columns.
PROCESS_QUERY_LIMITED_INFORMATION support on process permissions
Run as the limited user runs with low IL
Reports information for all object types
Show details for all processes elevation menu item
Supports replacement of task manager
This tool can be a good option and an alternative from the traditional task manager. You can even find or track duplicate DLL problems. Download from here