Android being the most popular platform in India, Indian Government and Ministry of External Affairs has finally decided to make it easy for each of you who been having tough time in finding status of yours passport application or even to figure out where is the nearest Passport application center. Around 2 years back, TCS did a huge task by completing the Passport Seva Kendra service which after a couple of hiccups is now running smooth.
Coming back to topic, this application is more like Online Enquiry window for most of the things around passport application and tracking. Even though some of your questions might remain unanswered but most of the important things have been take care.
You can :
Get general information about the online application process. As an example how to login or create account, schedule an appointment,  if you need to carry a photograph and so on.
Locate centers which apart from Passport Seva Kendra locations also includes, District Passport Cell, Police Station.. Mission / Post Abroad and passport office.
Find out how much fees you will have to pay for fresh, reapplication or PCC. It includes pricing for Tatkal and 60 page passport also.
Status tracker for Application and RTI
find and call on Toll Free  number.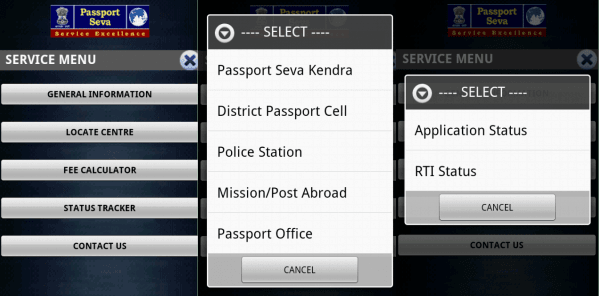 That said, the application is now expected to become a fully functional and turn every Android phone into a passport application machine. I wont be surprised if I get to see people charging money on their android to fill in the passport details. This has been the case when it was all manual.
Download
[appbox googleplay gov.mea.psp]