Pingdom is an online service which lets you check your website downtime, response time, multiple location check and much more. Recently they have released a desktop application which lets you watch website downtime right from your desktop.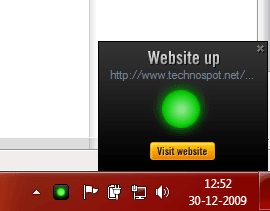 They provide professional services for webmasters who manage lot of websites and give them essential details of their website performance etc. However their basic service comes free which lets you check one website for free and 20 SMS alerts on your mobile.
The desktop application gives you an option to register with them and check one website using their basic service. Any time your website is down you will get a red alert from the application itself.
Also check out similar services :