Time tracking tools are a very efficient way for
Improving productivity
Keeping track of billing details and other financial issues
Achieving goals in time
Finding out the reasons for delays.
1time is a perfect time tracking tool, with several features as follows,
Time sheet recording – Managing time is very easy with simple and easy to use time sheet system
Email reminders – Automated e-mail reminders to employees who have not entered their time sheets.
Client/Project reporting – track of time and cost of multiple Projects and multiple Clients can be kept
Employee reporting – Keep track of Activities and with which Clients your employees are spending their time.
Employee utilization analysis – Find out which employees are maximizing their billings and track the profitability of each.
Project budget & cost analysis – Helpful in identifying at-risk, profitable projects.
Basecamp integration – Import your clients and projects from Basecamp and send time report messages back to basecamp.
Track holiday & absenteeism – Use 1time to assist in establishing patterns in employee behaviour
Export reports to CSV – Use 1time report export facility to create your own reports in Microsoft Excel or other software.
Project expense tracking – Ensure that you are assigning Clients/Projects the correct costs.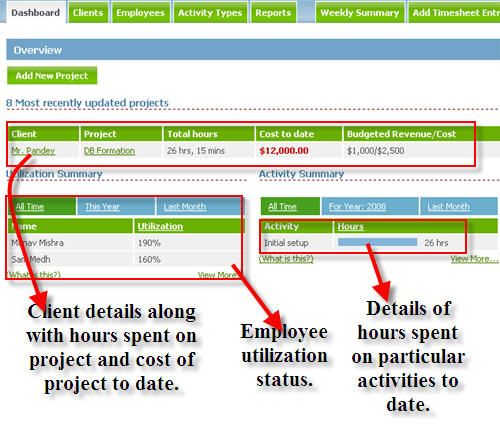 A 30 days free trial can be taken for any of the paid tiers, whereas if wanted the free version can be signed up, where the major limitation is you can just have 1time for a single user. Payment modes are quite appealing depending upon your needs and budget you can make payments on monthly/yearly basis.
After the sign up process you get a unique link for you through which youcan access the 1Time for your future use,  Entering all the details like client name, project name for each client, employee names, timesheet entries, etc. is very simple process. Once you have entered the details for particular project, next time when you sign-in to 1Time, everything will be ready for you at the dashboard itself, the beauty of the dashboard in 1Time is, that once you just go through the dashboard nothing as such is left, almost each and every fine detail you can think of is present on this dashboard page.
Why is it a good idea to use 1Time (based on my experience)
Fully online, no installations required.
Facility to choose holidays based on national holidays list of different region.
Facility to choose currency in which the billable amount is calculated.
User interface is pretty simple, drop down menus have made it more user friendly.
Facility of filtering the entries for smooth working at every stage is provided.
Facility to send mails directly from the interface via outlook with a click.
I have seen some other time tracking tools as well, but this one has appealed me big time, very simple, and online with every details you can ever think to have. So do you need a solution for your time tracking needs, give it a try, what say?