actiTIME is a very fine quality, freeware, which provides easy-to-use interfaces for project and task management, time tracking and reporting, user schedule and overtime control. It is basically a multi-user web-based application that can be installed under any operating system and works with MySQL and MS Access databases.
A demo can also be tried for this product before installation, if it appeals you, Download and install actiTIME, choose MySQL or MS Access database, depending upon your choice and requirement, specify port number, and IP Address of your computer. After installation start actiTIME and click on 'Open Login Page', for the first time login as the administrator you need to use user name as 'admin' and password as 'manager', you can now change the user name and password in order to keep yourself safe from any kind of unauthorized access.

Before moving any further and take the advantage of this amazing tool, you need to add some projects and task, can be done under the 'Project & Tasks' tab, later on you can add any users if you require and specify their rights of access on this system, and add the tasks for every user under the 'Time-Track' tab.
What all can you do with actiTIME ?
Project and Tasks – Add a Project,divide the project into tasks, set a deadline for each task, add any special comments, like how to achieve it ? , Resources to be used? Etc.Set a deadline for each task.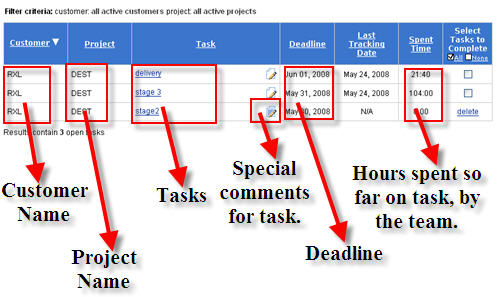 Billable or Non Billable – Select whether particular task is billable or not (for professional projects), actiTIME will calculate the billable hours for the particular task which you and/or your team has spent on the achieving the task, based on this you can decide your charges.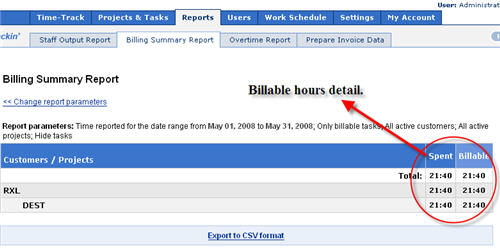 Time Spent – Time spent by the whole team as well as individual user on each task and collectively on the project, along with overtime spent, this helps in managing time and complete the project with in deadline also it gives you an idea of the efficiency of every team member, which helps in improving the productivity.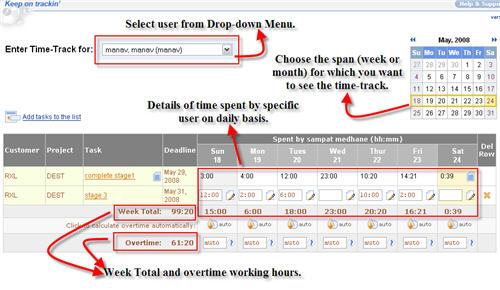 Reports – Several reports can also be generated with actiTIME, like output report for every user, or all the users together, billing reports (as shown above), overtime report, invoice data on the basis of spent hours for billable task. Reports can be generated both in HTML as well as CSV formats.
Work Schedule – Working and non-working days can be specified under 'Work Schedule' tab, by default Saturday and Sunday are specified as non-working days.
Apart from above features, there are several other settings to customize the actiTIME as per your requisites, like working hours per day can be specified, timings of working hours span can be specified etc.
My Experience with actiTIME
Very user friendly interface.
Free support available via mails.
Productivity can certainly be improved if tracking is monitored well.
Adds more smoothness in team work.
Installer for windows is around 20mb, hope they come up with a smaller one soon.
All the data is stored in a database file, so portability exists.
Try actiTIME