Many a time it becomes hectic to find what files got changed every day either from your web server or even your file system on the hard disk.  The only way to do it is by using a timestamp, but it is not only tedious but also time-consuming, especially when the change is very dynamic. In this post, we will show how to find or track changed files in Windows.
How to track for changed files and folders in Windows 10
Here are a couple of software/tips which you can use to make this job easy for you, and it works on Windows 10/8/7.
Copy Changed Files
Last Changed Files
Windows Search
All the software is free to use, and since they are portable, make sure to keep it somewhere safe.
1] Copy Changed Files
Copy Changed file is a pretty neat software for Windows operating system, which can help you in finding the changed file every day. This application works like a charm, but there are a couple of drawbacks that I would discuss at the end.  Let's get to know it first.
This software allows you to
Select the Source folder
Set the Destination folder where you would like to take the back of the changed files every day.
Choose Date according to which you want to compare.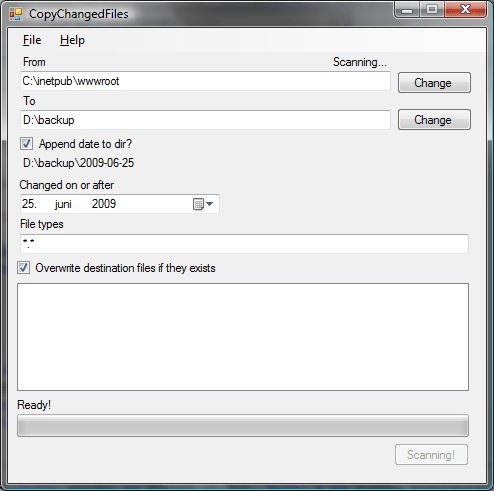 The significant advantage of this software is it maintains the directory structure. It makes it easy for you when you have a more significant hierarchy of folders and files.
The major disadvantage of this software is it's not automated, and the option for you to select a date is what will make the user not to use it. Download from the developer page
2] Last Changed Files
This application can find all previously changed files, which include modification or editing like activities. You can select a folder or include a list of the folder that has to be monitored and then run it. It is similar to sorting files in a folder according to the last modified Date but in multiple directories.

Last Changed file application tracks all list of directories with the help of configuration file. By default, there are a couple of temporary and user folders already included, which I would suggest you change.
To change this, you need to click on the Edit button of the application and then remove all junk paths which are not useful to you. Download from File.net
3] Track Recently Changed File Search in Windows
An alternative to the above is available with Windows. It comes with a default search filter called Date Modified. In Windows 7 and Vista, it was named as Recently Changed Files. You can just click on this and find out what all the files had changed recently. It is almost like a real-time search.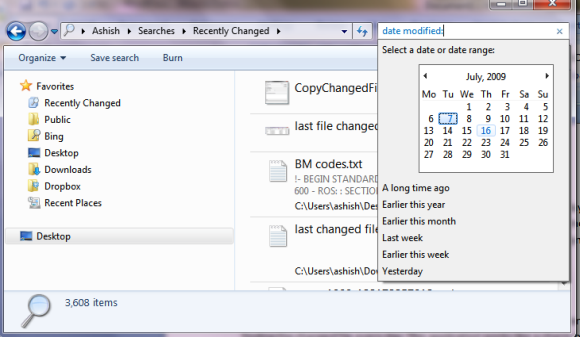 It should be available under Favorites in Windows Explorer, or when you click on File Explorer serac box and type anything, it will reveal the search option. You can then choose the Date Modified option to set an exact filter.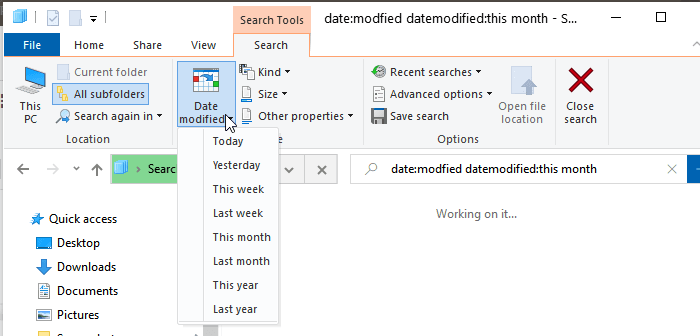 In case you would like to change the criteria of modification, you can do that by clicking on the search box on the top right and select any of the options as shown in the image. You can also save this as a search folder, read here to find how to