Wondershare MobileGo is a free application, which can be used to perform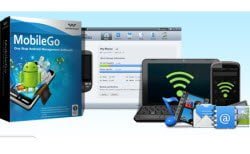 transfer of files to your phone from PC and vice versa. It also can Backup contacts, SMS, Applications, etc. on your PC and later; you can Restore it to your phone from PC at any point of time.
If you are looking for a simple yet powerful Phone Manager for your Android Phone, this application just rocks, specially with option to manage things over Wi-Fi.
All you need to do is simply install the MobileGo desktop client on your PC (compatible with Windows XP/ Windows 2003/ Windows Vista and Windows 7), later you can connect your Android Phone via USB to your PC, or you can choose to connect via Wi-fi.
As soon as you plug in your Phone via the USB, the desktop client detects the connected device, just make sure that USB Debugging feature is on, and in my opinion connect the phone in charge only mode.
Here is a video which will show you the working of MobileGo –
The feature list –
Backup your Android Phone on your Computer
Restore this data back to your Phone from your Computer
Access the phone's full contact list on your computer
Export contact information to your computer in .vcf format
Add, delete and manage the contacts right from your Computer
Access the SMS from your phone on your computer
Send the SMS using the MobileGo interface, right from your computer
Transfer audio and files to your phone
Export audio/music/video to your computer from the phone
Export photos from phone to computer
General editing of Photos like rotate, rename, delete via the MobileGo interface.
I have roughly used almost all the features on test basis, and found them working great.
Overall, MobileGo is a great app, a must have for every Android user, it's pretty comparable to the iTunes, what iTunes is for Apple devices, MobileGo is for Android. Moreover, there isn't any tyoe of technicality involved, even a novice user can easily handle the MobileGo.
Go ahead and give it a try and share your views about it with us.