The popularity and fan following of iPhone and iPod is well-known, a friend of mine, for whom his iPod is a lifeline, told me about this awesome application, Pod to PC.
This free application allows you to transfer, copy or rip the music, videos and playlists from any iPod or iPhone to your Windows PC and iTunes, and is compatible with all generations of iPhone, iPod Nano, iPod Touch, iPod Shuffle, iPod Video, iPod and iPod Photo.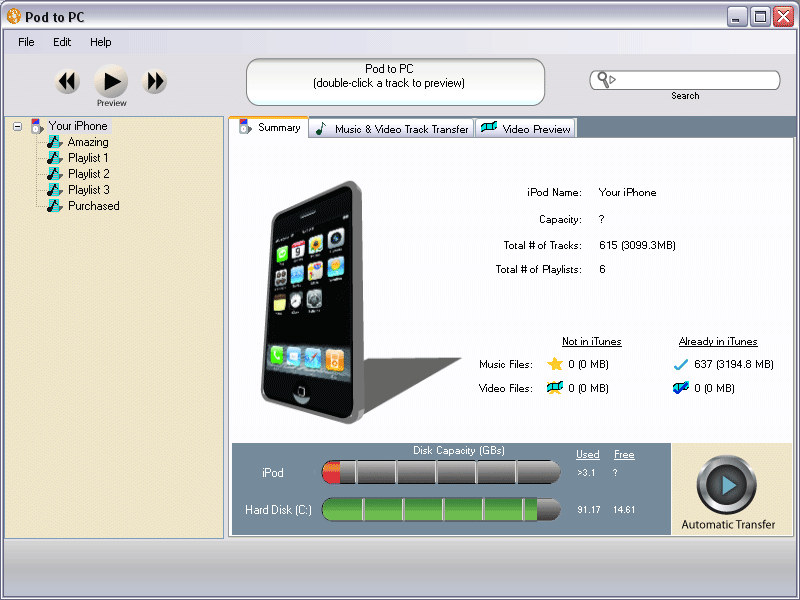 Other Features of Pod to PC
It can help you to recover your music in iTunes if your computer crashes, by transferring the music on your iPod or iPhone back to your computer.
 An Automatic Transfer button lets you instantly select, then transfer all songs on an iPod that are not already in your iTunes Music Library, Syncing.
Copy Play lists from iPod to iTunes, fully or partially.
Also takes care of duplicate transfer attempts.
Along with the track, the track info also gets transferred including the track play count, rating (out of 5 stars), album and more.
You can quickly find the tracks you are looking for with the Pod to PC search bar and filter options.
To read more, and view the FAQs, you can have a look at this post.
I don't use iPhone or iPod, so couldn't actually give it a try on personal level, but whoever uses it have a good word for it, if you use iPhone and/or iPod, give it a try and share with us your experiences.  Download Pod to PC