I am big fan of Transformer Movie series and having an iPad tempted me to get a game based on the movie,  Transformer : Dark of the Moon. This is a HD game and follows the same story as the movie starting from Pillars, Energizing Sentinel and then war for the pillars. Though I have not reached the end of the game ( its getting tougher ) but I am sure it will an interesting fight and the climax.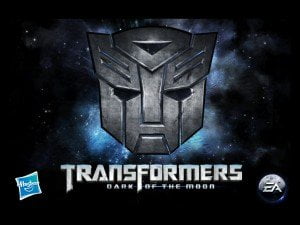 Game Play :
You have two players here, Optimus Prime and Bumblebee and each has  certain numbers of level dedicated. Bumble bee mostly show up when you need to complete a level where Sam is involved and Prime takes over the pillars part.They also have showcased various Decepticons of which one is Shockwave which is very difficult to fight as you need dodge and kill and takes much longer time.
For every level there is  task which you need to complete. Hints and helps are in ample if you get stuck.
Weapons and Upgrades :
For every enemy killed you get one point which is used to Upgrade the player and buy weapons. The good part is you don't have to manage both players separately. They share the weapons and all the upgrades.
Weapon Switching is allowed only at certain points while you are playing the game. Look out for Optimus Upgrade System which is in the form of cart which he drives.
Graphics and Sound Effects
Amazing !! I have loved both of them specially with headphones on and playing in dark. The characters are well done and you should see how well they transform into vehicle mode.
The only drawback is sometime crashes specially when you blow couple of enemies together using the rocket launcher.I hope some update fixes this.
Video Review
Tips for playing :
Make sure you have a right balance between upgrading the character and buy new weapons without which completing the game is impossible.
Dodging is an important part. When you are surrounded by lot of enemies or very powerful enemies try  to run and kill them one by one.
In case your energizer is running low, dodge and run to one place and wait for 5 to 6 seconds to regain power.
Image Snapshots
This game costs 0.99 USD and can be downloaded from iTunes