Everything that you read as the title is all correct, no joke, no exaggeration, yes,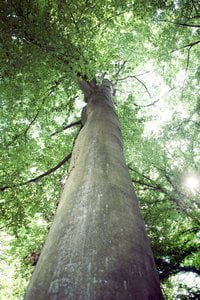 there is a Tree on this planet, which has its own Facebook profile and Twitter handle, it updates status, upload photos, and much more.
To understand what it actually is, here is the excerpt from the page 'Talking Tree – Making of'
"Everybody has an opinion on Nature. But what about Nature's opinion? EOS magazine decided to give Nature the means to talk. A 100 year old tree, living on the edge of Brussels, was hooked up to a fine dust meter, ozone meter, light meter, weatherstation, webcam and microphone. This equipment constantly measures the tree's living circumstances. And translates this information into human language. Then, the tree lets the world know how he feels. Follow the life of the talking tree via YouTube, Flickr and Soundcloud. And friend him on Facebook."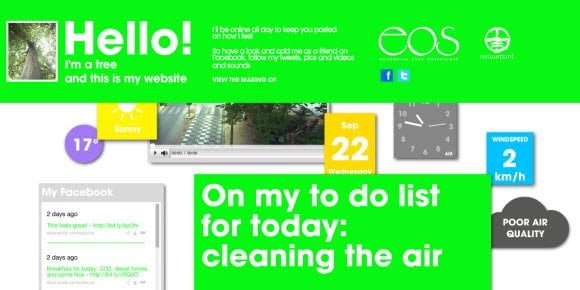 Sounds great, isn't it? Thanks to EOS magazine for this amazing idea of making a Tree to push and think towards a better greener world, definitely such initiatives can help big time, reason being, it's not that we don't want or tend to get a greener world, problem is we are all so engrossed in
making a balance between our family and work, that we don't get time to think on such issues, and as a resultant we start ignoring such things.
Now if there is someone who keeps reminding you about such things, it helps, it really does, for example, who so ever you are, whatever be your priorities, if you are following this Tree on Twitter, and you see its Tweet a couple of times a day in your timeline, you definitely get encouraged to reduce the carbon footprints being increased by you, and now simply imagine, this impact on the masses, wouldn't it help? I think, it will, it definitely will.
So, go ahead, befriend this Tree on Facebook, follow it on Twitter, have a look at its Photos on Flickr, watch the videos on Youtube, just select the way you want to get reminded.
You can get all the profile links of Talking Tree on its official Website.