Nokia Beta labs has released an application free of charge which can help you in diagnosing your Nokia phone if you are getting problems in using under below mentioned categories :
Network Coverage Test : Useful when you travel from one city to another. In case you find network coverage missing most of the time, this test can help you out.
Internet Connectivity Test : Internet is now a necessity on every mobile. Making sure you do have access to best, this tool  can check that to0.
Battery Charger Test : Many a times users complain of their mobile not getting power charged  and the problem  occurs because the connection was an issues.
Loudspeaker and Earpiece Test. Music on the move and there is no alternative. You can check that too here.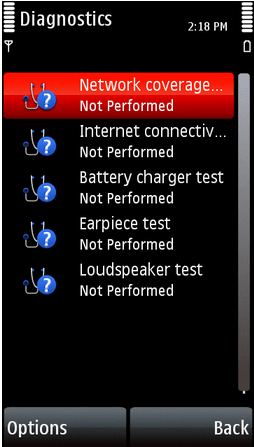 Video on how Nokia Diagnostics work ?
Nokia Diagnostics works well with all S60 5th Edition devices like Nokia N97, Nokia N97 Mini, Nokia 5230, Nokia 5530, Nokia 5800, and Nokia X6. However it is not compatible with S60 3rd Edition devices yet (coming soon).