F8 or F2 is one most used keys when you want to troubleshoot Windows either in safe mode or command prompt or get into bios to change settings. Starting Windows 8, users will find it impossible to enable those options by pressing those hot keys at the boot time. Why ? Because Windows 8 boot is so damn fast that you really have part of a second to enable them, right there.
Good news is Windows 8 team know this "Problem" and hence have come up with a solution which will help you get into this advanced option without doing a lot of hard work.
Windows 8 Advance Settings :
The advance settings in Windows 8 is at the same place where you will find Windows Refresh and Reset. Once you launch it, it completely replaces whatever is on your existing screen and gives you access to the most commonly used options i.e
Open Boot menu to boot into any other OS installed on the same PC. This means you will be able to boot into another OS right from Windows 8. I remember this was one of the most demanded feature we had a lot of hacks for this.
Use a device, which is mostly, used for using recovery devices in the form of USB or DVD or even network cards.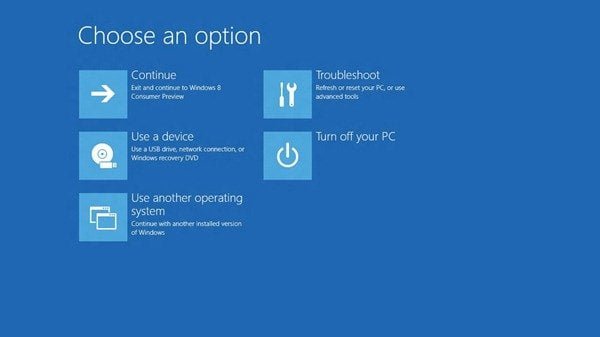 In the same menu you have option to even more advance settings using the Troublshoot menu. This when launched gives you quick access to
System Restore
System Image Recovery
Automatic Repairing : This will be used when windows fails to load.
Command Prompt
UEFI Firmware Settings or the Advance BIOS
Windows Startup Settings.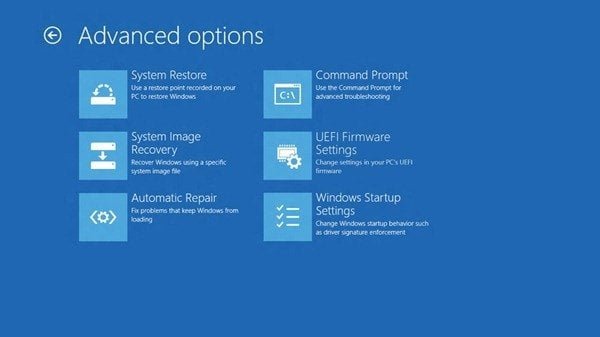 How will I be able to troubleshoot if Windows 8 gets hanged when booting or before even I can Login ?
Thats a pretty good question. Windows 8 is designed such that in case of issues like these, this advance settings or the boot menu option will automatically showup, giving you clear option to recover your Windows 8 PC using Options like Refresh, Reset, Disk Image etc.
One thing, which is good, about this troubleshooting option is that it is smart enough to find a solution for the problem and will guide you to fix it, and  if it can fixed. However if nothing works, it will launch the repair options to nuke the problem.
If you an advance users, you can choose the Windows Startup Settings, which will have options like disabling the driver signatures, automatic restart on system failure, debugging mode, boot logging, safe mode and disable early launch anti malware protection.
How this will work on Old Hardware :
This will same for all the devices except that getting into BIOS, for older devices, will be using the interrupt keys i.e. F2 or F12. Now if you are wondering if you will have time, then the answer is Yes, because the old hardware will not boot in 2 seconds and hence you will have enough time to press and hold the keys to interrupt and get the boot menu.
The Hot Key to boot into this option :
If you are not logged into Windows 8 yet, but are on the login screen, you can pres shift and restart together to boot into this menu or you can lunch this from command prompt using Shutdown.exe /r /o
Windows 8 team blog has a video and more indepth detail on this feature which you can read here