Pickup any smartphone, it runs out of battery sooner or later. So what do we do ? We start turning of all the smart features including background syncing to save lot of battery. That does help but then it defeats the purpose.
There are two hardware in any phone that consumes a lot of battery. First is the display & brightness and second is the processor. Recently quad-core pattern has picked up a lot even though it's still long way to go because mobiles are still low on amount of RAM. It's like you have the gun but without the right bullets. That said the more powerful the hardware is, more you will push it to the edge.
So here comes an app which lets you control how many processor is being used or is turned on while you can manually control on the display part.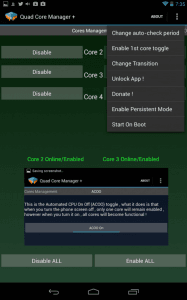 QCM+ or the Quad Core Manager Plus is an app for rooted device which can let you control or even automate the process of turning on and off the processor cores. Most of the time the cores aren't be used unless something heavy is being used. The heavy usage is generally like 10% and at least 30% of the time mobile are in our pocket or on charge, the cores don't have much to do.
Related Reading: Easiest way to unlock or Root your Android
This app is just perfect for the scenario. It can :
Turn of all the cores except one when the screen is turned off. They all turn on as soon as you unlock and the display is turned on again.
Automatically switches between cores to make sure that none of the cores are being overworked.
Can turn off processor in different modes. They are Cube Out, Cube In, Tablet and Standard.
Toggle to Turn of or on cores except primary.
Automated CPU on or Off make sure only one is used when you turn off the screen.
Not recommended but you can turn of the primary core too.
Download:
[appbox googleplay seaskyways.quadcoremanagerplus]