Are you running an OLD PC? Do you want to reduce the number of resources Windows uses? Or maybe you don't want wallpaper at all. One of the ways is to reduce personalization to a minimum. This post will guide you on how you can turn off the desktop background in Windows 11/10
Why Do Windows PC Gets Slower With Time?
If you own a Windows PC or a laptop that is a few years old, you will find it struggling when you use it for tasks that use a heavy processor. It is normal since apps are updated and include new features to prepare for running on more advanced devices with higher-end and more powerful hardware. If you are running an older Windows PC or you want to squeeze some more power out of your existing hardware, some UI modifications can minimize the impact of Windows on system resources.
The desktop is a specific part that displays the wallpaper background that you have chosen as well as your folders, files, shortcuts, documents and other items you have stored. It is displayed every time you log into a Windows device.
Windows comes with several accessibility options. One of them lets you switch off the background of your device. In this article, we are going to take a look at various ways to turn off the desktop background in Windows 11/10.
Why Turn Off the Desktop Background?
It is not necessary to render the wallpaper, which requires processing capabilities. The feature is not a massive one and is a UI component. You can disable it to ensure that your device is running more efficiently. Many people disable background because it is simpler to recognize icons on solid backgrounds, whereas others use it to stay focused on their work. If you record screencasts and slow when you switch the background on your device, it will lessen the lag.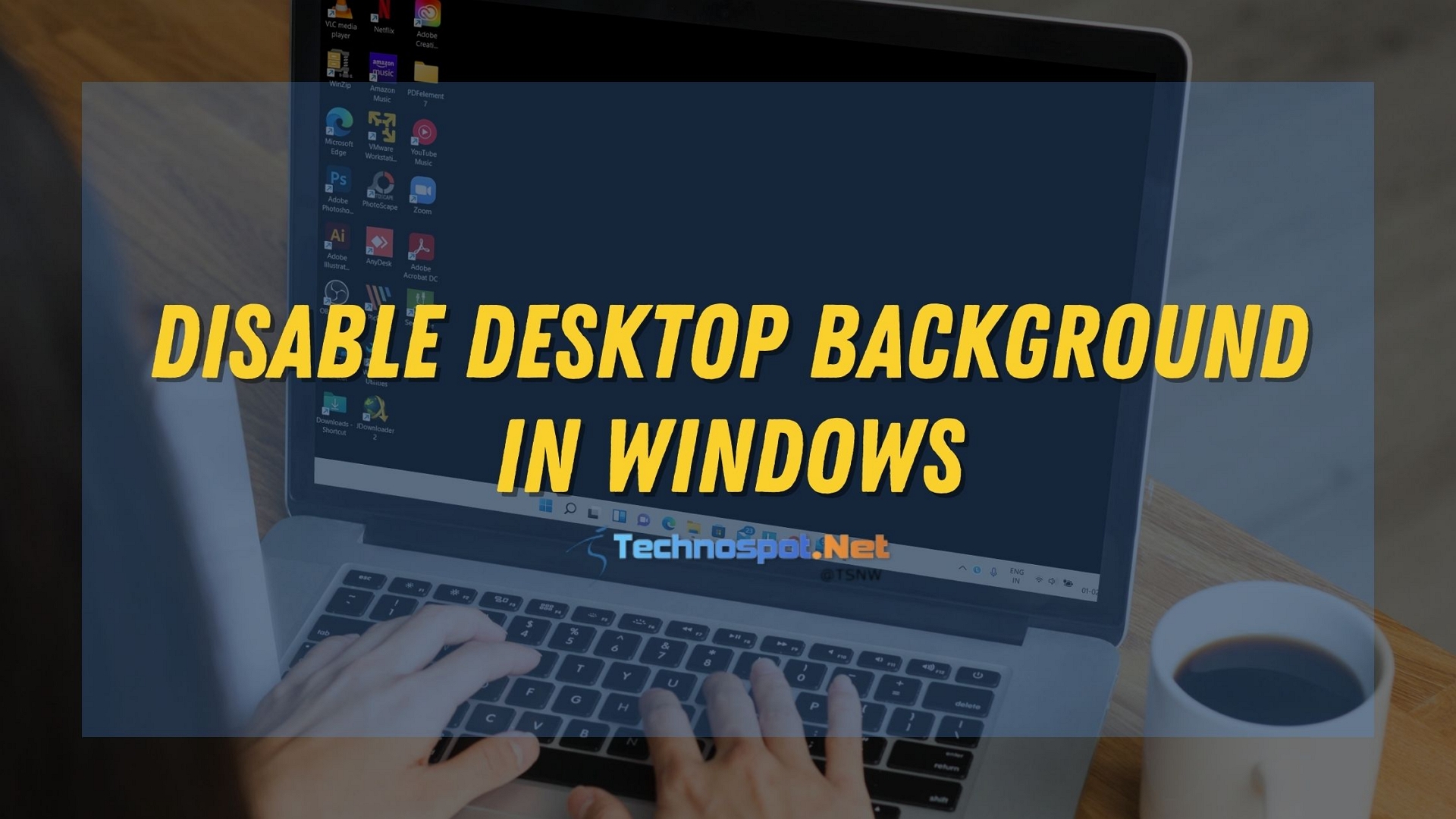 Ways to Disable Desktop Background Image on Windows
Create a restore point if something goes wrong. The background of your device, i.e., wallpaper, refreshes frequently. The higher the resolution for the background, the more stress it will put on your hardware. Wallpaper displays consume more processing power. Fortunately, you can deactivate it by following the below processes.
Disable Desktop Background Via Settings In Windows 10
In Windows 10, there is an Ease of access option in settings where you can turn off desktop background on your Windows computer by then going to the display settings and toggling the show desktop background option off.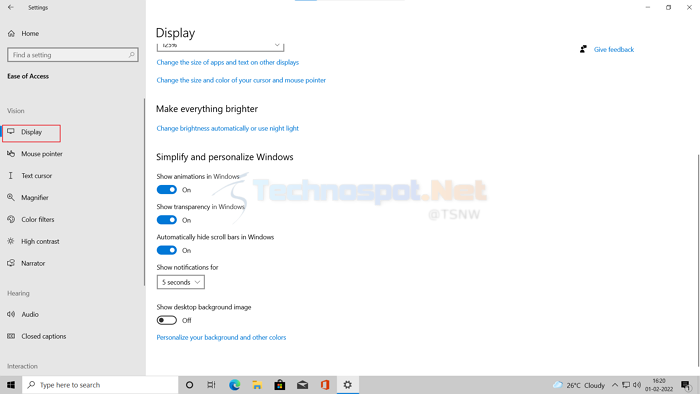 Microsoft somehow felt the need to remove this option from the settings. In Windows 11, the ease of access options are called the accessibility options, however, there is no disable desktop background option there. The same can now be done through the control panel, the steps for which are given below.
Disable Desktop Background Image via Control Panel In Windows 11
Open Control Panel by searching the same in the Start Menu search (Win + S)
Navigate to Control Panel, click on Ease Of Access and then click on the Ease Of Access Centre Option.
On the next page, from the Ease of Access Centre, locate and click on the link Make the computer easier to see.
Finally, scroll down and reach the section Make things on the screen easier to see and then select Remove background images (where available).
Now, click OK, and the desktop background is turned off.
Restart your device to save these changes.
You can turn off the option mentioned at any time to enable the background image on your desktop.
How Can You Remove a Background Image from the Desktop Background List in Windows?
Navigate to the Wallpaper folder, click the background you wish to delete, then click the option to delete. To remove a customized image you must locate the image file and follow the identical steps. If you would like to remove the theme for Windows 11/10, click the theme in Settings > Personalization, and then Themes, and choose to Delete.
Where Are Windows Wallpapers Stored On My Computer?
The Windows official wallpapers that are default and shipped with all the copies of Windows 11 are stored on your computer in the System Drive or C drive on C > Windows > Web path. If you want to extract wallpapers that come with the theme, then it's available in the themes folder.
Does Desktop Background On Windows Put Stress On My Computer?
A normal desktop background gives little to no stress to your computer, however, using a live wallpaper will cause much stress on the components and will drain the battery faster.
Many users may consider some Windows desktop backgrounds confusing or distracting to their work routine, perhaps due to poor eyesight or because the wallpapers appear disturbingly beautiful. It is possible to disable Windows wallpapers altogether, and instead, you can choose a solid black background. We hope this article proved to be helpful to you, if it did, please make sure you share it with everyone who might find it useful too.