Lets say you have a song in your iPad or iPhone which you want to share with a friend who came in with a laptop.  The only possible way apple provides is using  iTunes which means either you need to install iTunes on your friends computer or turn on your laptop do that.
So much of problem, So lets meet today's App, Song Exporter Pro which specializes in exporting songs from your iPad or iPhone to any computer or device which can connect to your iPad over WiFi. You need not to connect to iTunes at all.
The application creates a simple webpage with direct link to download songs. The page lists down all necessary option like Song Time, Duration, Artist, Album and with ability to secure it with a password.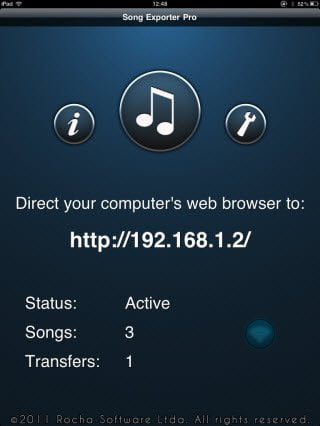 How to use Song Explorer Pro  :
Download it from iTunes
Launch the app and click on the iTunes Icon.
What is interesting here is the way you can share the songs. You can

Share Playlist
Share Album, Share According to Artists or Compilations, Composers and Genres

Now you get a URL which should be accessible over your local wifi.
Click on the configuration icon if you want to password protect it.
Access the page and you can download the songs.
If you watch the app when the songs are getting downloaded, you can see how many transfers are taking place and the WiFi icon will blink.
This application doesnt support Image or Video transfer for that I will suggest you to use Media Transfer App which works for both mac and pc and do not forget to read our in depth guide to iPad if this is the first time you are using it.