If you had been dying for a feature that lets you Tweet using Instant messenger or by just emailing, Tweet Switch is just what you were looking for this.  They call themselves a message forwarding service which lets you configure 3 Instant Messenger ID ( Yahoo, Live Messenger, Google Talk, AIM, ICQ ) using a chatbot and send an email to [email protected], with your tweet in the subject of the email.
Here is a sample before I get down to configuration :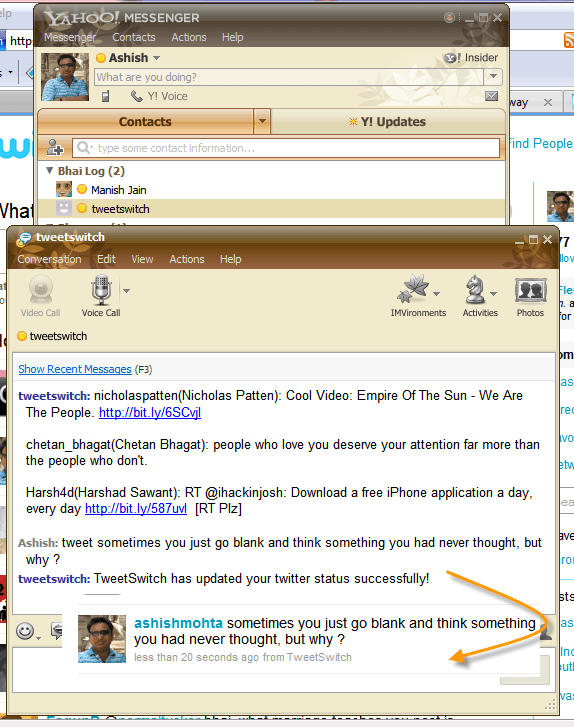 How to Add Tweet Switch to your messenger :
Go to http://tweetswitch.com/ and allow it to access your twitter account. It uses oAuth.
Now you will be welcome by an interface which has 4 tabs : Command, All Tweets, DM and Mentions.
Except the command tab all the tabs allows you to add 3 messenger id. The idea here is if you aren't logged into first, it will try to send you on second and then third else the tweet will be trashed.
Now why separate tab for DM and mentions ? This is just to make things easier for you. You can filter out DM to another IM and Mentions to another.
Once you add a IM id, tweetswitch bot will ask you to add you in the IM. Just add it as your friend.
Follow the command list i.e. Start  so that you can start receiving tweets.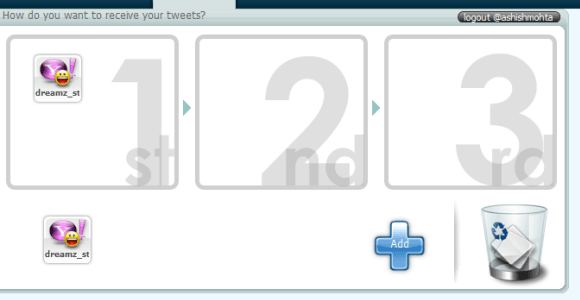 List of Commands :
Sending a tweet : tweet TWEET / t TWEET
Listing the last 20 tweets you received list / l
Sending DMs : dm USER TWEET / s USER TWEET
Pausing the service : stop
Resuming the service :start
I find this utility very useful. Because Now I can Tweet from my Blackberry which doesn't have a complete plan but I do have messenger access for Yahoo, Gtalk and more. This way I will be able to tweet as I walk.  This service is still is in Alpha stage and you might get some glitches. So just hold on till it completes.