It's not uncommon that most of the pro twitter users use some sort of  analytics to keep track of their tweet performance and measure their influence. Twitter today has opened up the Analytics option for everyone according to TheNextWeb. This option was usually available via their Ad Platform and only to advertisers to find how their promoted tweet performed.
Now before you get excited here is the deal:
When you login to the dashboard for the first time you only get to see last 6 hours performance. Click on the link at the bottom to load more tweet. ( Be Warned, It's an infinite scroll after then)
You can see how many Favorited, Retweeted or replied to the tweet
You can download the data as CSV file and use it with any other desktop or analytics tool which supports that. You can also filter to find out which tweet performed well by choosing Best, Good or All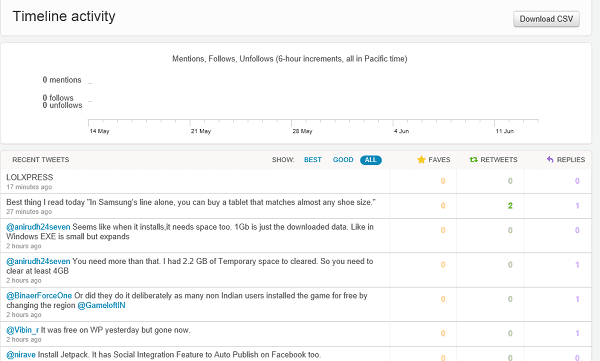 That said there is nothing much apart from them. You cannot make a search, find out who tweeted and so on. Even then at least you have a great tool in your hand to find out your influence.  I am hoping there will be more third-party tool coming soon which will use either the CSV or the data directly to make it more relevant.
Also with this there is another menu named as Followers. It should be showing some data from your followers but it did not work for me.
To view them, Go to Twitter Ad Dashboard and choose analytics from the top. Via TNW