Finally twitter decided to roll out full fledged support for images and Galleries for their users and ultimately nailing all the image based services like twitpic which had great advantage till now. Twitter in their tweet said that now you will be able to see images uploaded by anybody when you visit their profile and here is complete set of feature details if you want to know what's inside it.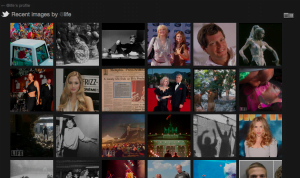 Few Facts you should know :
Good thing is twitter is not just displaying only images which are uploaded using their service but also taking care of other services like Twitter, yFrog, TwitPic, Instagram.
Only recent 100 images are displayed
Gird View and Detail view. I am sure Sldieshow View should be on the way because Photobucket does provide it and twitter images are powered by Photbucket.
In case you retweet, the images are not available under your gallery
Photos are resized to 1024 X 2048, 600 X 1200, 340 X 480 and 150 by 150
20 characters are reserved for images of 140 tweet character
Deleting images needs the tweet to get deleted. However it still can be recovered in case you have a direct link to the image, at least for couple of hours.
What You should not expect is that Twitter did not create a Photo Hosting Service and so unlike Flickr etc, you cannot expect lot of Filters, Search by Name etc etc. So we do have limitations like Free Hosting Services!!
Limitations on Photo Uploads :
You can upload one photo at a time. This is one of the major drawbacks
Max Size of  your photo can be 3MB.
There is also a limitation on number of images you can upload which is said in their Configuration API ( Scroll till end ) but they are yet to declare the value.
Users are limited to a specific daily media upload limit(published daily media upload limit). Requests to this endpoint will return the following headers with information regarding the user's current media upload limits:

X-MediaRateLimit-Limit – Indicates the total pieces of media the current user may upload before the time indicated in X-MediaRateLimit-Reset.
X-MediaRateLimit-Remaining – The remaining pieces of media the current user may upload before the time indicated in X-MediaRateLimit-Reset.
X-MediaRateLimit-Reset – A UTC-based timestamp (in seconds) indicating when X-MediaRateLimit-Remaining will reset to the value in X-MediaRateLimit-Limit and the user can resume uploading media.

If the user is over the daily media limit, this method will return an HTTP 403 error. In addition to media upload limits, the user is still limited in the number of statuses they can publish daily. If the user tries to exceed the number of updates allowed, this method will also return an HTTP 403 error, similar to POST statuses/update.