Ever wondered if you can type everything in the way you write on paper? Stop wondering, and you can do it with Free Fonts generator, which allows you to create True Type fonts with your handwriting. Once you create the fonts, you can install it in Windows 10 and use it throughout the system. Let's learn how to create fonts from your handwriting and use it in Windows 10.
How to Create Fonts from your Handwriting and use in Windows 10
Fonts are nothing by a graphical design, and when fonts are created, they are designed using a stylus to start with. We are doing something similar here.
They offer a template which you need to download and print.
Next, fill all the boxes with your handwriting. Its all ABC, etc. and most of the characters are required for the fonts.
The next step is to scan it and upload it to them.
They use the OCR technique to convert them into real True type fonts.

Once uploaded, it gives you a preview of how your font would look like.
If satisfied, the whole font package will be given to you as free fonts download.
The last step is to install it. Double click on the font file, and it will install in Windows or macOS
To use it in Windows 10 or anywhere in a document, make sure to select the font first, and then start typing it. Here are some examples you would love to see :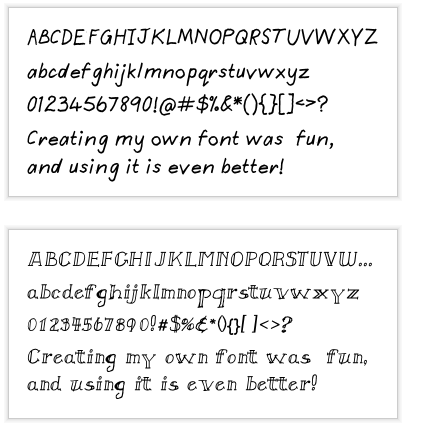 Features :
Your handwriting turned into your very own font for free
Optionally include your signature
You'll have your very own font within 15 minutes
Make as many fonts as you like
Use your fonts on Windows, Mac OS X, and Linux
Personalize your digital scrapbook pages
Make your own "family handwriting history."
Use your fonts in Microsoft Word, PowerPoint and every program that you own